Richard and Dolly Maass Gallery
Located within the School of Art+Design, the Richard and Dolly Maass Gallery gives students the opportunity to exhibit their work in a professional context alongside their daily classroom experience. In addition to student work, the gallery's program focuses on emerging artists, A+D alumni, and current faculty. The gallery is open 12–5 pm Tuesday–Friday. All events in the space are free and open to the public.
---
Current Exhibitions
here we are in all our colors
2019 Senior Thesis Exhibition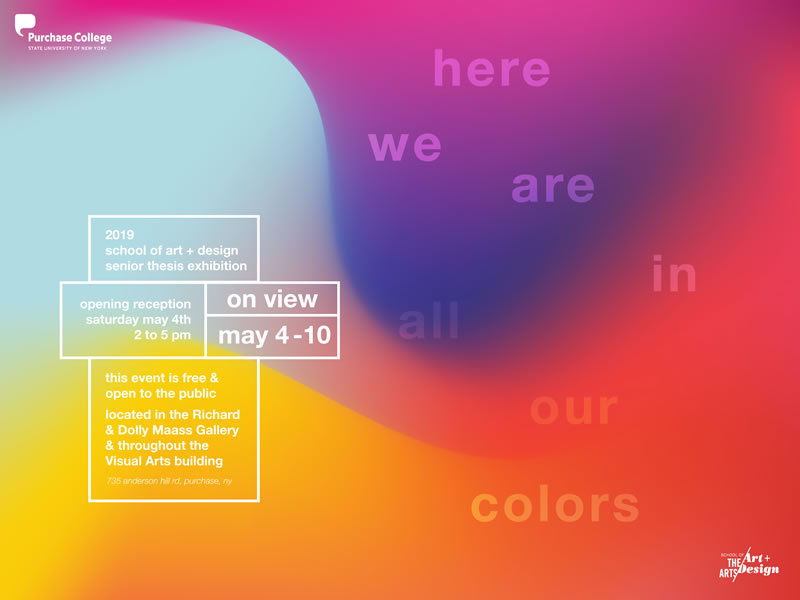 Credit: Design by BFA Graphic Design Major Sarah Good
 


May 4 - 10, 2019
Opening Reception: May 4th, 2:00pm – 5:00pm
 
The annual showcase of BFA and BSVA graduating students in the School of Art+Design, located in the Richard and Dolly Maass Gallery and throughout the Visual Arts building.
---
IN THE MESH: 2019 MFA Thesis Exhibition at PS122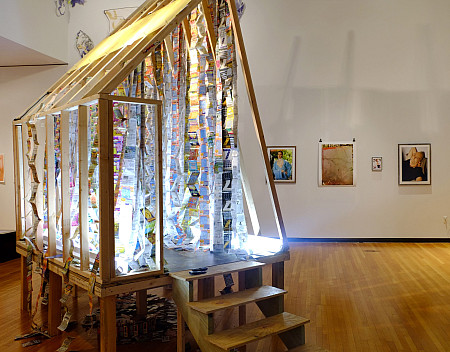 Installation Image from Everything's Fine Here: 2018 MFA Group Exhibition (Foreground: Gregory Wharmby, Background: Ian Lewandowski) Photo: Ian Lewandowski
May 10 – May 19, 2019
Opening Reception: Friday May 10, 6:00-8:00pm

PS122 Gallery
150 1st Avenue, New York NY

The annual MFA in Visual Arts group show in New York City includes MFA graduates Monique Boutin, Emily Culbertson, Cat Janky, Jennifer Jones, Ian Lewandowski, Noriko Okada, Alessia Reggiani, Emma Welty, and Gregory Wharmby. Curated by Faye Hirsch and Eleanor King.
---
For more information, contact: