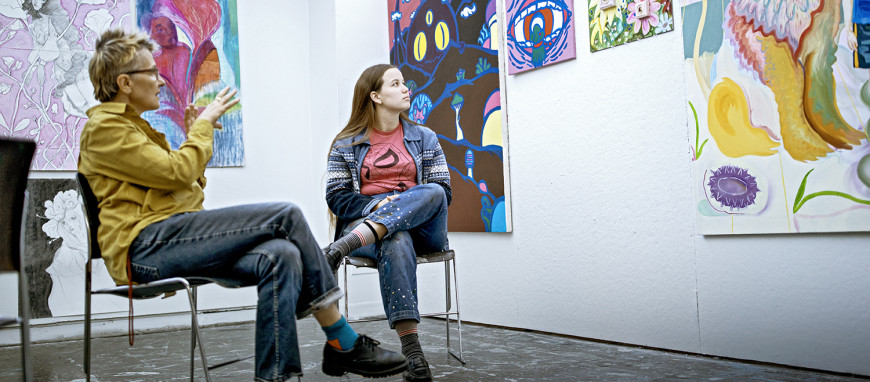 The School of Art+Design is excited to work with you this year!
Prepping your Portfolio?
One-on-One Portfolio Review with Our Faculty 
We would love to meet you on Zoom and offer portfolio advice.
To request a review, use the appropriate link below to register for a review with one of our faculty members. 
Register for a Portfolio Review
Please note that students pursuing their Masters degree should select dates indicating "Graduate Virtual Portfolio Days".
National Portfolio Days
Purchase College will be in attendance at several NPD events, both in person and virtual. Please see below for where you can find us on the road this semester:
September 17, 2022 (Virtual- Undergraduate)
October 14, 2022 (Virtual- Undergraduate)
October 15, 2022 (NYC- Graduate)
October 22, 2022 (Hartford- Undergraduate)
October 30, 2022 (Baltimore- Undergraduate)
November 5, 2022 (NYC- Undergraduate)
December 4, 2022 (Virtual- Undergraduate)
Pre-registration is required for both virtual and in-person events. 
Ready to Apply to Purchase?
Portfolio Prep Webinar
Unsure of what is required and expected for the portfolio? Attend one of our portfolio prep webinars to learn the do's and don'ts. Come and get all of your questions answered by one of our Admission Advisors.
*Dates to be announced September 7th*
Virtual Express Decision Day
Sign up to attend Virtual Express  Decision Day on December 1, 2022. This is an online instant decision day for high school seniors and transfer students. 
If you want to attend the Express  Decision Day, you must first submit your application for admission to the School of Art+Design, and you also need to register below in order to attend.
This event provides students applying to the School of Art+Design an opportunity to show their work to faculty and, in many cases, receive an expedited admissions decision.
Registration for this event will open on November 1, 2022.