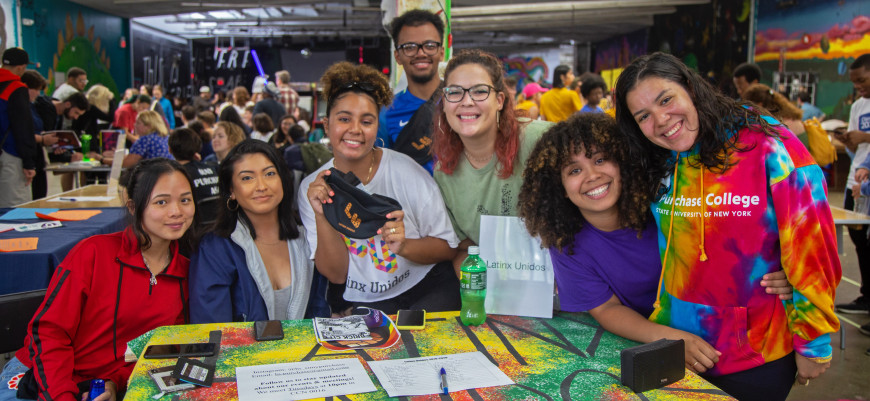 Congratulations! You're in.
Your Potential, Your Impact
We've chosen you to join our vibrant and creative community, not only because of your talents, but because we think you'll make us better. Potential isn't just about what you'll be able to do; it's how you'll be able to share it. And you have just the right mix of skills, passion, and possibility we actively seek.
Choosing Purchase is a Big Deal
For you and for us—and it's important to us that you have access to all the information you need to make the jump.
If you need help or have questions about the process of becoming a Purchase student, we're here to help.
Drop in to chat with an Admissions Advisor to get all your questions answered. 
Preview Purchase
To help you experience Purchase from a safe distance, we made videos providing information and insight into each of our academic program areas.
Hear from our deans and chairs why Purchase is the right choice for you.
Academic Programs   Campus Life   Resources and Support
---
Decision Notification
Admission decisions are released in the application portal. You will be sent a status update email when a decision has been posted.
Submit Your Deposit
Undergraduate Deposits are due by May 1.
Graduate Deposits are due April 15.
Music graduate deposits are due May 1.
Events
We are offering a variety of virtual and in person events for our accepted students. Please note to register for these events you will need to log in using your application portal credentials. Check out our events. 
Join Your Classmates
Join the Class of 2026 Facebook Group
Summer Orientation 2022
Orientation will be a quick-paced program which will provide you with information on campus resources, tools to navigate campus, opportunities to speak with campus staff and faculty, and meet other new students. 

The dates for Summer Orientation will be posted in May
For more information, check out the Orientation page. 
Questions?
Required Next Steps
You'll need a Purchase email address before you can do anything else. Activate your Purchase College email at: Online Account Activation
Select "Activate your account for the first time"
Agree to the terms
Enter the email address you used on your application and date of birth and click "Submit" and then "Create Your Password" to activate your account
You will need to activate your account in order to see your Financial Aid package. 
Once you've activated your email account, you can now make it official by sending a deposit and securing your spot.
Deposits are due:
April 15 for fall Graduate enrollment
May 1 Music Graduate programs.
May 1 for fall Undergraduate enrollment
Enrollment Deposit ONLY: $150
Enrollment and Housing Deposit: $400
Go to myHeliotrope
Sign in using your Purchase email and password
Click the "New Student" box
Click "Pay Deposits"
Purchase College does not ask or consider a response to the criminal history question in the admissions decision process. However, please be aware that if you seek access to student housing, study abroad or internship opportunities, or professional licensure, you will be asked to provide this information. Also be aware that a prior felony conviction may impede your ability to complete your chosen degree program or receive professional licensure in your chosen field.
Once you've paid your housing deposit, you'll be prompted to complete the Residence License Agreement (RLA) and room preference questionnaire.
Students need to be registered for a full-time schedule (12 credits) by August 1 (fall semester) or January 15 (spring semester) for housing.
Once you've paid your Enrollment Deposit and set up your email/myHeliotrope account, you should proceed to the New Student Registration page and follow the instructions for your student type (freshmen or transfer) and academic program. Graduate students: get in touch with your academic departments for registration information.
In order to move into your housing assignment and attend classes, you must submit the following:
If you need accommodations because of a disability, be sure to contact the Office of Disability Resources to make a registration appointment and discuss your needs: odr@purchase.edu or (914) 251-6035.
Final official high school transcript with your graduation date. Complete our request form and submit it to your high school.
Final official college transcript(s) from all colleges you've attended after your last term ends.
AP and College Level Examination Program (CLEP) scores from The College Board. Our CEEB code is 2878.
Highly Recommended Steps
---
Decline or Defer
If you wish to decline or defer your acceptance please fill out this form so that we can properly advise you on your next steps.
Refund requests for enrollment are to be made in writing to the Office of Admissions by May 1, 2021 or 30 days from the date of your acceptance. Deposits are non-refundable after the deadline.