There's something extraordinary about Purchase College.
Since its inception, Purchase College has been a collaborative, learning-centered community. We capitalize on our strong legacy and unique culture to train bold thinkers intent on making the world a better place. Our faculty and staff provide exceptional educational experiences that uniquely coalesce professional training with a rigorous commitment to inquiry both inside and outside the classroom walls. Our students work across and between disciplines and methodologies in ways that blur and recast traditional lines. Our innovative and intensive curriculum has fostered generations of students intent on driving positive social change, with activism as a core value.
A Tradition of Philanthropy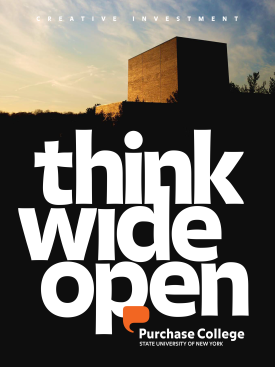 The Purchase College Foundation and Charitable Entities Case for Support (2016)The generosity of private donors provides Purchase College students with scholarships and an environment that ensures success, helps us recruit talented faculty, and fosters engagement with members of our community. Small gifts and large come together to provide need- and merit-based scholarships; strengthen our academic and cultural programs; and create a better student experience at the College.
Private gifts also support important arts education programs and exhibitions at the Neuberger Museum of Art and education programs and performances at The Performing Arts Center (The PAC).
The Purchase College Foundation, a 501(c)3 not-for-profit organization, is our liaison between donors and the college, museum and The PAC.
Your investment in Purchase will help our students dream, discover, and dare to create in ways that will transform the future.
There are many ways that you can help: you can make a one-time or recurring financial gift, donate stock or property, create an endowment, or set up a long-term planned gift to continue your legacy into the future. You will find more information about ways to give and the impact of your gift on these pages.
For all those who donate, we truly cannot thank you enough.
---
News:
Student Victoria Corbalis '18 gets the opportunity of a lifetime.

The Purchase alumni donated funds to renovate the Film Sound Stage.