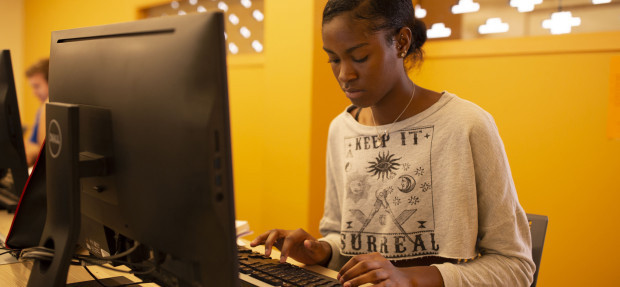 Purchase welcomes you to continue your studies here as a visiting student.
Taking Classes as a Visiting Student is Easy.
Students from other colleges and adults with a high school diploma or its equivalent are welcome to take classes for credit at Purchase College. Tuition is affordable and credits are easily transferrable.
Satisfy Core Requirements or Your Curiosity.
Whether you hope to fulfill general education requirements or delve into a couple of unique electives, you can rely on Purchase for rigorous and creative coursework with fantastic instructors.
Choose from hundreds of courses in subjects ranging from psychology, ecology, biology, and psychology to economics to math and computer science to race, gender, and politics. Browse the classes offered here.
Just follow the simple steps "How To Become a Visiting Student" below.
The Details…
Visiting students, also known as "non-matriculated," are responsible for the college's tuition, fees, and other applicable charges and are bound by all college policies, including our refund policy.
For financial aid, please contact the financial aid office at your home institution. Veterans should visit our Veterans' Services page to learn more about services available to them.
Please reference the Academic Calendar for information regarding registration schedules and deadlines.
Who is Considered a Visiting Student?
Visiting students:
are undergraduates who are matriculated at another college and wish to take courses at Purchase during the academic year;
remain matriculated at their home institution and are considered non-matriculated students at Purchase;
may take courses upon availability and may require permission from instructors to enroll in courses not typically open to non-majors;
are prohibited from enrolling in internship courses and may not become learning assistants;
may not register for more than 18 credits in a semester and may be dismissed if they do not meet academic standing requirements;
Please note: Some campus services may be available to visiting students. Please check with individual offices to determine availability.
Interested in Transferring?
Another option is to transfer and matriculate here fully. You'll need to apply, but you can submit an application until July 31. Visit our Transfer page or email admissions@purchase.edu for more information.
How to Become a Visiting Student
Frequently Asked Questions