Purchase College welcomes students of all ages to attend!
Purchase College offers noncredit courses and programs for a lifetime of learning:
Summer immersion in visual arts, performing arts, music, filmmaking, architecture, creative writing, journalism, STEM, and digital arts gives youth and precollege students the opportunity to explore their passions and discover themselves. Fall and spring courses are also available. 
High school students may also be able to register for undergraduate courses. Find out how.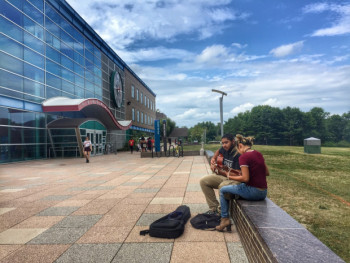 Earn college credit throughout the year either in-person or online. Purchase College offers undergraduate credit courses during the summer session (variety of in person, synchronous, asynchronous, and combined courses) and winter  session (100% online asynchronous courses) to help you get ahead or catch up on credits. These terms offer an excellent opportunity to delve into a topic in depth, explore a potential major, or earn credits.
Visiting students are welcome to register in any of our standard semesters, as well as the summer and winter sessions. There is no formal application and acceptance process. Simply create your student account and register today!
CSEA Members
If you are a member of CSEA, you may be able to use a tuition voucher to pay for a credit or noncredit course.
---