Windgate Visiting Artists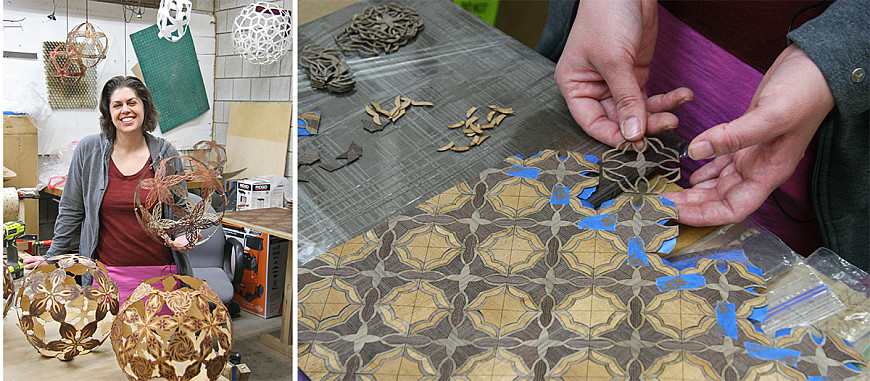 Christy Oates, Windgate Artist-in-Residence Spring 2017
Each semester, the School of Art+Design at Purchase College invites one Windgate Artist In Residence (WAIR) in applied design. This program is intended to advance the careers of practicing artists, to prepare students as professional artists, and to strengthen awareness of the significance of applied design. The WAIR program is made possible in part through the generosity of the Windgate Charitable Foundation.

Resident artists develop a body of work while at Purchase and are extensively involved in the education of Purchase students and the larger Purchase community. Residents are established or emerging designer/makers of exceptional talent who exhibit strong communication skills and proven dedication to working in an academic studio environment. Specific involvement during the residency beyond each artist's own work might include guest lecturing in a master class, giving public lectures, mentoring students, participating in exhibits, and working on community design.
The WAIR program is specifically structured to expand upon the conservatory environment and collaborative atmosphere that is the cornerstone of the Purchase educational experience, providing students with the opportunity to observe an artist at work and to engage in dialogue with the artist in both the studio and classroom. Through public lectures, workshops, and exhibitions, the WAIR program expands on Purchase College's mission to act as a public resource center for the exchange and exploration of ideas relative to our cultural and social environment.
Benefits
$19,000 stipend (beginning Spring 2016)
Studio access
On-campus housing
Exhibition at the Richard and Dolly Maass Gallery
Expectations
Commit as a full-time, on-campus resident for the specified period
Provide all materials used during the residency
Teach a semester-long master class in applied design and be accessible to Purchase students
Produce a significant body of work
Application Deadline: Extended to February 19, 2022 for Fall 2022/Spring 2023
Residencies are offered in 15-week blocks, corresponding to the fall/spring academic calendar. Selection criteria include quality of current portfolio, potential for artistic and professional growth, technical skill, and ability to communicate with students in a studio setting.

Applications to the program must include the below materials in ONE PDF and be sent to Gregory Wharmby, Curatorial Manager and Christopher Robbins, Director:
•    Completed Windgate AIR Application Form
•    Current curriculum vitae (maximum three pages)
•    20 digital images and corresponding list of works
•    One-page statement of intent
•    One-page proposal for a master class in applied design
•    Names and contact information for two professional references
Download the Windgate AIR Application
For any questions, contact:
Gregory Wharmby, Curatorial Manager
Christopher Robbins, Director
Tamar Ettun is the Spring '22 resident artist.
Former resident artists include Christine Enos, Francis Cape, R. Thomas Tedrowe Jr., John Rais, Fo Wilson, Wendy Maruyama, Brian Gladwell, Christine Lee, Yuri Kobayashi, Yoav Liberman, Vivian Beer, Brian Newell, BA Harrington, Mark Gardner, Beth Ireland, Michael Cullen, Isabelle Moore, Stephen Yusko, Jason Schneider, Kimberly Winkle, Mike Rossi, Peter Galbert, Christy Oates, Brian Reid, Miriam Carpenter, Samuel Ekwurtzel, Anna Mlasowsky, Serra Victoria Bothwell Fels, DeCarlo Logan, SV Randall, and Van Tran Nguyen. 
Visiting lecturers and WAIR program participants include Boris Bally, Tom Hucker, Daniel Wicke, Glenn Adamson, Jonathan Binzen, Richard Klein, Daniel Michalik, Rose Marie Gutierrez, Ben Blanc, Jenna Goldberg, Mira Nakashima, Jason Schneider, David Richardson, Rosanne Somerson, Don Miller, Matt Hutton, Jim Zivic, Jon Brooks,Steff Rocknak, Matthias Pliessnig, Tanya Aguinuga, Bruce Metcalf, Kristina Madsen, Silas Koph, Albert LeCoff, Michael Brolly, Kristin Muller, Jacques Vessery, Anna Kristina Goransson, Jeffrey Bennett, Miguel Gomez Ibanez, Claire Sanford, Patrick Quinn, Mark Sfirri, Beth Ireland, Joshua Friend, Andrew Hayes, Tim Mannery, Joshua Vogel and Derek Sanderson.