Make art that matters.
Through art, we tell stories, express ideas, challenge conventions, and open minds.
A+D Experience
With a solid foundation of history, theory, and process, students learn the meaning of a life informed by aesthetic experience. Where experimentation, collaboration, and a commitment to making lead to rewarding career paths in the visual arts and design.
A degree from Purchase College's School of Art+Design indicates an artist who pursued their craft with passion and intellect, who seriously honed their personal vision and artistic skillset, and who believes in the power of art to make a difference.
Creative Community
Purchase College is home to four conservatories in the performing, visual, and theatre arts as well as programs in the liberal arts and sciences. Creativity is at the core of a Purchase education, regardless of major. We celebrate cross-departmental collaboration, diversity, and unconventional approaches to problem-solving on a campus where our motto—Think Wide Open—has real meaning.
---
Hear from students studying various disciplines and Assistant Professor of Painting and Drawing Matthew Bollinger describe their experiences in the School of Art+Design.
Proudly Public
Purchase College was founded in 1967 as the cultural gem of the State University of New York system, a place where students from all backgrounds could receive the finest quality arts education. We remain committed to the mission of providing academic excellence and affordability to students of remarkable cultural and social diversity providing a unique environment for learning.
Facilities
With more than 160,000 square feet of work space, a curriculum that builds critical thinking skills, and a studio-based practice that encourages exploration of new concepts, materials, and technologies, the School of Art+Design prepares students for the unique demands of life as a professional artist.
Faculty
Our faculty of working artists is dedicated to creating a supportive climate in which students have the inspiration, resources, and freedom to see, think, make, and grow.
---
Hear Chris Robbins, Director of the School of Art+Design, describe the student experience in more detail.
Network New York City
Purchase College is located in suburban Westchester County, just 30 miles north of Manhattan—that's a 40-minute train ride to what is arguably the global center of the art world. The cultural resources of the five boroughs invite students to supplement their study through internships, field trips, and visits to studios, museums, and galleries.
Our proximity to NYC also allows us to attract renowned practitioners in the arts as faculty members, visiting artists, and special guests—who in turn share their own connections through critiques, studio visits, and guest lectures. The opportunity to build a network here is extraordinary.
Upcoming:
Feb

1

Each semester, weekly visiting artist lectures host noted artists, curators, critics, and historians to share their perspectives, expertise, and current work, and to give insight into contemporary issues facing artists and designers.
Hot Cocoa and Marshmallows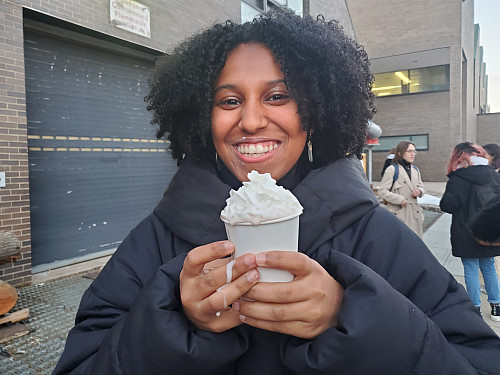 A+D student appreciation event outside the VA building Feb 2022