Brightspace Implementation Updates
SUNY Selects D2L's Brightspace as New Learning Management System and Hub of New Digital Learning Environment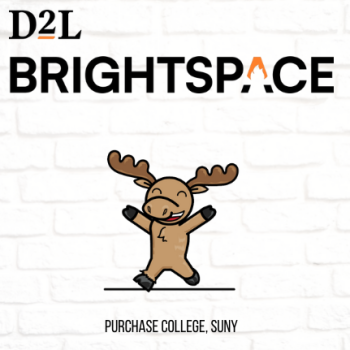 Purchase College's official D2L Brightspace Migration Project Team is:
Greg Taylor, Campus Executive Sponsor (Associate Provost for Academic Affairs)
Marie Sciangula, Campus Lead (Assistant Director of the Teaching, Learning, and Technology Center)
Kim Detterbeck, Academic Lead (Art Librarian, Coordinator of Library Instruction, and Interim Assistant Library Manager)
Ryan Nassisi, Technical Lead (Assistant Director of Campus Technology Services)
If you have questions, concerns, or comments, please contact us at COM.d2l.brightspace.project@purchase.edu.
SUNY Digital Learning Environment (DLE) Overview
It's official: Desire2Learn's (D2L) Brightspace will be the learning management system (LMS) selected and supported by SUNY going forward. Brightspace will be the foundation along with related tools for instruction and student support for a new Digital Learning Environment (DLE) that will be the platform for SUNY Online courses, as well as all campus online, face-to-face, hybrid, HyFlex (dual-delivery), flipped classroom, and other courses. SUNY plans to work with all campuses to bring them onto the new platform, in order to provide a consistent environment for student learning across the SUNY system.
As a result, Purchase College, SUNY is implementing Brightspace as our new LMS. The College will be transitioning from our current LMS, Moodle, to Brightspace starting with the Fall 2023 semester. We will still be using Moodle for Summer 2023.
Fall 2023 Updates
Spring/Summer 2023 Updates
November/December 2022 Updates
September 2022 Updates & FAQs
Summer 2022 Updates & FAQs
May 18, 2022 Migration Updates & FAQs
April 18, 2022 Migration Updates & FAQs
March 14, 2022 Migration Updates
February 14, 2022 Migration Updates
January 17, 2022 Migration Updates:
December 17, 2021 Migration Updates:
November 17, 2021 Migration Updates:
October 4, 2021 Migration Updates: