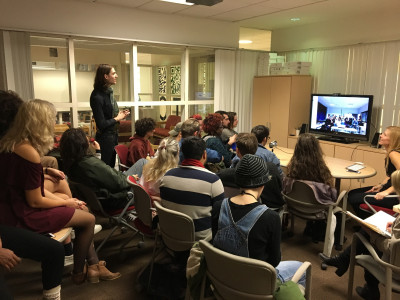 The mission of the Teaching, Learning, and Technology Center (TLTC) is to partner with faculty to enhance teaching and learning at Purchase College, through the adoption of innovative and applicable pedagogies and technologies.
News:
Moodle, Mahara, and Turnitin will be offline for several hours for scheduled summer maintenance.

This only affects faculty who have had courses on the original Moodle server (Spring 2009 through Spring 2012).
5000
<div class="faq"><div class="question">How do I make files available / visible to my students on Moodle?</div><div class="answer truncate"><p> Directions for uploading files into Moodle courses can be found at the TLTC's <a href="http://purchase.libguides.com/moodlebasics" target="_blank">Moodle Basics</a> guide: <a href="http://purchase.libguides.com/moodlebasics/upload" target="_blank">http://purchase.libguides.com/moodlebasics/upload</a><span id="s-lg-page-friendly-edit" class="s-lg-edit-icon pad-right-med">.</span></p><p><span class="s-lg-edit-icon pad-right-med">Link to this <a href="/live/blurbs/1157-how-do-i-make-files-available-visible-to-my" target="_blank">FAQ</a>.</span></p><a class="more" href="#">keep reading »</a></div></div>
<div class="faq"><div class="question">How can I use Moodle to collect papers from my students rather than having them email their work?</div><div class="answer truncate"><p> Directions for creating a Moodle <a href="https://docs.moodle.org/32/en/Assignment_settings" target="_blank">Assignment</a> activity to collect student work can be found at Moodle.org.</p><p> Link to this <a href="/live/blurbs/1149-how-can-i-enroll-unenroll-students-in-moodle" target="_blank">FAQ</a>.</p><a class="more" href="#">keep reading »</a></div></div>
<div class="faq"><div class="question">How do I import/copy materials from a previous Moodle course into a new course?</div><div class="answer truncate"><p> You can re-use course content that you've already uploaded into a previous Moodle course with a few clicks by using the <a href="http://purchase.libguides.com/moodlebasics/courseimport" target="_blank"><strong>Import function</strong></a>. The '<strong>Import</strong>' link is located in your current course's <strong>Administration</strong> area.</p><p> Detailed directions for importing course materials from one Moodle course to another are available at the TLTC's <a href="http://purchase.libguides.com/moodlebasics" target="_blank">Moodle Basics</a> guide.</p><p> Link to this <a href="/live/blurbs/1166-how-do-i-importcopy-materials-from-a-previous" target="_blank">FAQ</a>.</p><a class="more" href="#">keep reading »</a></div></div>
<div class="faq"><div class="question">How do I add weeks to my Moodle course?</div><div class="answer truncate"><p><a href="https://docs.moodle.org/dev/Moodle_3.3.1_release_notes" target="_blank" rel="noopener noreferrer">Moodle 3.3.1</a> allows instructors to control the number of weeks or topics from the course front page; you no longer have to do this via Course Settings. You will need to <strong><a href="http://purchase.libguides.com/moodlebasics/addingweeks" target="_blank" rel="noopener noreferrer">add weeks</a></strong> to your course in order to add course content or perform a <a href="http://purchase.libguides.com/moodlebasics/courseimport" target="_blank" rel="noopener noreferrer">course import</a>. Detailed directions are available at the <a href="http://purchase.libguides.com/moodlebasics/addingweeks" target="_blank" rel="noopener noreferrer">Moodle Basics guide</a>.</p><p> Link to this <a href="/live/blurbs/1838-how-do-i-add-weeks-to-my-moodle-course" target="_blank" rel="noopener noreferrer">FAQ</a>.</p><a class="more" href="#">keep reading »</a></div></div>
<div class="faq"><div class="question">How does my Moodle course look to my students?</div><div class="answer truncate"><p> To view your Moodle course the way students see it, go into your course's <strong>Administration </strong>> <strong>"Switch role to…"</strong> and select <strong>"Student"</strong> from list.</p><p> This is useful if you decide to set up resources and activities ahead of time that you'd like to hide and then make available later on in the semester. By switching your role to Student, you will be viewing the course from a student's perspective but still logged in as the instructor of the course. You will not see any hidden resources or activities when you're viewing the course as a student.</p><p> Simply click on the <strong>"Return to my normal role"</strong> link to view the course as the instructor.</p><p> Link to this <a href="/live/blurbs/1159-how-does-my-moodle-course-look-to-my-students" target="_blank">FAQ</a>.</p><a class="more" href="#">keep reading »</a></div></div>
<div class="faq"><div class="question">How can I add a guest to my class on Moodle?</div><div class="answer truncate"><p> Directions for allowing guests to access your course(s) can be found at the <a id="id_d24e2b1d84" data-cke-saved-href="http://purchase.libguides.com/moodlebasics" href="http://purchase.libguides.com/moodlebasics" target="_blank">Moodle Basics</a> help guide: <a id="id_a08efb309a" data-cke-saved-href="http://purchase.libguides.com/moodlebasics/managingparticipants" href="http://purchase.libguides.com/moodlebasics/managingparticipants" target="_blank">Managing Participants</a> > <a id="id_fc3fcf8a2f" data-cke-saved-href="http://purchase.libguides.com/moodlebasics/enrollmentkey" href="http://purchase.libguides.com/moodlebasics/enrollmentkey" target="_blank">Enrollment Keys & Guest Access</a>.</p><p> Link to this <a href="/live/blurbs/1169-how-can-i-add-a-guest-to-my-class-on-moodle" target="_blank">FAQ</a>.</p><a class="more" href="#">keep reading »</a></div></div>
<div class="faq"><div class="question">How do I access my Reader Dashboard in Moodle?</div><div class="answer truncate"><p> Readers on Student Projects (senior projects, capstone papers, and master's theses) can manage project invitations and move quickly between student project spaces at their <a href="https://moodle.purchase.edu/moodle2/mod/seniorproject/spdashboard.php" target="_blank">Reader Dashboard</a> in Moodle. The direct link to the Reader Dashboard is: <a href="https://moodle.purchase.edu/moodle2/mod/seniorproject/spdashboard.php">https://moodle.purchase.edu/moodle2/mod/seniorproject/spdashboard.php</a>.</p><p> Link to this <a href="/live/blurbs/1640-how-do-i-access-my-reader-dashboard-in-moodle" target="_blank">FAQ</a>.</p><a class="more" href="#">keep reading »</a></div></div>
<div class="faq"><div class="question">How do I embed YouTube or Vimeo videos into my Moodle course?</div><div class="answer truncate"><p> We've activated Moodle's YouTube filter so you can easily embed videos by providing a valid YouTube URL into a label resource.</p><p> You can also embed any video that has an embed code available for you to copy and paste into Moodle. If you're going to use an embed code, be sure to toggle to the HTML source by clicking the <img id="id_ba0080337b" data-cke-saved-src="http://moodle.purchase.edu/moodle/lib/editor/htmlarea/images/ed_html.gif" src="http://moodle.purchase.edu/moodle/lib/editor/htmlarea/images/ed_html.gif" alt="Toggle to HTML Source" height="18" width="18"/>icon.</p><p> Detailed directions for <a id="id_d4b8231129" data-cke-saved-href="http://purchase.libguides.com/moodlebasics/embedvideos" href="http://purchase.libguides.com/moodlebasics/embedvideos" target="_blank">embedding videos into your Moodle course</a> can be found at the <a href="/teaching-learning-and-technology-center/">TLTC</a>'s website.</p><p> Additionally, you may want to use the YouTube Anywhere integration available directly within any text editor in your course. Directions are available at: <a id="id_a30f93c6b1" data-cke-saved-href="http://tltc.blogs.purchase.edu/help-materials/youtube-anywhere-tool-in-moodle/" title="YouTube Anywhere Tool in Moodle" href="http://tltc.blogs.purchase.edu/help-materials/youtube-anywhere-tool-in-moodle/" target="_blank">http://tltc.blogs.purchase.edu/help-materials/youtube-anywhere-tool-in-moodle/</a>.</p><p> Link to this <a href="/live/blurbs/1154-how-do-i-embed-youtube-or-vimeo-videos-into-my" target="_blank">FAQ</a>.</p><a class="more" href="#">keep reading »</a></div></div>
<div class="faq"><div class="question">What are the TLTC's hours?</div><div class="answer truncate"><p> The TLTC is typically open Monday-Friday, 9:00am-5:00pm. Due to staffing, requesting an appointment by emailing <a href="mailto:TLTC@purchase.edu">TLTC@purchase.edu</a> is advisable.</p><p> Link to this <a href="/live/blurbs/1839-what-are-the-tltcs-hours" target="_blank" rel="noopener noreferrer">FAQ</a>.</p><a class="more" href="#">keep reading »</a></div></div>
<div class="faq"><div class="question">How do I make an article from a library database viewable for my off-campus students?</div><div class="answer truncate"><p> As a faculty member, you are encouraged to link directly to the Library's subscription <a href="http://purchase.libguides.com/az.php" target="_blank">databases</a> and <a href="http://search.ebscohost.com/login.aspx?authtype=guest&custid=s1097790&groupid=main" target="_blank">online journals</a>, just as you would link to any website or resource on the Internet, from within your Moodle course pages. This is a best practice for a number of reasons. </p><ul><li>Accessibility. Many databases offer text-to-speech options and provide stable, searchable, and accessible PDFs  </li><li>Ensures compliance with copyright </li><li>Builds research skills by familiarizing students with various databases and interfaces </li><li>Allows students to take advantage of value-added features such as citation generator, exporting to citation managers, and availability of various file formats. </li></ul><p> In order to make resources from the Library's subscription databases and online journals available to students who may be accessing Moodle from off-campus (remote user access), you must include the <strong>EZProxy prefix code</strong> in the item's URL.</p><p> The <strong>EZProxy prefix code</strong> is: <strong>http://ezproxy.purchase.edu:2048/login?url=</strong></p><p> This bit of code must be placed <strong><em>before</em></strong> the rest of the article's URL in order to make it available from off-campus. This can be done by following a few simple steps:</p><ul><li>locate the desired article in our online databases / journals </li><li>look for the document's persistent or durable URL, within the context of the item, not in the browser address bar </li><li>When using <strong>ProQuest Direct</strong>, for example, click on "Copy Link" to copy the article's durable URL and then add the EZProxy prefix code before the rest of the URL </li><li>Copy and paste the EZProxy code into the URL field when adding a new resource "link to a file or website" in Moodle </li><li>Copy and past the article's URL so that it appears after the EZProxy code </li></ul><p><strong>Example:</strong>  <strong>http://ezproxy.purchase.edu:2048/login?url=</strong>http://proquest.umi.com/pqdweb?did=1625264641&sid=2&Fmt=3&clientId=10792&RQT=309&VName=PQD</p><p><strong>To Display a link on the front page of your Moodle course:</strong></p><ul><li>Make sure that editing is turned on, click the 'Turn editing on' button on the upper right side </li><li>In the section where you want the file to show up, click on the <strong>Resources</strong> pull-down menu and select the '<strong>URL</strong>' option </li><li>Enter into the <strong>Name</strong> field the text you want to use to describe the link on the front page of your course </li><li>You must enter a description of the link in the <strong>Description</strong> area </li><li>Under the "<strong>Content</strong>" heading, paste in the item's <strong>External URL</strong>. Remember to include the <strong>EZProxy prefix code</strong> if the item is from the Library's subscription resources </li><li>Click the '<strong>Save and return to course</strong>' button </li></ul><p> Remote users will be prompted for Database User Authentication and will login using their username (firstname.lastname - <strong>do not</strong> include @purchase.edu) and Purchase email password.</p><a class="more" href="#">keep reading »</a></div></div>
<div class="faq"><div class="question">How can I dock my blocks in Moodle?</div><div class="answer truncate"><p> You can dock blocks in Moodle to free up and expand space in the center column of your course page. Note that docking blocks is <em>user specific</em>; just because an instructor docks specific blocks does not mean the students in the course will have the same blocks docked. Once you've docked a block in a particular course, you won't need to dock it again in that course. A block docked in one course is not automatically docked in a different course.</p><p> Detailed directions for <a id="id_e918272606" data-cke-saved-href="http://purchase.libguides.com/moodlebasics/dockingblocks" href="http://purchase.libguides.com/moodlebasics/dockingblocks" target="_blank">docking and undocking blocks</a> in Moodle can be found at the TLTC's <a id="id_e31d7c9bb3" data-cke-saved-href="http://purchase.libguides.com/moodlebasics" href="http://purchase.libguides.com/moodlebasics">Moodle Basics</a> guide. </p><p> Link to this <a href="/live/blurbs/1170-how-can-i-dock-my-blocks-in-moodle" target="_blank">FAQ</a>.</p><a class="more" href="#">keep reading »</a></div></div>
<div class="faq"><div class="question">How can I hold a synchronous meeting online?</div><div class="answer truncate"><p><a href="/offices/cts/">Campus Technology Services</a> (CTS) is making <a href="https://zoom.us/" target="_blank" rel="noopener noreferrer"><strong>Zoom Pro</strong></a> accounts available to faculty who were planning to use Collaborate Ultra, which is no longer available.</p><p> CTS plans to purchase individual Zoom Pro accounts and have them available for faculty to use to schedule online live sessions for their classes. With access to one of the Zoom Pro accounts, you can schedule your live class sessions and provide the resulting links to your students through your Moodle course. It won't be as tightly integrated into Moodle as the Collaborate Ultra solution, but it will be much more cost effective.</p><p> If you would like to use Zoom Pro for your classes, please submit a <a href="https://apps.purchase.edu/wot" target="_blank" rel="noopener noreferrer">work order</a> to CTS (<a href="https://apps.purchase.edu/wot/">https://apps.purchase.edu/wot</a>) describing your planned usage.</p><p> Link to this <a href="/live/blurbs/1837-how-can-i-hold-a-synchronous-meeting-online" target="_blank" rel="noopener noreferrer">FAQ</a>.</p><a class="more" href="#">keep reading »</a></div></div>
<div class="faq"><div class="question">What are the Library's hours?</div><div class="answer truncate"><p> The Library's current hours are available on the <a href="/library/hours/">Hours</a> page.</p><a class="more" href="#">keep reading »</a></div></div>
<div class="faq"><div class="question">How do I enroll a Senior Auditor / Non-Degree Student / Visiting Student into my Moodle course?</div><div class="answer truncate"><p> Faculty can manually add enrolled Senior Auditors / Non-Degree Students into their Moodle course by using <a href="http://purchase.libguides.com/moodlebasics/addingusers" target="_blank">these steps</a>. Addition of Senior Auditors / Non-Degree Students to Moodle courses is not automated and must be done manually by the course instructor. Please have any Senior Auditors / Non-Degree Students confirm that their enrollments have been properly processed by the College.</p><p> Link to this <a href="/live/blurbs/1167-how-do-i-enroll-a-senior-auditor-non-degree" target="_blank">FAQ</a>.</p><a class="more" href="#">keep reading »</a></div></div>
<div class="faq"><div class="question">How do I unenroll from courses on Moodle?</div><div class="answer truncate"><p> Student and faculty enrollments in Moodle are controlled by Banner/the <a href="/offices/registrar/">Registrar</a>. Please login to <a href="https://sso.purchase.edu:19073/ssomanager/c/SSB" target="_blank">myHeliotrope</a> in order to check your official course enrollments.</p><p> TLTC staff can no longer unenroll users from Moodle courses.</p><p> Link to this <a href="/live/blurbs/1160-how-do-i-unenroll-from-courses-on-moodle" target="_blank">FAQ</a>.</p><a class="more" href="#">keep reading »</a></div></div>