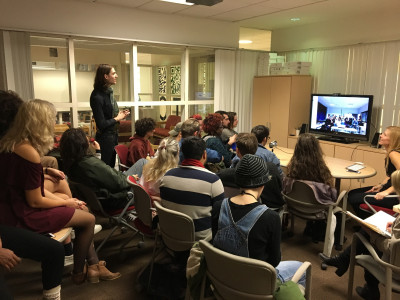 The mission of the Teaching, Learning, and Technology Center (TLTC) is to partner with faculty to enhance teaching and learning at Purchase College, through the adoption of innovative and applicable pedagogies and technologies.
News:
Save the Date!

SUNY's annual Conference on Instruction and Technology (

CIT

) will be held at Purchase College,

May 28-31, 2019

! All SUNY campuses, state-operated, statutory, and community colleges are invited to submit abstracts to present at this conference!

Deborah Amory, Professor at SUNY Empire State College, is seeking participants in the creation of an introductory level LGBTQ Studies OER text in 2019. This open textbook will focus on the study of LGBTQ issues and culture from an interdisciplinary, social science perspective. It will include key documents and multimedia resources, emphasizing an intersectional, feminist analysis.
5000
<div class="faq"><div class="question">What are the TLTC's hours?</div><div class="answer truncate"><p> The TLTC is typically open Monday-Friday, 9:00am-5:00pm. Due to staffing, requesting an appointment by emailing <a href="mailto:TLTC@purchase.edu">TLTC@purchase.edu</a> is advisable.</p><p> Link to this <a href="/live/blurbs/1839-what-are-the-tltcs-hours" target="_blank" rel="noopener noreferrer">FAQ</a>.</p><a class="more" href="#">keep reading »</a></div></div>
<div class="faq"><div class="question">How do I make files available / visible to my students on Moodle?</div><div class="answer truncate"><p> Directions for uploading files into Moodle courses can be found at the TLTC's <a href="http://purchase.libguides.com/moodlebasics" target="_blank">Moodle Basics</a> guide: <a href="http://purchase.libguides.com/moodlebasics/upload" target="_blank">http://purchase.libguides.com/moodlebasics/upload</a><span id="s-lg-page-friendly-edit" class="s-lg-edit-icon pad-right-med">.</span></p><p><span class="s-lg-edit-icon pad-right-med">Link to this <a href="/live/blurbs/1157-how-do-i-make-files-available-visible-to-my" target="_blank">FAQ</a>.</span></p><a class="more" href="#">keep reading »</a></div></div>
<div class="faq"><div class="question">How do I manage my Student Project advisees in Moodle?</div><div class="answer truncate"><p> Visit your <a href="http://moodle.purchase.edu/moodle2/mod/seniorproject/spdashboard.php" target="_blank" rel="noopener noreferrer">Reader Dashboard</a> to view pending Student Project invitations, accept or decline invitations, and quickly navigate to spaces that need your attention.</p><p> Visit the <a href="/library/guides-tools/senior-projects-capstone-papers-masters-theses/" target="_blank" rel="noopener noreferrer">Student Projects guide</a> for detailed information about working with Student Projects. Specific information for Readers can be found at the <a href="http://purchase.libguides.com/studentprojects/readers" target="_blank" rel="noopener noreferrer">For Readers</a> tab of the guide.</p><p> Link to this <a href="/live/blurbs/1163-how-do-i-manage-my-student-project-advisees-in" target="_blank" rel="noopener noreferrer">FAQ</a>.</p><a class="more" href="#">keep reading »</a></div></div>
<div class="faq"><div class="question">How can I use Moodle to collect papers from my students rather than having them email their work?</div><div class="answer truncate"><p> Directions for creating a Moodle <a href="https://docs.moodle.org/32/en/Assignment_settings" target="_blank">Assignment</a> activity to collect student work can be found at Moodle.org.</p><p> Link to this <a href="/live/blurbs/1149-how-can-i-enroll-unenroll-students-in-moodle" target="_blank">FAQ</a>.</p><a class="more" href="#">keep reading »</a></div></div>
<div class="faq"><div class="question">How do I unenroll from courses on Moodle?</div><div class="answer truncate"><p> Student and faculty enrollments in Moodle are controlled by Banner/the <a href="/offices/registrar/">Registrar</a>. Please login to <a href="https://sso.purchase.edu:19073/ssomanager/c/SSB" target="_blank">myHeliotrope</a> in order to check your official course enrollments.</p><p> TLTC staff can no longer unenroll users from Moodle courses.</p><p> Link to this <a href="/live/blurbs/1160-how-do-i-unenroll-from-courses-on-moodle" target="_blank">FAQ</a>.</p><a class="more" href="#">keep reading »</a></div></div>
<div class="faq"><div class="question">How do I add weeks to my Moodle course?</div><div class="answer truncate"><p><a href="https://docs.moodle.org/dev/Moodle_3.3.1_release_notes" target="_blank" rel="noopener noreferrer">Moodle 3.3.1</a> allows instructors to control the number of weeks or topics from the course front page; you no longer have to do this via Course Settings. You will need to <strong><a href="http://purchase.libguides.com/moodlebasics/addingweeks" target="_blank" rel="noopener noreferrer">add weeks</a></strong> to your course in order to add course content or perform a <a href="http://purchase.libguides.com/moodlebasics/courseimport" target="_blank" rel="noopener noreferrer">course import</a>. Detailed directions are available at the <a href="http://purchase.libguides.com/moodlebasics/addingweeks" target="_blank" rel="noopener noreferrer">Moodle Basics guide</a>.</p><p> Link to this <a href="/live/blurbs/1838-how-do-i-add-weeks-to-my-moodle-course" target="_blank" rel="noopener noreferrer">FAQ</a>.</p><a class="more" href="#">keep reading »</a></div></div>
<div class="faq"><div class="question">What are the Library's hours?</div><div class="answer truncate"><p> The Library's current hours are available on the <a href="/library/hours/">Hours</a> page.</p><a class="more" href="#">keep reading »</a></div></div>
<div class="faq"><div class="question">How does my Moodle course look to my students?</div><div class="answer truncate"><p> To view your Moodle course the way students see it, go into your course's <strong>Administration </strong>> <strong>"Switch role to…"</strong> and select <strong>"Student"</strong> from list.</p><p> This is useful if you decide to set up resources and activities ahead of time that you'd like to hide and then make available later on in the semester. By switching your role to Student, you will be viewing the course from a student's perspective but still logged in as the instructor of the course. You will not see any hidden resources or activities when you're viewing the course as a student.</p><p> Simply click on the <strong>"Return to my normal role"</strong> link to view the course as the instructor.</p><p> More about <a href="http://purchase.libguides.com/moodlebasics/studentview" target="_blank" rel="noopener noreferrer">Student View</a> at the Moodle Basics help guide.</p><p> Link to this <a href="/live/blurbs/1159-how-does-my-moodle-course-look-to-my-students" target="_blank" rel="noopener noreferrer">FAQ</a>.</p><a class="more" href="#">keep reading »</a></div></div>
<div class="faq"><div class="question">How do I import/copy materials from a previous Moodle course into a new course?</div><div class="answer truncate"><p> You can re-use course content that you've already uploaded into a previous Moodle course with a few clicks by using the <a href="http://purchase.libguides.com/moodlebasics/courseimport" target="_blank"><strong>Import function</strong></a>. The '<strong>Import</strong>' link is located in your current course's <strong>Administration</strong> area.</p><p> Detailed directions for importing course materials from one Moodle course to another are available at the TLTC's <a href="http://purchase.libguides.com/moodlebasics" target="_blank">Moodle Basics</a> guide.</p><p> Link to this <a href="/live/blurbs/1166-how-do-i-importcopy-materials-from-a-previous" target="_blank">FAQ</a>.</p><a class="more" href="#">keep reading »</a></div></div>
<div class="faq"><div class="question">How can I hold a synchronous meeting online?</div><div class="answer truncate"><p><a href="/offices/cts/">Campus Technology Services</a> (CTS) is making <a href="https://zoom.us/" target="_blank" rel="noopener noreferrer"><strong>Zoom Pro</strong></a> accounts available to faculty who were planning to use Collaborate Ultra, which is no longer available.</p><p> CTS plans to purchase individual Zoom Pro accounts and have them available for faculty to use to schedule online live sessions for their classes. With access to one of the Zoom Pro accounts, you can schedule your live class sessions and provide the resulting links to your students through your Moodle course. It won't be as tightly integrated into Moodle as the Collaborate Ultra solution, but it will be much more cost effective.</p><p> If you would like to use Zoom Pro for your classes, please submit a <a href="https://apps.purchase.edu/wot" target="_blank" rel="noopener noreferrer">work order</a> to CTS (<a href="https://apps.purchase.edu/wot/">https://apps.purchase.edu/wot</a>) describing your planned usage.</p><p> Link to this <a href="/live/blurbs/1837-how-can-i-hold-a-synchronous-meeting-online" target="_blank" rel="noopener noreferrer">FAQ</a>.</p><a class="more" href="#">keep reading »</a></div></div>
<div class="faq"><div class="question">How do I set up the Moodle page for my senior project / capstone / master's thesis?</div><div class="answer truncate"><p> Detailed directions for setting up and working with your Student Project space can be found at the <a href="http://purchase.libguides.com/studentprojects" target="_blank">Student Projects</a> guide.</p><p> Link to this <a href="/live/blurbs/1162-how-do-i-set-up-the-moodle-page-for-my-senior" target="_blank">FAQ</a>.</p><a class="more" href="#">keep reading »</a></div></div>
<div class="faq"><div class="question">How do I enroll a Senior Auditor / Non-Degree Student / Visiting Student into my Moodle course?</div><div class="answer truncate"><p> Faculty can manually add enrolled Senior Auditors / Non-Degree Students into their Moodle course by using <a href="http://purchase.libguides.com/moodlebasics/addingusers" target="_blank">these steps</a>. Addition of Senior Auditors / Non-Degree Students to Moodle courses is not automated and must be done manually by the course instructor. Please have any Senior Auditors / Non-Degree Students confirm that their enrollments have been properly processed by the College.</p><p> Link to this <a href="/live/blurbs/1167-how-do-i-enroll-a-senior-auditor-non-degree" target="_blank">FAQ</a>.</p><a class="more" href="#">keep reading »</a></div></div>
<div class="faq"><div class="question">How do I tie together multiple sections of my courses on Moodle to use one "mega" Moodle course?</div><div class="answer truncate"><p> Directions for working with the <a href="http://purchase.libguides.com/moodlebasics/metacourse" target="_blank">meta-course function</a> to tie together multiple course shells in Moodle can be found at the TLTC's <a href="http://purchase.libguides.com/moodlebasics" target="_blank">Moodle Basics</a> guide. </p><p> Link to this <a href="/live/blurbs/1164-how-do-i-tie-together-multiple-sections-of-my" target="_blank">FAQ</a>.</p><a class="more" href="#">keep reading »</a></div></div>
<div class="faq"><div class="question">Where is the TLTC located?</div><div class="answer truncate"><p> The <a href="/teaching-learning-and-technology-center/">Teaching, Learning, and Technology Center</a> is located in the Purchase College <a href="/library/">Library</a>, on the lower level.</p><p> Link to this <a href="/live/blurbs/1772-where-is-the-tltc-located" target="_blank" rel="noopener noreferrer">FAQ</a>.</p><a class="more" href="#">keep reading »</a></div></div>
<div class="faq"><div class="question">Can I use Turnitin to check my drafts or papers for plagiarism on my own?</div><div class="answer truncate"><p> The <a id="id_ebf4b6d9d8" data-cke-saved-href="http://moodle.purchase.edu/moodle2/course/view.php?id=4830" title="log in to moodle to selfcheck your paper" href="http://moodle.purchase.edu/moodle2/course/view.php?id=4830">Turnitin Self-Checker</a> allows students to check rough drafts of papers for plagiarism and proper citation. You can use the originality report generated by Turnitin to identify paraphrases or citations that need revision before your final draft is due.</p><p> The Turnitin Self-Checker is available to all Purchase College students and is not connected to any particular course or assignment.</p><p> To access the <a id="id_f8375263f5" data-cke-saved-href="http://moodle.purchase.edu/moodle2/course/view.php?id=4830" href="http://moodle.purchase.edu/moodle2/course/view.php?id=4830" target="_blank">Turnitin Self-Checker</a>, just click this <a id="id_b7b0aa1cad" data-cke-saved-href="http://moodle.purchase.edu/moodle2/course/view.php?id=4830" href="http://moodle.purchase.edu/moodle2/course/view.php?id=4830" target="_blank">link</a>, login to Moodle, and self-enroll into the space.</p><p> To upload a paper to the Turnitin Self-Checker, see the <a id="id_a02b8d56eb" data-cke-saved-href="http://purchase.libguides.com/moodlebeyondbasics/turnitin_studentsubmissions" href="http://purchase.libguides.com/moodlebeyondbasics/turnitin_studentsubmissions" target="_blank">Student Submission</a> directions at the <a id="id_ebc69252a1" data-cke-saved-href="http://purchase.libguides.com/moodlebeyondbasics/turnitin" href="http://purchase.libguides.com/moodlebeyondbasics/turnitin" target="_blank">Turnitin</a> tab of the <a id="id_cf555240ae" data-cke-saved-href="http://purchase.libguides.com/moodlebeyondbasics/home" href="http://purchase.libguides.com/moodlebeyondbasics/home" target="_blank">Moodle: Beyond Basics</a> guide. </p><p> Link to this <a href="/live/blurbs/1151-can-i-use-turnitin-to-check-my-drafts-or-papers" target="_blank">FAQ</a>.</p><a class="more" href="#">keep reading »</a></div></div>