Scanning Print Materials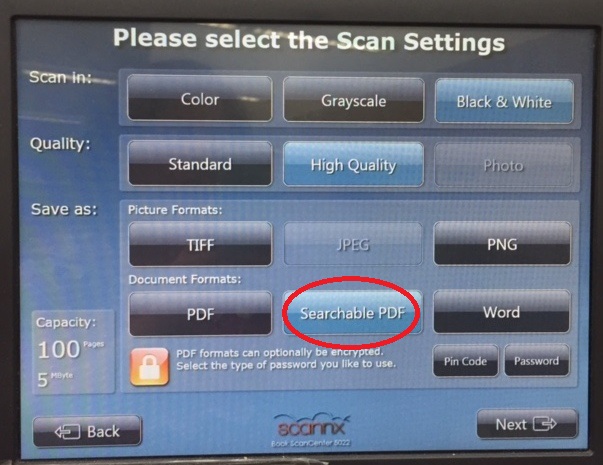 Library staff can assist you with using the Library's scanners to scan a book chapter, article, or other items that are not available digitally, but you need to be aware of copyright guidelines and Fair Use doctrine. Faculty members are responsible for the content they post in Moodle. 
Please note:
No more than 20% of a work may be scanned and posted without permission (even for educational use).  This means that you should not be scanning entire books, plays or other works
If more than 20% of the work is necessary, we recommend that you place the entire book on physical library reserve
The Library has two large, touch-screen book scanners, located in the Reference Area, that are available for community use. 
With these scanners, you can:
Scan to PDF, DOC (Microsoft Word), JPEG, or TIFF file formats
Email the file to your Purchase email account  or save it to a USB flash drive (but if you are doing more than 2 pages, use a USB—it'll be faster and safer)
Once the file is saved, you can then upload the file for your students on Moodle
If you must upload a PDF, try to be sure it is OCR accessible.  Consider the following to ensure accessibility:
Are you scanning from a CLEAN print copy (no, skewing, no markings, highlighting, shaded text, black gutters, etc.)?
Be sure the read order of the document is clear (that paragraphs aren't located in an unusual way)
Be sure to choose SEARCHABLE or OCR (Optical Character Recognition) for the scanner
Do not attempt shortcuts! Scan one page at a time. Take a moment to crop out shadows, etc. so that the page is as clean as possible.
Set higher quality—300dpi or above
TEST it!  

Can you highlight specific words or phrases, copy them and drop them into another document or does the entire screen turn blue when you click on the PDF?
Can you use CTRL+F / Cmd+F to search for and find words contained within the text?
Read & Write (a simple toolbar that will float over any application and has a clear PLAY> button)

Note that OCR is sufficient for shorter documents. Long, complex scans may need further tweaking using Adobe Acrobat DC to ensure the reading order and navigation are correct.
---
Linking to Content in Moodle
Work with your subject liaison in order to locate electronic versions of your course materials.
Always link as directly as possible to the source—it covers both copyright and accessibility standards.
If you are using an article from a database, link to the article WITHIN the database. 
DO NOT download and re-upload a .PDF from a database
If you need help making the link accessible to those off campus so they can log in, please see the Moodle Basics page, particularly the directions for working with files.
---
Canon Copier/Scanners: Soc. Sci, Music, Theatre Arts, Nat Sc
Canon allows you to easily scan your items in OCR/Searchable Text.  Please follow these directions:
Hit the button for "Main Menu" to the left of the main screen
Choose "Scan and Store" (or "Scan and Send" though this is not recommended as these files are large)
Memory Media Card (thumb drive or USB drive)
Click file format [normally, it is set to PDF (Compact)]
Choose OCR (text searchable)
That's it!  Scan and Save!