Are you on track? Select from 50 different courses that span the disciplines from STEM courses (Chemistry, Biology, Calculus, and Psychology); Arts courses (Intro to Classical Music and Collage); and Humanities courses (Latin American History and War/Gender in 20th Century Europe).
Tuition starting as low as $278 per credit.
Students may enroll for a maximum of 12 credits across the summer sessions. 
Session I
Mon., June 4–Fri., June 29, 2018 (4 weeks)
Session II
Mon., June 4–Fri., July 27, 2018 (8 weeks)
Session III
Mon., July 2–Fri., July 27, 2018 (4 weeks)
Both online and face-to-face courses will be offered throughout each of the three sessions.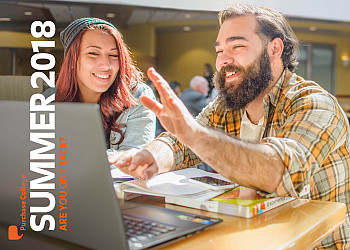 Students are able to sort courses offered by session, subject, instructor, and more in the myHeliotrope online course search.
We also offer an optional math fluency exam that will assist in determining the best level of Math course for you. Students can access that exam through Moodle.
Updated Mar. 27, 2018