MFA in Visual Arts
The MFA program in the School of Art+Design is a two-year, interdisciplinary graduate program in the visual arts.
This small and highly selective program fosters the artistic, intellectual, and professional growth of each student through exposure to a variety of viewpoints represented by faculty, visiting artists, and critics, and through independent studio work and academic studies.
Emphasis is placed on the development of originality, clarity, and studio discipline that will carry into the student's professional career. The focus on independent studio work encourages discovery of individual forms of expression. This is accomplished through one-on-one meetings with faculty sponsors chosen each term, group critiques, and cross-disciplinary critiques with the MFA faculty.
Graduate students are expected to produce an individual body of work during their two years, culminating in an MFA exhibition accompanied by a written thesis. For those interested in developing teaching skills and pedagogical approaches to art making, opportunities are available to assist in the teaching of undergraduate courses and, when appropriate, to develop and offer courses.
The extensive facilities of the school, including photography, video, and digital labs, a furniture-grade wood shop, metal shop, and printmaking studios, all housed within the school's 160,000 square foot building, are available to MFA students. In addition, each MFA student is assigned a semiprivate studio space. Thirty-five miles south of the campus, the vast art resources in New York City also play a crucial role in every student's curricular and extracurricular studies.
  Dual Degree: MFA in Visual Arts/MA in Art History
Graduate students have an opportunity to earn both an MA in art history through the School of Humanities and an MFA in visual arts through the School of Art+Design. 
Apart from preparation for museum and gallery work and writing art criticism, students enrolled in the MA/MFA program gain a significant competitive advantage when pursuing a teaching career in studio art. Candidates for both the MA and MFA should review the options for the thesis exhibition. Studio space is provided during the first two years of the program.
For more information on this three-year option, please refer to MA/MFA Academic Requirements.
Gallery of Student Work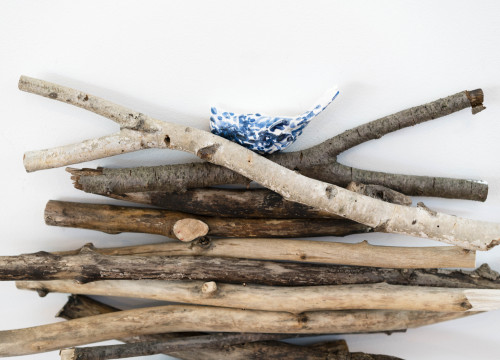 News:
A new exhibition at the Hudson Valley Center for Contemporary Art features work by an alumna, a faculty member, and a current graduate student.

MFA program coordinator in the School of Art+Design launches a book on the work of Lois Dodd.

Plastic-wrapped trees test nature and draw attention to human interaction with the planet.