You've already chosen a career in the arts. Now push yourself to the next level.
Purchase offers several highly selective graduate degree programs in the arts. Although the individual programs address different curricular needs, their aim is the same: to prepare serious artists and critics to become leaders in their fields.
Whether you have a burning passion or a profound vision, graduate level programs provide a platform for you to explore, polish, and expand your practice among a community of artists, thinkers, doers, collaborators, and colleagues. 
If you're serious about professionally pursuing your craft and articulating ideas that matter, our small and selective graduate programs allow you to drive your own original vision within a dynamic environment pulsing with creative energy. Faculty will mentor you, challenge you, and push you to a higher level. 
Why Purchase?
We're Proudly Public
Purchase College was founded as the cultural gem of the State University of New York system, a place where students from modest backgrounds could receive the finest quality arts education. We remain committed to the mission  of providing academic excellence and affordability to students of remarkable cultural and social diversity providing a unique environment for learning.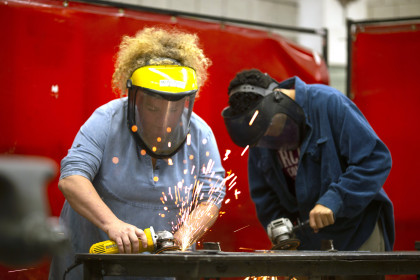 Outstanding Facilities
The facilities at Purchase—for making art, producing music, showing work, and performing—are second to none in the region.
At the heart of our campus are two major regional arts institutions, drawing visitors from around the world. With fine collections of modern and non-Western art, and a rotating schedule of cutting edge contemporary exhibitions, the Neuberger Museum of Art, is the eighth largest university museum in the country.
The Performing Arts Center showcases world-renowned theatre, music, and dance. In addition, students are invited to participate  in various Westchester-based spaces that combine exhibition, performance, and community engagement.
Distinguished Faculty
Our faculty are renowned in their fields. Learn more about our program coordinators.
Network New York City
Purchase is a mere 30 miles north of Manhattan—that's a 40-minute train ride to what is arguably the global center of the art world. We attract renowned practitioners in the arts as faculty members—who in turn share their own connections through critiques, studio visits, and guest lectures. You'll leave Purchase with an enviable network already in place. 
Graduate Student Financial Assistance
Our position in the SUNY system offers a significant financial advantage. Scholarships up to full-tuition are available, depending on residency status. Stipends for teaching by graduate students may supplement cost of attendance.
Those holding an undergraduate degree or the equivalent from an accredited college in the United States or an approved institution of higher education abroad are invited to apply.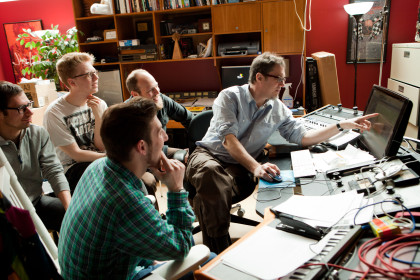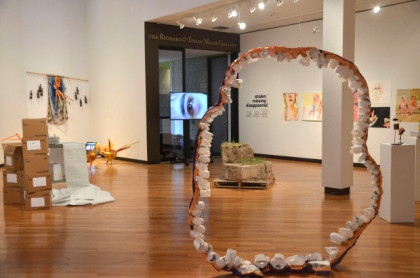 Art History MA
This MA program in modern and contemporary art and theory is for students who want to study art in the context of a critical approach, while still leaning heavily on visual studies. It's an intensive look at 20th and 21st-century art and the critical apparatus around it; many courses are supplemented by our own Neuberger Museum of Art and research trips to museums and galleries in Manhattan. 
Visual Arts MFA
The School of Art+Design offers a two-year MFA, an interdisciplinary graduate program in the visual arts. With emphasis on the development of originality and studio discipline, our visual arts MFA program facilitates the artistic, intellectual, and professional growth of our students. As a visual arts MFA student, you'll discover your true forms of expression through mentorship, independent studio work, collaboration, and cross-disciplinary critiques with the MFA faculty.
Art History/Visual Arts MA/MFA
This is a three-year dual-degree option culminating in a MA in art history through the School of Humanities and an MFA in visual arts through the School of Art+Design. It prepares students for museum and gallery work, as well as art criticism, and gives participants a competitive edge if they decide to pursue a teaching career in studio art.
MA Entrepreneurship in the Arts (Online)
Our MA program in arts entrepreneurship was created to address the critical need for imaginative leadership in both commercial and nonprofit sectors of the arts. Here, you'll build a solid foundation in management while strengthening your entrepreneurial skills, preparing you to build and lead enterprises that will sustain the arts marketplace of tomorrow.
Music: MM
For gifted musicians and composers destined for professional careers, we offer graduate studies in the Conservatory of Music leading to a Master of Music (MM) degree. The areas of study* are classical instrumental performance (brass, percussion, strings, harp, woodwinds, classical guitar, and piano), classical composition, voice and opera studies, jazz studies, and studio composition. Through our renowned faculty, master classes with guest artists, and our close connection with The Performing Arts Center, our MM students are able to create a course of study that will set their musical careers in motion.
Music: Artist Diploma
Our post-master's programs are for graduate students in music who have completed the master's degree requirements for Instrumental Performance, Jazz Studies, and Voice and Opera Studies.
Music: Performer's Certificate
This is a postbaccalaureate program for students who have completed the undergraduate requirements for Instrumental Performance, Jazz Studies, and Voice and Opera Studies and are entering into careers as performers in solo, ensemble, or studio settings.
---