Immerse yourself in an intensive education within a dynamic and supportive community of musicians, while receiving the direction and training to develop your artistry, span genres, and perform in ensembles of all sizes and styles. 
Across both undergraduate and graduate programs, the Conservatory of Music offers a distinctive, comprehensive education that will prepare students for the challenges and rewards of a career in music.
Classical
The classical program in the Conservatory of Music at Purchase College brings together an extraordinary resident faculty and exemplary facilities in an ideal setting for the training and nurturing of talented young classical musicians, enabling each to find their own unique musical voice. The curriculum of both the undergraduate and graduate program is based on a commitment  to excellence that makes the classical program in the Conservatory of Music one of the most exciting programs in the country. 
The instrumental performance program is built upon substantial performance opportunities, including solo, chamber, and orchestral performance. The areas of concentration are strings, harp, piano, brass, percussion, woodwinds, and classical guitar. In the voice/opera performance program, our award-winning opera program stages two full productions each year. In the composition (classical) program, works by student composers are performed and recorded regularly, enabling individuals and groups to create significant portfolios of original repertoire.
Jazz Studies
Purchase is about playing. In the jazz studies program, students perform in small and large ensembles while solidifying their education with intensive theory and history courses. Our expansive, real-world approach prepares graduates for the competitive and stimulating life of the professional jazz musician. Jazz studies celebrates its 25th anniversary this year.
Music and Technology
The studio composition program engages talented and ambitious independent writers and artists in the craft of musical composition and its contemporary technologies and methods. The studio production program provides focused, creative training in the recording arts for developing engineers and producers across a broad spectrum of musical and multimedia genres.
Work With the Best
Work closely with world-class musicians and educators. Our proximity to New York City makes it possible for you to study with many of the most respected names in music today—and to benefit from their extensive professional experience as performers, composers, and producers. Through private lessons and small-group study, our faculty will guide and mentor you in your career choice. And because the Conservatory of Music limits its enrollment to only 400 students, including undergraduate and graduate candidates, you will receive personal attention and opportunities to perform and hear your music right from the start.
---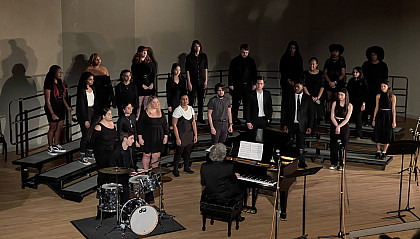 The Soul Voices choir, open to students in all disciplines, is a mixed vocal ensemble that explores the music of the African American experience, including spirituals, gospel, soul, rhythm and blues, funk, and jazz. (Feb 2022: Lift Ev'ry Voice)