Engaging and Empowering the Next Generation of Strategic and Creative Leaders
What is Arts Management?
The BA program in arts management at Purchase College is designed for those with a passion for the arts and interests in supporting and sustaining artists, events and organizations devoted to creative expression. Our arts management graduates are equipped with the knowledge, skills, experience, and confidence to advance further study in arts management or careers within the arts, entertainment, and other creative industries.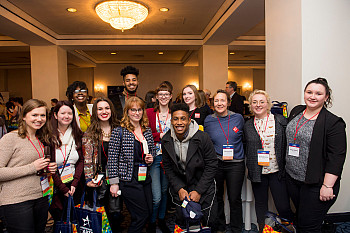 What makes the AMG program stand out?
40 credits in required courses leaves adequate room
to participate in other arts and business-based programs and initiatives  across campus
Sequenced curriculum that supports critical inquiry through real-world application and experience
Diverse and accomplished faculty representing a range of industry experience and expertise
Access to the rich cultural resources offered by the campus, Westchester County, and New York City
Is this the right program for me?
The BA in arts management serves a broad range of students aspiring to diverse careers or advanced study across the creative industries including the traditional performing arts, visual arts, film and the commercial recording industries.  The curriculum  provides a broad introduction to business models, managerial roles, and practices common to a range of arts enterprise in the nonprofit and commercial sectors.  Core courses are complemented by  upper-level electives, internships and independent-study opportunities to deepen understanding and skills that are relevant to  specific arts and entertainment settings and roles.  To learn more, reach out to Department Chair Maria Guralnik with questions or request a consultation.