Empowering Creative Leaders
What is Arts Management?
Arts managers play critical roles supporting and sustaining artists, events, and organizations devoted to creative expression.  The arts management program here provides training for anyone passionate about sharing the arts with the world.
We equip arts management graduates with the knowledge, skills, experience, and confidence to pursue advanced study in arts management or to flourish in careers within the arts, entertainment, and other creative industries.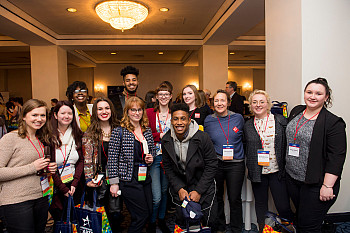 What Makes Our Program Stand Out?
Forty credits in required courses leaves adequate room to participate in other arts and experience-based programs and initiatives across campus
Sequenced curriculum that supports critical inquiry through real-world application and experience
Diverse and accomplished faculty representing a range of industry experience and expertise
Access to the rich cultural resources offered by the campus, Westchester County, and New York City
Is This the Right Program for Me?
If you're envisioning a career in a creative industry, such as the performing arts, visual arts, film, or the commercial recording industries, then this is the right program for you.
The B.A. in arts management at Purchase College serves students with a broad range of interests who share the desire to empower artists and facilitate arts presentation. Alumni move onto a wide variety of careers across creative entities, such as museums and galleries, recording labels, and arts venues and festivals, among many others. This degree also fully prepares students who wish to pursue graduate study.
A Curriculum With Room to Explore
The curriculum  provides a broad introduction to business models, managerial roles, and practices common to a range of arts enterprises in the nonprofit and commercial sectors. Core courses complement upper-level electives, internships, and independent-study opportunities to deepen your understanding and skills relevant to  specific arts and entertainment settings and roles. The program design allows the space and freedom to select your focus. 
A Perfect Campus
Our campus is home to four conservatories that serve as a professional training ground for artists in the visual, performing, and theatre arts. The arts scene here always buzzes with performances and creatives looking to collaborate. You'll find opportunities right on campus to put your education in action. 
So Close to NYC
Our Westchester County location is flush with the opportunity for internships and career experiences with New York City only a short commute or train ride away and within the surrounding metro area.
To learn more, reach out to Department Chair Maria Guralnik with questions or request a consultation.
---