Bring your love of music and we'll provide focused, creative training in the recorded media in the midst of one of America's acclaimed schools of music.
The program seeks a limited number of experienced producers and engineers who display advanced skills in recording, production, and associated technology. Studio production  faculty develop producers who can ultimately work within a wide spectrum of musical genres with expertise, awareness, and understanding of each genre's subtleties and traditions and with sharply honed technological, musical, and business skills.
The program's merit has been proven time and again by the artistic success of our alumni and current students, many of whom maintain active professional careers while still attending classes.
---
What Sets Studio Production Apart?
Besides the amazingly collaborative and supportive community of musicians, it's the…
hands-on studio experience
thorough training in most modern and classical musical genres, from hip-hop to Mozart
small-group study with professional producers
music theory and musicianship for producers
The Six Major Areas of Study
production and composition
musicianship and history
studio technology
professionally related electives
comprehensive training in the liberal arts
comprehensive training in the business of music
Body of Work
In order to graduate, all producers must conceive and produce two significant original projects: a Junior Production and a Senior Production. These can be either recorded or performed live. All productions require extensive preparation and documentation and are regarded and critiqued by the faculty. Many Junior and Senior Productions feature multimedia collaborations with the other arts conservatories on campus.
---
Listen In
Take a listen to this Spotify playlist featuring alumni and current students of the Music and Technology Department who have played instruments on, sung backing vocals for, produced, mixed, or mastered these recordings.
---
Deadlines and How to Apply
Visit Music Auditions in the Apply pages for details, including a video with tips on recording your prescreening audition.
---
<div class="student-profile-card" style="background-image:url('/live/image/gid/59/width/400/height/265/crop/1/src_region/0,0,2268,3024/21847_IMG-9366.rev.1662670097.JPG')"><a class="link" href="/live/profiles/5337-aniya-russell"></a><div class="text"><h2 class="title">Aniya Russell</h2><span class="subtitle">Studio Production, Class of 2023</span></div></div>
The Essentials
Studio Production at Purchase features a stellar faculty, a finely-tuned curriculum, close associations with both a renowned classical conservatory and a vibrant Jazz studies program, as well as superior professional career and internship opportunities in nearby New York City.
But the best aspect of studio production at Purchase College is what the students themselves have made of it—a friendly and artistic community whose spirit is the basis for a wonderful four-year experience.
Studio Composition or Production?
Studio Production functions closely with Studio Composition under the umbrella of Music and Technology, and collaborative accomplishment between these two programs is typical in classes, concerts, and recording sessions.
The video below describes the differences and similarities.
---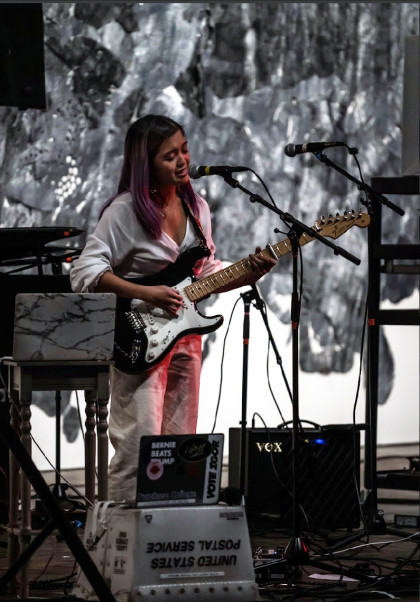 Music and Technology Students Performed in the Neuberger Museum of Art
---
Studio Production News
The jazz sensation also won Best New Jazz Vocal Album.

Congratulations to Assistant Professor Silas Brown '10 on his win and to David De Jesus '04 and Lucy Kalantari '98 for their work on Grammy®-winning projects.
When complete, Studio A will be a state-of-the-art recording facility with brand new equipment and instruments.

He's the Founder and CEO of two successful MacInspires Makerspaces.
---
---