Launched in the spring of 1993, the Purchase College Jazz Studies program is celebrating 25 years of making great music and nurturing some of the best Jazz musicians in the universe.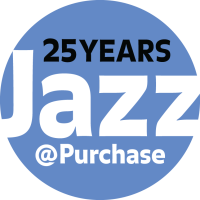 "It's an honor to celebrate such an important milestone for Jazz Studies at Purchase," says noted Jazz pianist Pete Malinverni, who leads the program. "Our alumni are among the most talented and professional in the country, as evidenced by their accomplishments in Jazz clubs and festivals around the world, and on award-winning recordings. We are thrilled to invite the public to check out the next generation of leading Jazz artists right in their own back yard." 
Throughout the 2018–19 season, Jazz students from Purchase, as well as alumni and musical friends of the program, performed on campus and at such noted New York City venues as the Blue Note, Birdland, and Dizzy's (Lincoln Center). 
Friends of Jazz Scholarship
Also coinciding with the 25th Anniversary was the launch of an effort to raise funds for a Friends of Jazz Scholarship Fund. All gifts go to scholarships for students in the Jazz Studies program. Purchase maintains a strong commitment to the idea that any student talented enough to succeed in a program as competitive as Purchase Jazz should not be impeded by an inability to pay.
James Moody Scholars
The James Moody Scholars ​program awards tuition funds to two Purchase Jazz Studies students annually who've demonstrated outstanding skills as musicians, along with an understanding of the values James Moody exemplified, of devotion to music, good citizenship, and service to mankind.
Past recipients have included Mike Troy, Chris Foe, Max Darche, Juan Sanchez, Andrew Gould, Nathaniel Ranson, Nicole Davis, Alexandra Hamburger, Andrew Latona, and Malik McLaurine.
Ella Fitzgerald Foundation
The Ella Fitzgerald Foundation awards tuition funds to an outstanding Jazz Voice major who shows the kind of work ethic and intent on sharing music with the world personified by Ella Fitzgerald 
Past recipients have included Maria Quintanilla, Kira Goidel, and Lucy Wijnands.
About the Jazz Studies Program
The performance-driven curriculum strives to emphasize the practical, bringing "the street into the classroom." With world-class performance and rehearsal facilities, the program enjoys an acclaimed reputation among today's leading institutions. Read further about the Jazz Studies program here
---