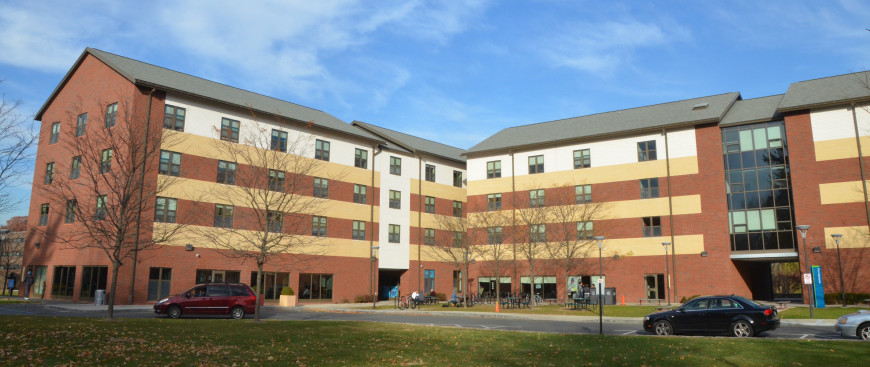 Fort Awesome, also known as "The Fort" is one of three residence halls that serve our upperclass residence hall community, housing approximately 315 upper-class residents. 
Most rooms are doubles with private bathrooms. There are approximately twelve designed triples that may be available. Student housing is located on the second, third, and fourth floors. Each floor has lounges located near the middle of the building. 
The first floor houses Starbucks, the Harbor Center, the Multicultural Center, as well as classroom space. Fort Awesome is serviced by two elevators off of the main lobby entrance area.
Athletic Housing is provided in Fort Awesome, for new or continuing students who participate in any of the recognized athletic teams on campus. The Office of Community Engagement works closely with Athletics to provide housing that meets the needs of all athletes. Athletes often stay while their team is in season during Thanksgiving break, winter break, and spring break, and offers team members the opportunity to experience campus life together.
Room Furnishings
One twin XL bed, desk, desk chair, and dresser per resident
One lamp/light fixture per room
One armoire per resident
Cable TV connection
Wireless Internet
Smoke/Heat Detectors
 Heat and AC units that are controlled by building. 
Support for Students
While six upperclass Resident Assistants (RA) live in Fort Awesome, the staff of both Fort Awesome & Outback work to support students under the direction of one Residence Coordinator (RC) to help students continue to grow while at Purchase College.
Typical Room Size
Doubles are typically 14 feet wide x 11 feet long
Triples are typically 18 feet wide x 18 feet long
Bathrooms are typically 5.5 feet wide x 6.5 feet long
Typical Furniture Size
Desk Size: 42 inches wide x 24 inches deep x 31 inches high
Dresser Size: 30 inches wide x 20 inches deep x 42 inches High
Bed Size: 36 inches wide x 84 inches long, with adjustable heigh
Armoire Size: 36 inches wide x 24 inches deep
All dimensions are approximate.
Virtual Tour
Take a virtual tour through a room within Fort Awesome.  While there may be some subtle differences within different rooms in the building, the tour will take you through standard two-person and three-person rooms.
Once you are inside the tour, you will see an information tag that will outline a floor plan with room specifications and sizes.
Two Person Fort Awesome Double Room
Three Person Fort Awesome Triple Room
Upcoming:
Nov

8

Self-treatment technique to manipulate and rehydrate connective tissue.

Nov

11

Combining Mindfulness and a Slow Restorative Yoga Flow.