Building and Room Information
At Purchase College, more than two-thirds of our students live on campus, which means that dancers, scientists, musicians, poets, painters, and writers live side by side in a vibrant community.  
Students hail from 35 countries and nearly every state in the nation and forge meaningful and lasting friendships.
Life on campus is never without options to connect with peers, catch a performance, learn something new, or just hang out with friends. 
The Office of Community Engagement is always open to support students beyond their academic endeavors. 
Our residence halls and apartments all house both male and female students. Your housing options are listed to the right.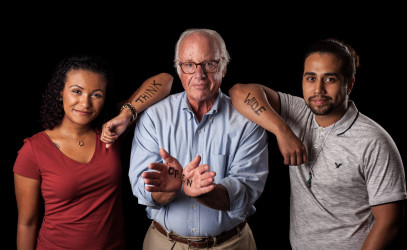 President Schwarz with student leaders at Dear World event.
Bike Share Program:
The PSGA funded Zagster Bike Share program is available to students who live on campus! 
There are bike stations near the HUB and Crossroads residence hall that you can utilize while living on campus, so there is no need to bring a bike with you.   

 Download the Zagster app on Android and IOS devices to get started! You can also visit PSGA's Zagster Platform for more information on getting started with the bike share program. 
We ask that all community members to take care of the bikes and treat with care. We want this to be a service for the entire Purchase community so let's be respectful of everyone that will be using the program.