Housing rates are reviewed periodically and are subject to annual increases. Click here to view the 2017-2018 Housing Room Rates.
Housing rates for the 2018-2019 academic year will be announced in May 2018.  Please anticipate a 3% - 5% increase in the housing rates.  Stay tuned for more information. 
Making Payments
Housing and Dining fees are made directly to the Student Financial Services.  
Charge Adjustments
Any meal plan or assignment change that occurs during the academic year is prorated on a weekly basis. If a change in your meal plan or assignment generates a credit or debit, that change will be reflected on your Student Account.  
Students who request room/building changes should be aware of rate differences and meal plan requirements when making requests to avoid unexpected charges.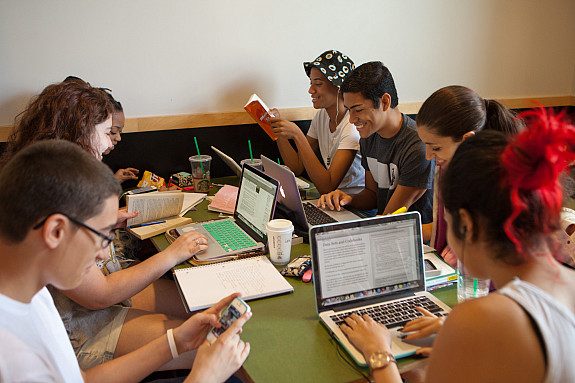 Students working hard during a study group for a class project.