We recommend you talk to your roommate(s) and plan what to bring together, so you don't wind up with three TVs, three radios, and three refrigerators!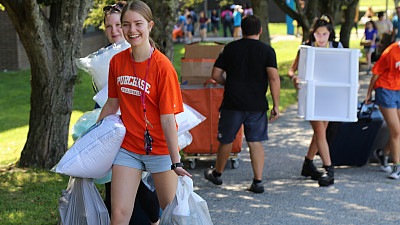 What to Bring
Below is a basic list of items that we suggest that you bring to campus. Also bring familiar items to make your room feel more comfortable and like home—pictures, small plants, etc. If you're traveling far or don't have room, it may be easier to purchase some of the items on your list from the nearby Target, Bed Bath & Beyond, Container Store, etc.
Especially for Fall 2021
Hand Sanitizer
Toilet Paper
Masks
Disinfectant Wipes (Lysol, Clorox, etc)
Hand soap
Linens
Blanket/Comforter
Sheets for extra-long twin bed
Pillows
Pillow cases
Towels
Personal Care
Bath Soap
Deodorant
Perfume/cologne
Hair care products
Hairdryer/Straightener
Toothbrush, toothpaste, floss, mouthwash 
Shower caddy
Shower slippers
Bathrobe
Toilet Paper
Paper Towels
Electronics
Cellphone
Alarm clock
TV (only 1 jack per room—no splitters)
DVD/Blu-ray Player
Computer/Laptop (with Ethernet cable)
Printer
CDs/DVDs
Headphones
MP3 player/iPod
Desk lamp
Fan
Coffeepot (UL approved, auto shutoff)
Surge protected power strip (UL approved) with an on/off switch
Laundry
Detergent
Bleach
Dryer Sheets
Iron
Laundry bag/basket
Small ironing board
Sewing kit
Other Items
Dishes, bowls, silverware, etc.
Flashlight and batteries
Cleaning supplies
Small area rug
Small trash can/bags
Medical information
Bicycles (Must be stored in designated outdoor areas or bike room in Wayback)
To Do List
Rent MicroFridge
Call/email roommate(s)
Learn about our renter's insurance
What Not to Bring
The following items are NOT permitted in the residence halls and apartments. Students who are found with these items will be subjected to confiscation and/or disciplinary action. Please note that this is not an all-encompassing list—additional items may apply, per policies/codes.
Refrigerators exceeding five cubic feet
Weapon, including firearms, knives, paint/pellet/air/bb guns, daggers, etc.
Fireworks/Explosives
Flammable substances (lighter fluid and propane, paper decorations, acetone, oil paints, paint thinner, and flammable solvents, etc.)
Lava Lamps
Drugs/Paraphernalia 
Halogen lamp/Sun lamp
Incense/Candles
Wax warmers
Extension Cords/Multiplug Adaptors/Outlet Extenders
Daisy-chaining (connecting power strips into one another)
Holiday Lights/String Lights that are NOT LED bulbs
Air Conditioners 
Pets (only fish are permitted in a maximum 10 gallon tank) 
Hoverboards/Motorized Scooter/Motorized Bicycle
Personal Furniture
50% or more wall/door covering
Ceiling Decorations
Outside antennas and satellite dishes
Unauthorized lofts, paneling or any other structures (i.e. track lighting)
Electrical equipment that does not bear UL approval
Privacy pop bed tents
The following cooking appliances are ONLY allowed  in apartment kitchen/dining areas:
Microwave oven (MicroFridge units are allowed) 
Toaster/Toaster oven
Other cooking appliances, such as sandwich makers, George Foreman, hot plates, etc.
Grills (Currently allowed in apartment community, but should not be stored indoors)
More Things to Consider 
Fire Hazards
All electrical appliances used for cooking food are prohibited in residence hall rooms. All other appliances such as irons, hair dryers, TVs, radios, etc. should be used with caution. In addition, all appliances, extension bar outlets and electrical hook-ups must have an UL approved label attached.
The College makes periodic health and safety inspections of all rooms during the year and reserves the right to remove all items considered to be a fire hazard. New York State codes prohibit:
cooking in residence hall rooms
fastening any combustible material to any ceilings, or
covering any fire alarm equipment in the residence hall rooms
Rule of Thumb about Fire Safety and Appliances
If it has an exposed heating element (George Foreman grills, toasters, hotplates, etc.), it is prohibited in the residence halls.
Residents May Not:
Cover/tamper with light fixtures or smoke/heat detectors
Modify to the electrical, mechanical, or structural framework
Alter internet, cable, phone, or electrical outlets
Hang items outside windows or entering/exiting windows 
Don't Forget Your Cleaning Supplies
You are responsible for cleaning everything behind your locked door. College staff cleans the common areas of the residence halls. Please bring cleaning supplies and a vacuum.
---
Microfridge 
Consider leasing a MicroFridge to use in your residence hall room. This is the only microwave allowed for use in our residence halls, and you won't have to transport or store this large appliance between semesters, or sell one after graduation. Please visit the Refrigerator Leasing Company website for information
The Refrigerator Leasing Company provides the following Refrigerator Return Information:
Please check the pick up schedule for the return date, time and place. Be sure to check that the truck is at the assigned place before moving a refrigerator. Handcarts and help are available at the truck.
Bring the clean, defrosted unit to our truck at the specified time. Handcarts and help are available at the truck. If you are not available, a roommate or friend may return your unit for you. Failure to come out to the truck or to clean the unit thoroughly will result in the loss of your security deposit. Please bring all shelves that came with the unit. If you need assistance with a MicroFridge, you or your roommate should come out to the truck without the unit and we will accompany you back to the room to assist you getting the unit down to the truck.
We will give you your security deposit check and a receipt with our firm name imprinted. In addition, you must sign the receiving book at the truck. Failure to obtain the receipt and sign the book at the truck may result in you being charged for the unit.
Refrigerators not returned to us on the return date may have to be shipped to our Oneonta NY warehouse by you at your expense. Avoid this problem and make necessary arrangements to return the unit on time!
Check and make sure we have your address correct. If not, call 1-607-431-9525.
Many students order a unit now for next year. To order one now, please tell a representative at the conclusion of your return. We will apply your deposit to next years rental.
You may return you refrigerator at a different residence hall if you have moved.
If you have a problem with the time contact our office and we will try to make other arrangements. If you fail to contact us at least 3 days in advance, and you do not return unit on scheduled date, you will forfeit your deposit.
Charges for failure to return unit are as follows: MicroFridge $500; Counter High $180; Cube $100; Safe $200.  Please note that these figures may be outdated, and all information should be verified through the microfridge company prior.