Upperclass Apartment Communities
Alumni Village, The Commons, and The Olde
Alumni Village, The Commons, and The Olde apartment communities provide a variety of options for upperclass housing.  All sophomores, juniors, and seniors can select their own room from the rooms available during the Room Selection Process that occurs in the spring, as long as they meet the requirements to live in the apartments: either have 36 completed credits OR be 21 years of age at the time of application.  All of these housing options allow for Gender Inclusive Housing.
Our apartment communities offer an additional transitional component for students to experience life within an apartment, with almost all having full living rooms, kitchens, and bathrooms shared among the residents of those areas.
The apartment communities are the only housing option that remains open for Thanksgiving and Spring Break automatically included in your housing costs.  A meal plan is not required; however, apartment or full meal plans are available.  For those that require housing over Winter Break and/or Summer Break, please explore our PREP housing options.
Residents living in all three apartment communities are assisted by the Resident Assistant (RA) and Residence Coordinator (RC) staffs out of The Olde Community Center (OCC), which is located in The Olde at the corner of G and J-Streets. Staff here can assist with lockouts, party registration, lost key change requests, and other student needs.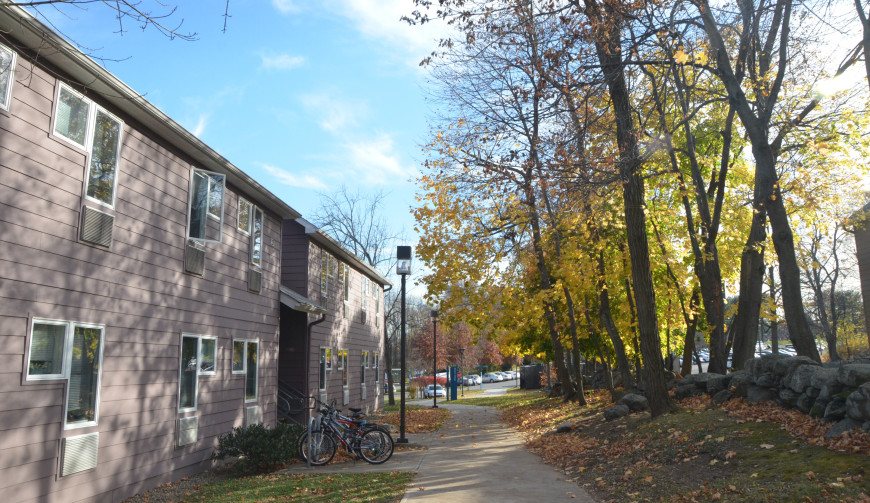 Party Registration Information
1. Students register parties by picking up a form from The OCC. Information and instructions:
Occupancy limits must be obeyed.
Addresses, phone numbers, and date of births for guests must be submitted.
Friday/Saturday only. (No registered parties allowed on the following weekends: first/last weekend each semester, Halloween, Thanksgiving, Fall Fest, Spring Break, and Culture Shock.
Parties end at 1:30am or earlier
Forms must be turned in by 4pm on the Tuesday PRIOR to the weekend.
No more than two parties per community with a maximum of six parties per weekend.
2. Students meet with RC
Hosts must meet with RC to discuss and review forms and noise, alcohol, safety, and other policies
If approved, a signed form and poster are provided.
3. RC Sends Emails
If approved, the RC will send an email to the residents just prior to the weekend.