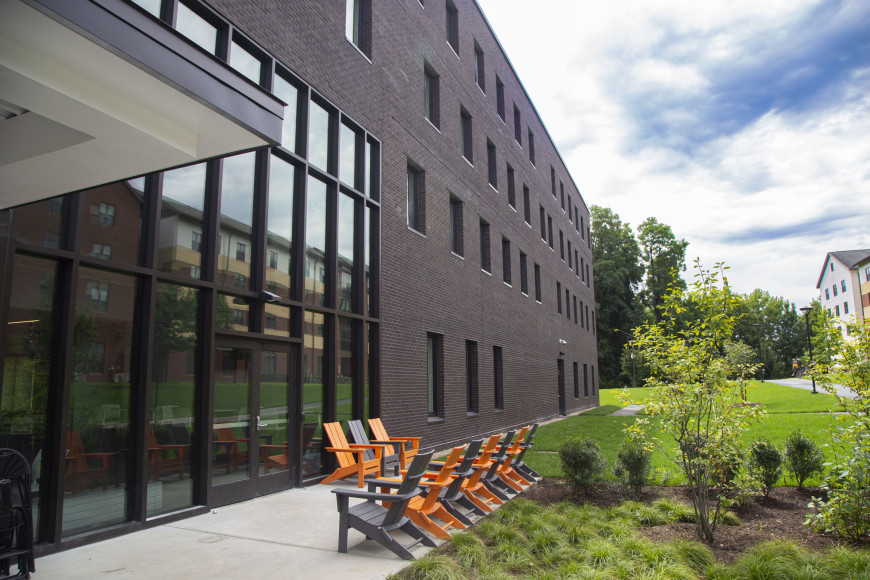 Wayback is one of three residence halls that serve our upperclass residence hall community, housing approximately 300  residents. Rooms are four-person suites, with two singles, one double, a small shared common area, and private bathrooms.   The building has two elevators off the building's main lobby.
Student housing is located on the first, second, third and fourth floors. Each floors has a garbage room and a large study lounge. The first floor has a bike storage room and a large entertainment space, including a gaming area and community kitchenette. The entire building is keyless, allowing residents to enter the building, their suite, and bedrooms by utilizing their ID card.
Wayback is the newest residence hall, completed in August 2019. 
Winter PREP Housing is offered in Wayback.
Athletic Housing is provided in Wayback, for new or continuing students who participate in any of the recognized athletic teams on campus. Residential and Student Life works closely with Athletics to provide housing that meets the needs of all athletes. Athletes on specific teams often stay while their team is in season during Thanksgiving break, winter break, and spring break, and offers team members the opportunity to experience campus life together.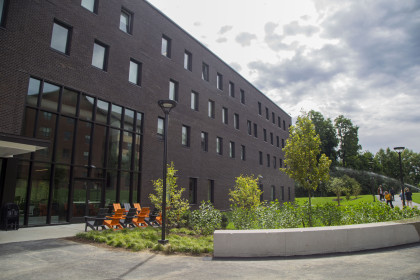 Suite Door Pin Set Up/Reset
Wayback is a keyless building and residents will access their suite and bedrooms by using their ID card.  In addition to gaining entry into your suite with your ID, residents also need to enter a 4 digit pin.  To expedite your check-in and arrival, residents should set their PIN beforehand by visiting the PIN RESET portal.  PINS can be reset at any time throughout the semester for your safety and convenience. 
Please note that PINS cannot begin with 0.  
Support for Students
Seven upperclass Resident Assistants (RAs) live in Wayback and work to support students under the direction of one  Residence Coordinator (RC) to help students continue to grow while at Purchase College.
Meet Your RA(s)
Sustainability Efforts
As with all our new buildings, Wayback was designed to meet Leadership in Energy & Environmental Design (LEED) Silver certification standards. It includes solar panels on the roof, energy-efficient heating and cooling equipment, and renewable or recycled building materials.
Wayback Rooms Furnishings
One twin XL bed, desk, desk chair, and combined dresser/armoire per resident
One lamp/light fixture per room
Cable TV connection
Wireless Internet
Smoke/Heat Detectors
Controlled heating/cool air
Loveseat and end table in the common area
Typical Furniture Size
Desk size: 42 inches wide x 24 inches deep x 31 inches high
Bed size: 36 inches wide x 84 inches long, with adjustable height
Armoire with combined dresser size: 36 inches wide x 24 inches deep x 72 inches high
All dimensions are approximate.
Typical Room Sizes
Single bedroom is approximately 7 feet wide x 11 feet long
Double bedroom is approximately 10 feet wide x 16 feet long
Common suite area is approximately 8 feet wide x 10 feet long
Laundry Tracker
Check out the status of the laundry machines in your building and see how much time is left on your machines by viewing our Laundry Tracker. You can also enter your email to get alerts when your machine is ready and/or done
Virtual Tour
Take a virtual tour through a room within Wayback! While there may be some subtle differences within different rooms in the building, the tour will take you through the standard four-person junior suite. A junior suite is the standard living arrangement within the building.