Purchase College offers a variety of credit-bearing internship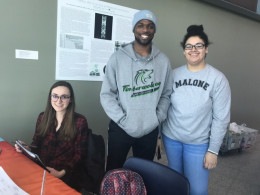 opportunities right here on campus! Internships are offered within campus departments, programs, and approved student clubs and organizations. Interns are supervised by professional staff and receive mentoring from Purchase College faculty.
Admissions
Contact:  purchaseadmissions@purchase.edu
Admissions Office Intern:  This internship offers an opportunity for students to gain valuable real-life work experience in an on-campus office. Training is provided by the Admissions Team to the student, whose leadership, presentation, and communication skills are developed throughout the duration of the internship.  The student intern will gain valuable experience as a member of the Admissions Events Committee, planning upcoming counselor travel and assisting in the logistical planning of campus events. Working closely with a Liberal Arts and Sciences counselor, the intern will also assist in the application review process, community college newspaper advertising, and coordinating and editing the Counselor E-Newsletter.   This internship requires the commitment of an entire academic year, during which the student will work fifteen hours each week. Strong written and oral communication skills as well as an excellent work ethic are required. An interest in the college admissions process, college recruitment, and event planning is helpful.
Admissions Graphic Design Intern:  Work closely with the admissions staff to assist with the design of event materials, counselor newsletters, applicant outreach and various admissions documents. The student intern will gain real-world graphic design work experience, learn how to work for a client, follow projects from design to print and develop communication and office skills. The student will be responsible for the production of brochures and graphic advertising for on-campus events including various Open-House events (Fall, Spring, Junior, Transfer) as well as weekly Information Sessions for prospective students.  Requirements:  Expertise with Adobe Creative Suite 3 (Photoshop, Illustrator, In-Design); strong written and oral communication skills, proficient analytical and computer skills are required for application to this internship program. Interns are expected to work approximately eight hours per week. Students are encouraged to commit to a full academic year for the internship.
The Alternative Center
 Contact: thealtcenter@gmail.com 
The Alternative Center provides peer-based support in a safer space for all students. Their mission is to educate, advocate, and celebrate safer sex, body positivity and identity development.  They create opportunities where students can learn about their bodies, health and sexuality, as well as offering free information and literature on a variety of topics.  They host community outreach events, workshops, and raffles to the students at Purchase College while endorsing consent and safer sex on campus through the distribution of safer sex materials, menstrual products and more.  
The Purchase Beat:  The Music & Arts Magazine at Purchase College
Contact:  thebeatatpc@gmail.com
The Purchase Beat opportunities include:
General Management Intern

Web Editing Intern

News-Editing Intern

Reviews-Editing Intern

Photo/Video Intern(s)

Assistant Editor(s)

Reporter(s)
To apply, email thebeatatpc@gmail.com with the name of the internship in your subject line.
Career Development Center
Contact:  
CLs:  Masako Hashimoto, Alumni Career Counselor, masako.hashimoto@purchase.edu 
Wendy Morosoff, Director wendy.morosoff@purchase.edu
Media: Jessica Mazzia, Assistant Director jessica.mazzia@purchae.edu
Peer Career Liaisons (CLs) work closely with Career Development Center (CDC) staff to assist in providing career services to students, valuable information, and exciting programs and events. CLs are given the training and mentoring necessary to develop their leadership skills and are empowered to create and implement their own ideas for marketing materials, resources, and programs. This is a progressive internship experience- Students are recommended to commit to a full academic year.
Interactive Media Marketing Internship - Video:  The intern will creatively utilize video other resources to promote the Career Development Center (CDC) to Purchase students and to market the CDC's events and services throughout the academic year. The intern will work with the CDC team (professional staff and interns) to contribute to marketing and promotion.
Interactive Media Marketing Internship - Design:  The intern will utilize graphic design/creative skills to promote the Career Development Center (CDC) to Purchase students and to market the CDC's events and services throughout the academic year. The intern will work with the CDC team (professional staff and interns) to contribute to marketing and promotion.
Social Media Marketing Internship:  This internship will focus on marketing the Career Development Center (CDC) through our social media presence and other on-line resources.  The intern will help to plan and implement CDC social media marketing efforts including Facebook, Instagram and Twitter.
Cornerstone Program
Contact: Amy Fisk, M.A./C.A.S., Cornerstone Program Coordinator, amy.fisk@purchase.edu
 Peer Mentor, Cornerstone Program
Meet individually and in groups with mentees receiving services from the Cornerstone Program on a weekly basis, helping to facilitate their academic, personal, and social growth
Accompany mentees to various campus sponsored activities (e.g., sporting events, theatre/dance productions, concerts, club meetings, etc.)
Help students develop skills integral to starting and maintaining social relationships with peers
Assist students in navigating their day-to-day activities as college students
Work with the Program Coordinator and other mentors to plan and organize on and off campus activities for mentees
Participate in weekly group supervision with the Program Coordinator
Complete required documentation in a timely manner
Qualifications include:
Be a sophomore, junior, or senior in good academic standing (2.75 GPA) at Purchase College
Be available between 6-8 hours per week (some evening and weekend hours may be required)
Possess effective written and oral communication skills
Be available for two consecutive semesters (i.e., Fall & Spring semester of the same academic year)
Provide resume listing work/volunteer experience, as well as completed Cornerstone internship application
Open to any major, preference may be given to Psychology and Sociology majors
Casa Purchase
 Contact:  Leandro Benmergui, casa@purchase.edu

Casa Purchase, An Outreach Center for Latin American Studies, is now offering new academic internship opportunities through our local partners.  All of these internships are intended for community work that will benefit a significant number of local residents and underserved populations in Westchester county.  These internships offer a unique possibility to work with nonprofits and gained a valuable service-learning experience.  For a list of internships available through Casa Purchase, please visit our website.

In addition to these internships, Casa Purchase is also looking for Learning Assistants for Conversation in English Language (ESL). Instruction is here at Purchase College to the serve the immigrant community of Westchester County. This is a partnership between Casa Purchase, the Westchester Hispanic Coalition, and the Office of New Americans of the State of New York.
Conservatory of Music
Contact:  Beatriz Martin-Ruiz, Coordinator, beatriz.martin-ruiz@purchase.edu
Purchase Symphony Orchestra Intern:  The  Conservatory of Music PSO intern reports directly to the Orchestra Manager and works very closely with the Music Director and the Assistant Orchestra manager in the daily operations of the orchestra. Responsibilities include: Setting up and striking for each rehearsal and concert; Making sure chairs and stands are readily available for all rehearsals; Maintaining the PSO bulletin board with announcements, updates, etc.; Helping the Assistant with data collection for concert programs; Marketing and promotion for concerts; Maintaining a visible Social Media presence for the PSO; Additional responsibilities as needed.  Must be available between 1 and 6 pm Tuesdays and Fridays, and on occasional concert evenings (typically 3 times per semester).  Previous house management, ushering, stage crew or stage management experience preferred.
Administrative Assistant Intern:  This position is mainly responsible for planning and implementing a schedule including but not limited to maintaining correspondence with faculty and department chairs, web updates related to Music Auditions, etc. Additionally, this intern assists the Conservatory Coordinator in managing new student files for advising and registration, and documenting all new transfer evaluations. Additional administrative support; typing, filing, telephones, mailing and other duties assigned.  Music background required. Previous Office Experience is a must, as is fluency with Microsoft Office applications.
Email Resume/Cover Letter to:  beatriz.martin-ruiz@purchase.edu.
EOP
Contact: Paul Nicholson, Director of Special Programs/Ombudsman,paul.nicholson@purchase.edu
The EOP/MAP intern will be present in the office 10 hours per week doing various tasks related to the admissions process of the programs.
 
The intern will:
Greet interviewees, their families, guidance counselors etc.

Inform interviewees of their status, admissions procedures, and required paperwork for admission.

Administer an essay question to interviewees.

Occasionally give campus tours to interviewees, their families, etc.

Contact applicants in order to discuss their applications to EOP/MAP.

Inform applicants of any missing documents.

Prepare financial documentation for review by our financial aid office.
The intern is also encouraged to attend weekly staff meetings. In addition to the above requirements, the intern will join us as a paid staff member this summer in the role of a Peer mentor for some of the very same students he/she worked with to get them admitted/enrolled at the college.
International Programs and Services
Contact:  Marjorie Ramirez, study.abroad@purchase.edu        
The International Programs and Services intern will assist in 3 main areas:  study abroad program marketing, assistance with analysis of surveys and peer advising for students who are interested in studying abroad.  They will be responsible for tabling, providing information to students, and updating the surveys. The intern must have studied abroad and have an interest in marketing.
Leadership & Bystander Intervention
Contact: Catherine Van Bomel, LCSW, Staff Senior Clinical Social Worker & Victim Advocate/Coordinator of Victims Assistance and Educational Services, catherine.vanbomel@purchase.edu
The Leadership in Bystander Intervention ( formally the MVP internship) will provide students with an understanding of the complex issue of sexual violence and other forms of interpersonal violence on college campus. The internship requires students to attend a class which utilizes the Mentors in Violence curriculum. The internship is a collaborative effort of Westcop/ Victim Assistance Services and SUNY Purchase College. The class is taught by the Community Educator from VAS and the internship is supervised by the Victim Advocate on campus. The evidence-based MVP program provides students with bystander intervention classes utilizing the MVP curriculum to empower them to interrupt, confront, and prevent violence by their friends, peers, colleagues, or teammates. In keeping with the Centers for Disease Control (CDC) guidelines for effective primary prevention work, MVP is a multi-session, multi-topic curriculum designed to provide sufficient dosage to effect changes in knowledge, attitude, and behaviors in students. 
The service opportunities will include collaborative programs on campus to apply the skills the student Leaders have learned as well as hands on experience for active advocacy and peer education forums. These programs are a way for the student Leaders to learn how to engage their peers and others in the college community to enhance the cultural norm regarding rejecting interpersonal violence and speaking out against the victimization of others.
Internship Objectives:
To develop an understanding of the issues related to interpersonal violence
To challenge thinking by countering mainstream messages about gender, sex, and violence
To open dialogue by creating a safe environment for people to share experiences
To Inspire leadership by empowering participants with concrete options to affect change in their respective communities
Internship time commitment:

The internship is divided into three distinct sections and represents both academic/theoretical and practice dimensions. The time commitment for the class includes attendance at a 90 minute class for eight consecutive weeks. The class time will be divided in half to include the first half introducing theoretical and context followed by a group discussion responding to the given topic. 

The student Leaders will be responsible for the creations, development, and implementation of various campus programs to educate and engage the student body in violence prevention efforts for two hours per week or a sixteen hour commitment overall. 

Students will have the option to be involved in programs such as the Remember My Name' program designed to honor those killed by an intimate partner, "Part of the Solution" program to promote others to commit to being an active community member fighting rape and oppressive culture, and other annual programs. Students will also be encouraged to create their own programs around the issues of interpersonal violence.

The class schedule for this internship meets from 6:30pm to 8pm on Wednesdays for eight weeks. 
The Neuberger Museum
The Neuberger Museum internship program introduces students to museum professions and the role of the museum in society. The program brings students together with museum staff to allow students to explore careers in museums. Students work in one area of the museum and contribute to current projects. The Neuberger offers internships during each academic term for credit or non-credit. Students of all majors are encouraged to apply. All years are eligible for internships, although preference will be given to juniors and seniors. This is a competitive program with a limited number of interns accepted. It is important to apply early.
Internships are offered in the following areas of the museum:
Collections Management

Curatorial

Development/Membership

Event Planning

Education

Exhibitions

Public Programming

Marketing/Public Relations

Visitor Services/Museum Store
New York State University Police (UPD)
Contact: UPD.internship@purchase.edu
Emergency Preparedness Intern (10 HRS Week) 4 Credits - Paid
The Emergency Preparedness Intern will assist the New York State University Police department in preventing and preparing for disasters of every kind.  Job duties will include taking minutes at executive-level Emergency Response Team meetings, preparing tabletop exercises, participating in emergency drills, updating emergency and disaster recovery plans and working with emergency management related applications and tools such as Mass Notification Systems.
Community Liaison Intern (10HRs week) 4 Credits - Paid
The Community Liaison Intern will assist the New York State University Police with community engagement.  The Intern will assist in the planning and coordination of events and activities that foster community relations on campus and beyond.
Police Department Auxiliary Intern (5HRs Week) 2 Credits - Unpaid
This program will allow 10 students to receive training in police and security disciplines to include legal, social and procedural aspects of policing.  The program will introduce participants to a uniformed police academy environment.  The participants will apply what they learned by performing as an adjunct to the Police Department by providing security at campus events. Additional trainings will include tactical awareness, counterterrorism, media relations, role-plays, simulations, and workshops to educate community members about police training and tactics.  The goal of having participants acquire a better understanding of the authority and limitations of police. The information and insight gained from the program will allow all involved to assess their roles and responsibilities in fostering effective and productive police-community partnerships.
NYPIRG
Contact:  James Accordino, jaccordino@nypirg.org
Student interns choose one of NYPIRG's five main focus areas and work as a Project Leader for that campaign. Our five campaigns are: Higher Education Funding, Hunger and Homelessness, Voter Empowerment, Consumer Rights, and Environmental Issues. Students learn political advocacy/activism skills, as well as public speaking, media outreach and community organizing skills. By planning campus events and involving other students in lobbying, NYPIRG serves as a powerful voice for student's interests. NYPIRG is a state-wide, student-run, not-for-profit organization.
Office of Institutional Advancement
Contact: Carla Weiland-Zaleznak, Director of Annual Giving, carla.weiland@purchase.edu
The Office of Institutional Advancement Annual Giving Assistants will work with and report to the Office of Annual Giving. They will perform a variety of tasks related to fundraising in the non-profit sector. The duties and responsibilities of the interns may vary and will be determined after meeting with the staff and based on the interns capabilities and interests. This position will provide training in the software programs Raiser's Edge and Crystal Reports. Additionally, interns will perform clerical and administrative tasks as requested.
Performing Arts Center
Contact:  Harry  McFadden, Performing Arts Center General Manager harry.mcfadden@purchase.edu
Arts-in-Education Intern:  Focus on developing teacher contacts in the local education community and researching ways of improving the office's gathering and recording of teacher evaluations of our program.  Sending contract packets and assisting in the researching and inputting of new audience data. Assisting in an evaluation of the current data research protocol and collaborating with AIE staff in the defining of a new one. Participate in the general administration of the department, and assist at AIE performances wherever possible. The position requires knowledge of MS Word, Excel, viral tools and will need good interpersonal skills.
Marketing/Ticket Office Intern: Assist in advancement of marketing Center performances and analyzing marketing initiatives. Gain hands-on experience in enhancing the exposure of our performances to the Campus Community including spearheading social media campaigns. Act as a key liaison between The PAC and Purchase students, assisting in daily administration, implementing designs and content into web/print advertisements, marketing research and tracking those efforts throughout the semester. 9 per week split between the Marketing Dept. and the Ticket Office, completed M-F with occasional evening and weekend hours required.
Development Intern:  Assist in various activities in a busy fundraising department.  Specific duties could include:  assisting with all aspects of special events (including the Opening Night Gala); assisting in Annual Fund mailings; helping proofread and gathering materials for grant proposals; helping to expand and build upon information kept in Tessitura (The Center's database for fundraising and ticketing)
Operations Intern:   Administrative - Rental contract administration (complete, track & process contracts; follow up with clients/client reps); Compile building activity and rental statistics; Research projects as needed.   Building Management - Minor repairs, lamp replacement and maintenance projects; Painting & improvement projects; Research parts, materials and products
General Management Intern:  This relatively new position oversees the administration of The Center's internal operations including budget and finance, facility operation, contracts, production, rental activity, house management, administrative offices, personnel, and information technology.  The intern will work with the GM on various activities pertaining to the operation of this busy performing arts complex.  The GM will be willing to work with the candidate to address a particular interest, but will touch on all aspects of this position as needed.  All applicants should not be afraid of budgets and have working knowledge of excel spreadsheets.  If not, some training can be supplied. 
The Phoenix
Contact: Editor, benjamin.verde@purchase.edu or fatema.kamal@purchase.edu
Internships for The Phoenix: Purchase College's Online News and Feature Publication
 News and features writer and editor (2)
The Phoenix is seeking interns to contribute to at least one story per week and will come to weekly Phoenix meetings (7 p.m. on Monday in the lower level of the library) with pitches for stories they will take on and/or suggest to freelancers and other staff members. Interns will also assist the editor with editing.
 Photographer (1)
The Phoenix is seeking a student with a strong interest and ability in taking and editing photographs to be a photographer for the publication. The intern is expected to assist the photo editor as well as develop stories independently. The intern is expected to attend weekly Phoenix meetings (7 p.m. on Monday in the lower level of the library) and contribute to a minimum of one story per week. The intern should
 Video reporter/producer/editor (1)
The Phoenix is seeking a student who can take on reporting, producing and editing videos for the website. The intern is expected to assist the video editor as well as develop stories independently. Familiarization with Final Cut Pro is essential. The intern is expected to attend weekly Phoenix meetings (7 p.m. on Monday in the lower level of the library) and contribute a minimum of one video per week.
 Web and social media intern (1)
The Phoenix is seeking an intern to help maintain the website and promote the publication across a variety of social media platforms. The intern is expected to attend weekly Phoenix meetings (7 p.m. on Monday in the lower level of the library) and contribute a minimum of one video per week.
Purchase College Television (PTV)
Contact: purchasetelevision@gmail.com
Studio Technician: PTV studio technicians run and operate live shows in PTV's studios. All studio technicians must pass an equipment proficiency test given by the Show Manager before they will be allowed to run any live shows without supervision. Studio technicians are responsible for the station as a whole when they are running a show. They will conduct themselves appropriately and professionally during shows, as well as making sure that others in the studio do the same. Studio Technicians report to the Show Manager, and will inform him/her of any problems they encounter in the course of their work at PTV. Studio technicians will also be responsible for mobile shoots of on-campus events, to be determined by the executives.
Programmer: Assigned work by the Programming Manager. They may be required to import submitted works, help maintain a schedule, edit videos, and keep PTV's media library organized. They are also responsible for the filming and editing of promotions and commercials for PTV shows and events. Programmers will also be responsible for mobile shoots of on-campus events, to be determined by the executives.
Public Relations: The PTV public relations department is in charge of keeping the Purchase College campus community informed with the current happenings of PTV. This includes but is not limited to getting show schedules, special events, and requests for submissions published in campus-wide publications and by other campus media, as well as making PTV flyers and signs to post on campus. They will also be in charge of updating the PTV Facebook, Livejournal, and Twitter accounts on a weekly basis. The Public Relations staff as a whole is required to organize at least one PTV event to promote the station per semester in accordance with the Business and Communications Manager.
Web Design: The PTV web design department is responsible for maintaining the official PTV website. Duties include but are not limited to updating the website on a minimum weekly basis with current show schedules, show profiles, and general PTV news.
INTERNS - PTV Interns may hold any one of the above positions, provided that it is not an executive position. They will receive two upper-level credits for a minimum of five hours of work per week. They will be graded on their work with PTV and are expected to conduct themselves as they would while working in any other course. Interns receiving credit for their work at PTV cannot be paid.
School of Liberal Studies & Continuing Education
Contact:  Trudy Milburn, Director of Academic Programs, trudy.milburn@purchase.edu
Research Assistant:  Create, administer and summarize research for the School of Liberal Studies & Continuing Education; Research ideas include: student satisfaction, surveying students about support services and/or academic needs; Create and administer surveys to such audiences as: current Liberal Studies students, non-matriculated students, Rockland extension site students, Liberal Studies alumni, summer/winter prospective and current students; Coordinate and run focus groups and report on results; Student will have option to use research results to support senior project with faculty sponsor guidance.
School of the Arts
Contact:  Jessica Pozzuoli, School of the Arts, jessica.pozzuoli@purchase.edu 
The School of the Arts provides the highest level of professional training to developing visual and performing artists and arts mangers. Students are prepared for careers in their fields and are inspired to be engaged and innovative contributors to society.  Prestigious faculties in the Conservatories of Dance, Music, and Theatre Arts , and the School of Art+Design cultivate, nurture, and prepare students through rigorous and comprehensive studio practice informed by theoretical, conceptual and historical study.
Working in concert with the Student Assistant for Communications and the School of the Arts Communication office , the interns will assist in the acquisition of images and the curation of content to support the recruiting, marketing, alumni and community outreach efforts of the student staffed School of the Arts Social Media and Content Development Team (the Team). This is a four credit, 10 hours per week, one-semester internship.
Social Media Editor Internship: Art+Design & Dance

Social Media Editor Internship:  Theatre Arts & Music

Videography Internship

Photography Internship
Submissions Magazine
Contact:  submissionsmagazine@purchase.edu
Copy-Editing Internship: Interns will attend weekly office hours and meetings. They will send out letters and are responsible for copy editing Submissions Magazine.
Layout Internship: Interns will attend weekly office hours and meetings and work closely with layout editor to brainstorm and produce new and innovative ideas for the magazine. 
Public Relations Internship: Interns will assist the head of public relations in keeping up The Submission's Facebook and Twitter accounts as well as creating and distributing posters.
The Wellness Center
Contact:  Matt Kraus, Wellness Director, matthew.kraus@purchase.edu
The Wellness Intern will work in the Wellness Center at Purchase College. The Wellness Center internship provides a student with over 30 credits the opportunity for an internship in the Wellness Center for 2 credits (5 hours), 3 credits (7.5 hours), or 4 credits (10 hours) per semester.  There will be weekly meetings, reading, written assignments as well as some office assistant work as well as some evening work required. Students should have a commitment to the goals of the Wellness Program. Interns will teach, mentor and assist peers in enhancing their wellness lifestyles.  Please note that as a part of the internship requirements a 1.5 hour training class is mandatory on Wednesdays from 5:30-7:00 PM.
WPSR
Contact:  Station Manager,  lauren.ruggiero@purchase.edu 
 As a Graphic Design Intern you will develop skills in designing flyers for events, concerts etc… You will have the opportunity to work on a meaningful design project which will involve brainstorming and collaborating with our team and will be executed under your leadership (i.e. designing signs that lead to the station). Also, you will be responsible for two 4 hour monitoring shifts a week. 2 Upper-Level Elective Credits.
As an Engineering Intern your learning experiences will include, but will not be limited to, working with Station Engineer in setting up and striking down sound equipment, remote location broadcasting, and in-studio problem solving. Also, you will be responsible for two 4 hour monitoring shifts a week. 2 Upper-Level Elective Credits.
As an Administrative Intern your learning experiences will include, but will not be limited to, brainstorming, planning, and executing station policy, inter-departmental communication, and team-building in collaboration with Station Manager. Also, you will be responsible for two 4 hour monitoring shifts a week. 2 Upper-Level Elective Credits.
Additional Campus Internship Sites include:
Various academic departments