Join us to combat food waste and hunger for a more sustainable campus.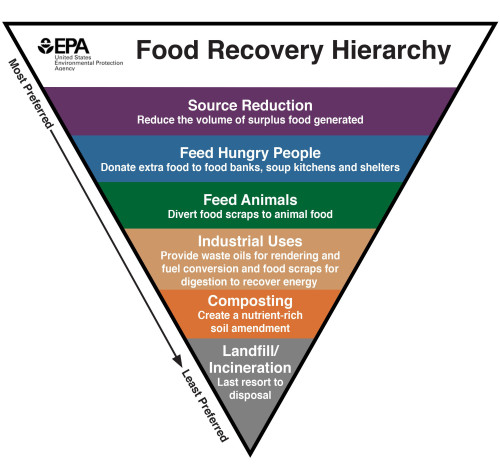 Food Recovery Network (FRN):
This collaborative effort, spearheaded by a small group of students, faculty and staff, began its planning in Fall of 2018. Purchase College  became an official Food Recovery Network chapter in Fall of 2019 and aligned with the Food Recovery and Recycling Act, a policy included in the 2019 New York State Budget. The Food Recovery program is part of the Food Support Committee managing programs such as an on-campus food pantry and meal plan scholarships to support students facing food insecurity. The first recovery mission was completed Spring 2019 where excess, salvageable food from D-Hall was delivered to the on-campus food pantry. Now, the program is run by Liberal Studies Professor Ragnhild Utheim and Liberal Studies Student Services Coordinator, Els van den Bosch. They are also working closely with Lizz Elvira, who is the supervisor for the on-campus Food Pantry.
What does FRN do?
Statistics show that 1 in 6 Americans face food insecurity, while 40% of food is wasted and sent to landfills. Our FRN chapter, a student-led program, seeks to fight food waste AND hunger by recovering perishable food from on-campus dining locations that would otherwise go to waste. Some foods can include prepared dishes/meals, pre-packaged sandwiches, produce, baked goods, etc. 
How to get involved: