Green initiatives have been integrated into food and dining operations at Purchase.
Modern, industrial food production often has detrimental environmental and social implications. Purchase aims to use sustainable actions such as local sourcing, food recovery, eco-friendly material use and food waste mitigation to help reduce environmental impacts, support fair and resilient food systems and educate the campus community about better options and practices.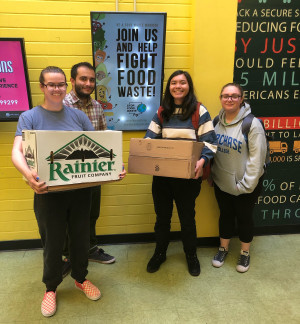 Green Dining: 
The College's food service vendor, Chartwells, has embraced sustainability in its daily operations.
Ingredients are gathered from local and regional sources, whenever possible
Food is produced with minimal use or free of chemicals and antibiotics
Proteins source such as meat and eggs are from purveyors that support the humane treatment of livestock
Seafood is acquired from sustainable options through partnership with the Monterey Bay Aquarium
Products are from suppliers that reward the efforts of farmers and laborers such as Fair Trade Certified coffees
Offers plant forward menus that promote the health of guests and the planet
Incorporated the back-of-house Waste-Not program to track and reduce food waste. A lot of pre-consumer food waste is sent to the on-campus composter, The Rocket
Trayless dining was implemented to reduce water use
Chartwells utilize biodegradable, compostable and eco-friendly utensils and napkins. To further their waste efforts Chartwells has a reusable to-go container program for the main dining hall. Students can pay a deposit at the beginning of the semester to receive a plastic to-go box that they can return back to D-Hall when finished to receive a cleaned container anytime during the semester. They also provide discounts on drinks to promote reusable water bottles and coffee mugs.