Waste Reduction and Recycling
Waste is a serious problem, and on a campus supporting thousands of people, green initiatives to handle waste can have a significant and positive impact on the environment.  
Purchase College produces approximately 600 tons of garbage every year. A majority of colleges across the country have embraced ways to reduce waste and Purchase is no exception. The College has made great strides and has introduced a variety of programs to divert landfill waste including ink cartridge recycling, electronic waste recycling and plastic bag reuse.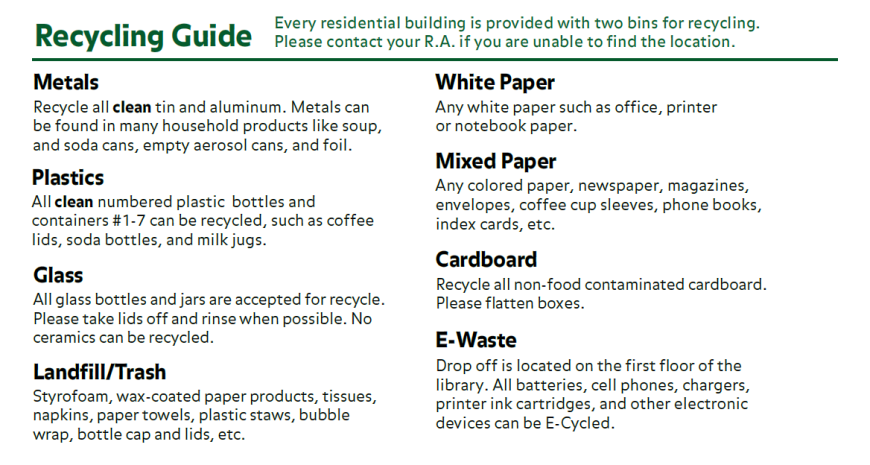 Purchase College Recycling Guide
Student Waste Diversion Projects: 
The Rocket is an on-campus composting system that utilizes food waste from The Hub and personal food waste to create compost used on the grounds of campus. This composting system helps to close the loop by allowing our food waste to cultivate a fertile environment. The Rocket is capable of diverting about 400 gallons of food waste per week. You can drop off your personal compost to the black bins located next to the machine behind the Hub.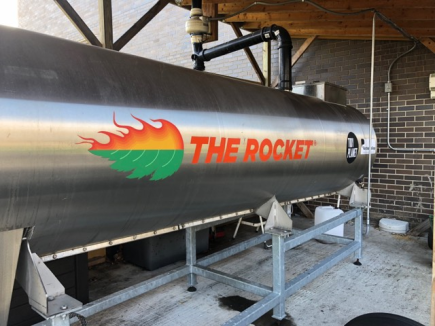 The Rocket Composter
FreeNew/FreeStore - At the end of the semester, rather than throwing away electronics, supplies, and other miscellaneous items, students can now donate their unwanted possessions to incoming students for the next academic year. These items are secured in 4 sheds, each measuring 20x8x8, which have been filled to capacity each year. The sheds can be found near the residential housing areas. The student-run FreeNew coordinators manage the sheds and handles the dispensation of items to incoming students at the beginning of each semester. During the semester when FreeNew is on break, students can still donate their salvageable items to FreeStore located on the second floor of the main dining hall. FreeStore is open year round and houses all items from nonperishable goods to furniture to clothing to art supplies. You can find their hours and additional information on their Facebook page.

Other Waste Diversion Programs:
22 Hydration Stations have been installed across various locations on campus. These hydration stations offer filtered and chilled water to the campus community at no cost. With the installation of these stations thousands of plastic water bottles have been saved from entering our waste system. The map below shows the locations of all the present stations.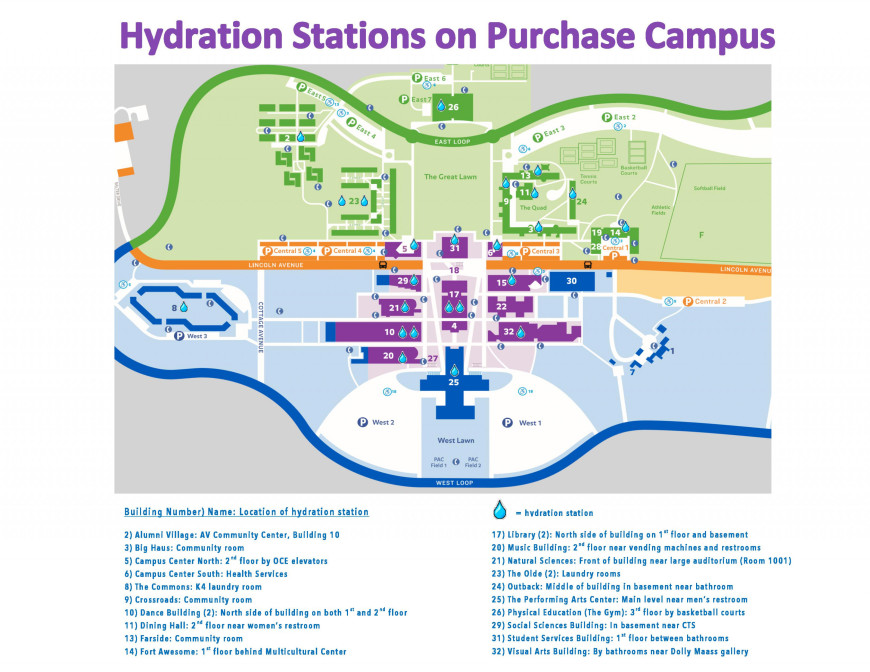 Map of Hydration Stations on Campus
RecycleMania is a nationwide initiative to reduce the amount of usable or recyclable material from entering landfills. Although we have taken steps in the past to do our part, the College's first formal participation in this program was in 2015. In 2016 the College had success in diverting over 164,000 pounds of recyclable items that otherwise would have ended up in the trash. RecycleMania is an 8-week long competition across the United States and Canada with participation from many colleges and universities to see who can have the highest recycling rate. Purchase continues to participate since 2015 and plans on expanding the competition to various events. 
Per Executive Order 04 which requires New York state facilities to improve the sustainability of its operations, the College has tracked its waste efforts for several years. In its last report, we were pleased to announce that we were able to recycle over 5 tons of motor oil, 3.5 tons of kitchen grease, and 8.7 tons of electronic waste. We have also setup a custom e-waste bin in the Library for students to dispose of electronic waste for proper recycling/disposal.  This type of waste can be some of the most damaging to the environment and with the quick disposal rates of technology the college is attempting to make great strides in educating our campus community, as well as enabling them to dispose of these items safely.