Purchase College is embedding sustainability into all aspects of campus by empowering students and community members to protect our shared environment.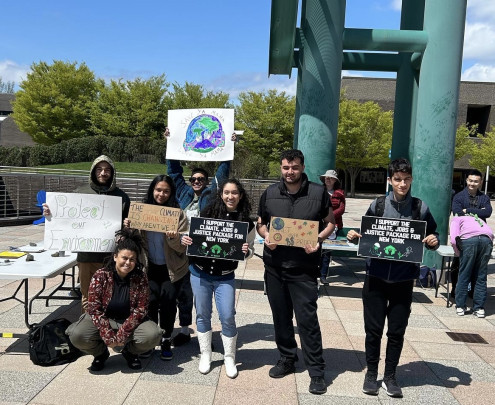 What is sustainability?
A practical definition of sustainability developed by the Brundtland Commission is "development that meets the needs of the present without compromising the ability of future generations to meet their own needs." The central idea that our resources are finite and the rate and way in which we use them must be altered has held strong through the various interpretations. Purchase has invested not only in our students' future but also in society's future by focusing on sustainability measures.
However, sustainability is a complex interdisciplinary concept. Sustainable practices not only support the natural environment and ecological health, but also social equity and economic vitality. Sustainability is used to understand the interconnections between the three aspects. To better understand the concept and the linkages, read about the UN Sustainable Development Goals (SDGs) and how Purchase is utilizing the goals for a more sustainable future.
News:
Friday September 22nd and Saturday September 23rd mark what will hopefully be the first of many a  BioBlitz on campus. Help the Environmental Studies department and the Office of Sustainability document the biodiversity of the Purchase College campus! Please see the event schedule below.

Working with GreenSheen, a leader in paint recycling, thousands of cans were dropped off by community members.

Purchase College is participating in Campus Race to Zero Waste for the 2023 season.

Final results: We placed #7 out of over 100 participating schools in the "Per Capita" recycling category. Thank you to everyone who helped get us there!

In an effort to advance its sustainability goals, Purchase has purchased new all-electric lawn maintenance equipment.