Purchase College has made investments in improving the efficiency of its campus fleet of vehicles and continues to explore sustainable transportation options.
With over 70 vehicles ranging from cars, vans, trucks, and snow plows, the environmental impact of modernizing is significant. The College is retiring from its fleet the older, less reliable vehicles and has already replaced two with hybrids, and eight with electric.  We will continue on this path as older vehicles age out from the fleet. To support these types of vehicles, the College has installed six electric vehicle charging stations, two of which are available to the campus community. These electric vehicle charging stations can fully charge a vehicle in about three hours and are located in various parking locations.
With Purchase College being located in a central area of the Hudson Valley, there are many commuters within its staff, faculty and students. A large part of our carbon footprint is attributed to our transportation, to combat this Purchase provides resources to promote carpooling and public transit.
Sustainable Transit:
Purchase provides free shuttle bus rides, called the Loop, to our campus community to and from Port Chester and White Plains. The shuttle schedule as well as additional information about the Loop can be found here. There are also public buses through Westchester County (Bee-line) to major cities in the area such as White Plains, Armonk and Port Chester for a small fee.
A 511NY Rideshare program is available which allows commuters to connect with other local commuters in their home area to car-share and reduce the inefficiency of single drivers. This program serves all of New York state and is sponsored by the Department of Transportation. 
Another great partnership that provides to our campus for an annual or monthly fee is ZipCar. This car-share program allows anyone to "rent" a car for a trip when there is not access to a personal car. There are currently two zip cars available to use on campus which removes 30-40 privately owned vehicles on campus.
Lastly with the college being located close to the Westchester County Airport, there is Park2Fly which is a parking and transportation system to the airport. Park2Fly provides employment opportunities for students as well as helps to sustain financial support to the college through scholarships and capital advancements to our infrastructure.
Biking:
Riding a bicycle is a great way to be active and is not only sustainable but time efficient in getting to, from and around campus. If you don't own your own bicycle, Purchase Student Government Association sponsors a bike share program! Zagster bikes can be found on various areas of campus. It is currently utilized by about a fourth of our students with hopes to increase users and popularity. For a small fee you can register to Zagster on your smartphone device and have access to a bike immediately.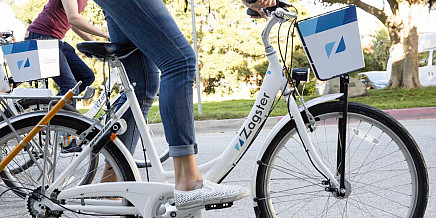 Zagster Bike