The Purchase College Food Support Network aims to alleviate food insecurity, combat food waste, and promote sustainable food systems among our campus community by providing resources to those in need and enhance public awareness through education and advocacy.
Objectives:
Creating a safe space to distribute good quality and nutritious emergency food to current Purchase College students.
Creating and promoting a space on campus dedicated to food donation collection.
Collecting good quality and nutritious food items (donations) that may otherwise go to waste to enhance sustainability initiatives on campus.
Encouraging student engagement to foster a sense of community, volunteerism, and service to peers on campus.
Food Pantry
The Campus Pantry distributes good quality and nutritious emergency food to Purchase College students. It also works to raise awareness around hunger issues, especially as experienced by low-income college students, and encourages student engagement to foster a sense of community and service to peers on campus.
Help the Purchase College Community by donating to our Food Pantry. Donations can be sent to Mario Rapetti's office, located in Student Services Building, Room 318 or directly to the Food Pantry.  
Most Needed Items:
Breakfast items (granola bars, oatmeal, etc.)
Shelf-stable milk
Trail mix/nuts
Spaghetti and pasta sauces
Healthy snacks
Nut butter
Rice
Mashed potatoes
Prepackaged meals (Hamburger Helper, Chef Boyardee, etc.)
Canned meat
Canned fruit/vegetables
Cereal
Condiments
Spices
Canned tomatoes
Hygiene (deodorant, feminine products)
Toiletries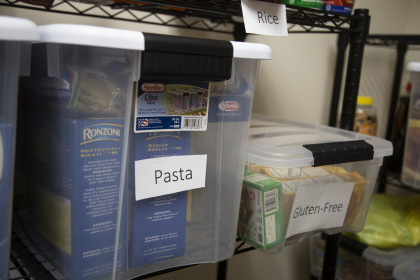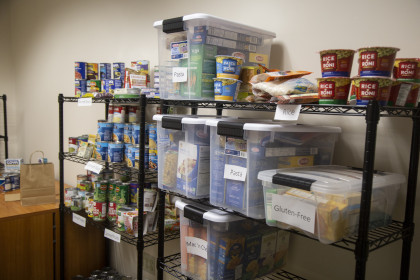 Location
The Food Pantry is located through the Learning Center, which is on the lower level of the Library, and can be accessed through the last room on the left in the Learning Center suite. 
Access
Students will be asked to show their ID upon entering the Food Pantry to verify student status. Otherwise, use of the pantry will be anonymous and confidential.
In an effort to support students in need of using the food pantry and helping it sustain itself, there will be a limit on how many items per food category students can check out. The food pantry student staff will assist visitors with questions.
Hours of Operation (Spring 2020) 
The food pantry's official hours of operation will be announced in late January for the spring 2020 semester.  
If these hours and times do not work for your schedule, you can request an appointment by providing 24 hours' notice to either Mario Rapetti (Mario.rapetti@purchase.edu), Dashielle Horn (Dashielle.horn@purchase.edu) or Kenzalia Bryant-Scott (kenzalia.bryantscott@purchase.edu) 
Instagram
Follow us on our Instagram for updates and new deliveries of food and items to the pantry! 
Mobile Food Pantry
Once a month, a Mobile Pantry will visit campus.  The new Mobile Food Pantry will bring fresh protein, dairy produce and grains directly to campus to assist all members of the campus community.  An estimated 4,000 – 5,000 pounds of food will be available at the Mobile Food Pantry! 
The first Mobile Food Pantry will visit Purchase College on Monday, December 2 from 1:00 – 2:00 pm in the Fort Awesome Parking Lot, next to Starbucks.    We ask that participants bring reusable grocery bags.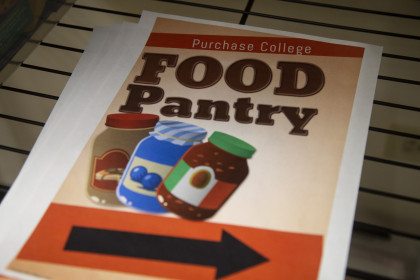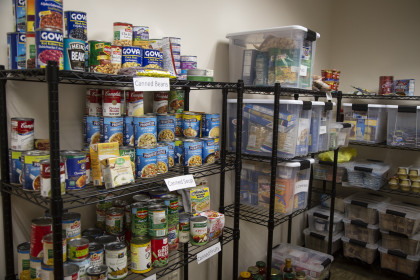 Donations Welcome
The food pantry is supported through donations from, and the kindness of, the campus community and other partners.
For donations of non-perishable food items, contact Mario Rapetti to make arrangements. 
For monetary donations designated for the food pantry,
you can give online
. (Choose the
Make an Impact Fund
-
Food Insecurity Fund
from the drop-down menu.