Whether your student selects to study the liberal arts, the arts, or pre-professional programs, career planning is an important and integral part of the college experience.
Discovering a career direction becomes their new focus and challenge. Your student's successful transition into a career and ultimate independence can be greatly enhanced with your support of their career exploration and decision-making process.
 
Students may explore their dreams through various applied experiences.  Your student may not yet have all the specific occupational information necessary to make a career choice. Is their career goal well-suited to their abilities and personality?
For consideration:
Would an individual with limited aptitude and interest in the sciences find little satisfaction as a medical researcher?
Would a student who has a passion for teaching children enjoy developing software for a technology firm?
Maybe not, but this would depend on the student's other identifiable skills, interest, and values. Decided or undecided, the Career Development Center (CDC) is equipped to help students at every stage of their planning.
How does Career Development Help with a Student's Major and Career Decision-Making?
Career counselors work with students to identify and explore career interests. Self-exploration is the first step as students begin to focus on major and career decision-making. Career counseling may help your student to discover his or her interests, abilities, and values. Career Interest Inventories are sometimes recommended to aid students in the process. Our career counselors work closely with the Academic Advising Center to help and guide students on decisions regarding majors as they may or may not relate to career choice.
What Career Tools and Programs are Offered to Students Exploring Careers? 
A robust array of resources, online and in-house, are available to students. Skill-building workshops on topics such as résumé writing, interviewing, job search strategies, networking online and in person, and applying to graduate school are also offered. Our LinkedIn Mentor Network and professional career panels can further empower students to gain insight into careers .

Experiential Education, such as internships, can help students develop skills for the job market and "try out" specific fields of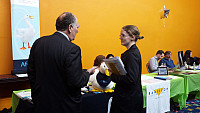 interest. Career Development's online system, Purchase JobScore, lists thousands of internship and part-time job opportunities with local and national employers. Our annual Job and Internship Fair at the Performing Arts Center gives students a chance to meet employers seeking to fill available opportunities. The CDC also sponsors a Graduate School Expo where visiting representatives share information with our students.
How Can Parents Help Students with Career Planning?
Our career counselors are highly experienced, "student-centered" professionals dedicated to helping students explore and identify career options, make decisions, and prepare for life after Purchase. Your understanding of their unique talents and their combination of interests, abilities, and values will empower them to prepare and make important career decisions, so that they may achieve real career satisfaction in the future.  Learn more about Life After Purchase through our First Destination Survey.  
How Can Parents Help the Career Development Center?
We encourage parents to share their insights by joining our LinkedIn Mentor Network to provide career information and advice. Share job or internship leads available at your organization and encourage your employer to participate in our available Employer Services.