The Olde is one of three Apartment Complexes at Purchase. It houses approximately 420  upperclass students.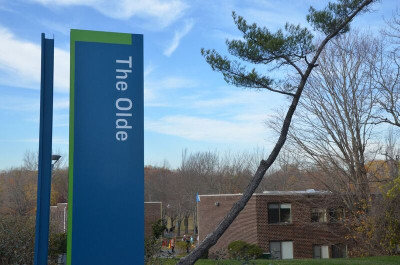 The Olde offers two types of apartment configurations:
Four person quad apartments with two single bedrooms and a double bedroom, full bath, living room/dining area and kitchen.
Eight person duplex apartments which have two single bedrooms and three double bedrooms, two full baths, living room/dining area and kitchen.
Apartment Furnishings/Amenities:
All apartments are furnished with:
Dining table and chairs
Living room furniture (couches and/or chairs

and

a coffee table)
Refrigerator, stove/oven
One twin XL bed, desk, desk chair, and dresser per resident
One lamp/light fixture per room
Wireless Internet/Cable TV connection/Ethernet Connection
Fire Extinguisher
Smoke and Heat Detectors
All apartments in the Olde do not have:
Fire Sprinklers
Air Conditioning
Elevators
Typical Furniture Sizes:
Approximate Desk Size - 42 inches Wide X 24 inches Deep X 31 inches High
Approximate Dresser Size - 30 inches Wide X 20 inches Deep X 42 inches High
Approximate Bed Size - 36 inches Wide X 84 inches Long; with adjustable height
Virtual Tour!
Take a virtual tour through a room within the Olde! While there may be some subtle differences within different apartments, the tour will take you through a standard four person apartment and eight person duplex within this community!
Once you are inside the tour, you will also see an info tag (white circle outlined in blue) that will outline a floor plan with room specs and sizes!
Student Support
While seven upper-class Resident Assistants (RAs) live in the community, residents are supported by the apartment Residence Coordinators (RCs) and RAs through The Olde Community Center, located at the base of The Olde, at the intersection of G and J streets. 
Residents who live in The Olde are not required to enroll in a meal plan, but are encouraged to review the special apartment meal plan options available to them. 
Typical Room Sizes:
Single bedroom is approximately 8 feet Wide X 10 feet Long (with 1 closet - 4.5 feet Wide X 2.5 feet Deep)
Double bedroom is approximately 11 feet Wide X 15.5 feet Long (with 1 closet - 8 feet Wide X 2.5 feet Deep)
Quad living room is approximately 16 feet Wide X 11 feet Long
Quad kitchen is approximately 7.5 feet Wide X 8.5 feet Long
Duplex living room is approximately 12.5 feet Wide X 11 feet Long
Duplex kitchen is approximately 7.5 feet Wide X 8.5 feet Long 
Special Housing Options for Continuing Students in the Olde
The Olde is host to the Cultural Immersion Housing. Cultural Immersion Housing is for international and domestic students who want to live together and focus on a cultural exchange and programming around the same theme. This is located on J-street in the Olde apartments and a dedicated Resident Assistant is assigned to this community. You must currently live on campus to apply. Applications are accepted every spring as a part of the Room Selection process.
If you are interested in Cultural Immersion Housing, please lookout for emails and an application in March 2017!
Gender Inclusive Housing provides students the opportunity to occupy a safe space housing option that does not require all room/apartment-mates to be of the same legal sex. Students applying for gender-neutral housing can apply in groups in order to fill a designated room, apartment, or suite. All students in the group must individually meet the minimum eligibility requirements for the specific area in which you are applying to live.  If this area is located with the apartment communities, then all members of the group must either have 36 completed credits OR be 21 years of age at the time of application.  Information and details regarding housing selection will be sent to all student prior to the March start date. You will still be able to select gender inclusive housing throughout the entire selection process as long as there is still availability. Please note that students in gender inclusive areas that are not filled (rooms, apartments, etc) will be consolidated in order to open more space for students who may not elect to live in this housing community. While you do not have to select with a group, it is encouraged to apply with a roommate group to avoid being moved to another area.
Please contact ceg@purchase.edu for questions concerning this process. You may also read more about our Gender Inclusive Housing by clicking HERE!