¡Bienvenidos! 어서 오십시오!  Üdvözöljük! ようこそ!Benvenuto! 欢迎!Welcome! Whether you have been accepted to a degree program, are a transfer or graduate student, or are visiting on a short-term exchange program, the International Student Orientation (ISO) is meant for you!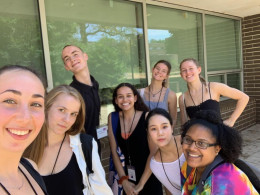 Hosted by the Office for Global Education (OGE), ISO is a mandatory event for all students on an F-1 visa. During orientation, OGE staff  and student orientation leaders  will introduce you to the academic and social life at Purchase while also providing important information about maintaining your visa status, useful campus services, and general cultural adjustment in the U.S.
To learn more about coming to Purchase, check out our Accepted International Student page. Feel free to reach out to international@purchase.edu with any questions regarding ISO! We can't wait to meet you!
 Information regarding Spring 2023 ISO will be updated via this page.
---
Orientation Sessions
Move-in: Monday, January 16, 2023
ISO: Tuesday, January 17, 2023; 9:00AM-12:00PM
Welcome Week Activities
Purchase hosts fun events year round but we have even more programs during the first two weeks of the semester as a part of our Welcome Week schedule of events.
Access and Accommodations
The Office of Disability Resources coordinates academic adjustments and auxiliary aids and services for students with disabilities to ensure equal access to all programs, services, and activities at Purchase College.
Questions about this process? Call or email the Office of Disability Resources directly: (914) 251-6035, odr@purchase.edu.
Health Requirements
Students must submit the MMR Immunization Form or comparable vaccination record from your primary care provider or high school as required by New York State prior to course registration. You will not be allowed to attend Purchase College without this information on file.
Also, students must submit the College Entrance Health History and Physical Examination form, which is a required document for all new students and must be on record with Health Services before the first day of classes. A physical examination done within the past 18 months is required for form completion by you and your health care provider.
Please contact Health Services at hse@purchase.edu, should you have any questions. All forms may be faxed to (914) 251-6388 or emailed to hse@purchase.edu.