Welcome back, we're glad you're here!
Phase T.W.O. Orientation is a mandatory program which will prepare you for both academic and student life here at Purchase College. Each day of orientation is full of programs, activities, and events designed to make your transition to Purchase College as seamless as possible. Attending college is an exciting chapter in your life and we are excited that you have chosen to become part of the Purchase community.
Phase T.W.O. New Student Orientation takes place once you have moved on campus and prior to the beginning of classes.  We require all students, resident and commuter, to attend programs on August 23, 24, and 25. These programs will continue the conversations and enhance the information provided during the July sessions to prepare you for the start of classes and your time at Purchase College. Phase T.W.O. Orientation promotes learning through faculty, staff and peer led seminars, workshops, and educational and social programming. 
Mandatory Events for All Resident and Commuter First-Year Students:
We realize that as students, you may also be balancing travel, transportation, work, and family commitments; but due to the high levels of discussion, dialogue and information presented, there are some sessions and programs that are mandatory for you to attend.These events are marked with asterisk. 
Thursday, August 22:
New Student Move-In Day
Welcome BBQ for New Students & Guests
11:00am -2:00pm, Main Dining Hall
This event is complimentary 
Mandatory Residence Hall Meetings
7:00pm, Various locations
Friday, August 23:
Events TBD
5:00pm:  Dinner at D-Hall
7:00pm:  RAvue
Wait until you see what your Resident Assistants (RAs) have been working on! This is the must see event of the weekend.
Saturday, August 24:
Events TBD
Sunday, August 25:
Events TBD
Monday, August 26:
First Day of Classes!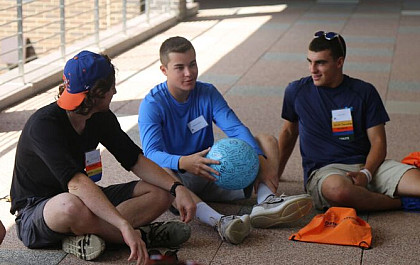 Meals and Dining:
Meal wristbands must be worn in order to have the provided meals in the Main Dining Hall (D-Hall) through Saturday, August 25 when meal plans begin.
All first-year resident students will receive a meal wristband during their residence hall check-in process. All first-year commuter students will be able to receive a meal wristband at the entrance of the meals from Orientation staff.
Please note: Meal plans begin on Saturday, August 25 and students must have their Student ID Card (More Card) at all meals.  Wristbands will not be needed on Saturday, August 25 and Sunday, August 26; only More Cards will be accepted.