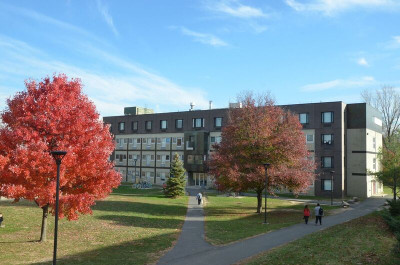 Outback is one of three (3) residence halls that serve our upper-class residence hall community, housing approximately 180 upper-class residents.  Most rooms are doubles with a private bathroom; there are approximately eight (8) suites, each housing 4 residents – 4 are ADA spaces, and 4 have small kitchenettes.
Student housing is located on the first, second, third and fourth floors – each floor having a garbage room, small study lounge, as well as some larger lounges on the second and lower-level.  Outback is conveniently located on the Quad, adjacent to the Dining Hall (D-Hall).  Outback has 2 elevators that serve the building off of the front entrance lobby.
Over the past several summers, Outback has received several upgrades, including bathroom renovations and new hallway flooring.  We anticipate the building receiving a full paint job in the summer of 2019
Outback rooms are furnished with:
One twin XL bed, desk, desk chair, and dresser per resident
One lamp/light fixture per room
One closet per resident
Cable TV connection
Wireless Internet
Smoke/Heat Detectors
Controlled heating/cool air by each room individually 
Typical Furniture Size:
Approximate Desk Size - 42 inches Wide X 24 inches Deep X 31 inches High
Approximate Dresser Size - 30 inches Wide X 20 inches Deep X 42 inches High
Approximate Bed Size - 36 inches Wide X 84 inches Long; with adjustable height
Approximate Closet Size: 36 inches Wide X 24 inches Deep
Virtual Tour!
Take a virtual tour through a room within Outback!  While there may be some subtle differences within different rooms in the building, the tour will take you through standard two-person room and one of the four-person suites.
Once you are inside the tour, you will see an information tag that will outline a floor plan with room specifications and sizes.
Support for Students:
While five (5) upper-class Resident Assistants (RA) live in Outback, the staff of both Outback & Fort Awesome (aka FortBack) work to support students under the direction of one (1) Residence Coordinator (RC) to help students continue to grow while at Purchase College. 
Typical Room Size:
Traditional Doubles are typically 11 feet Wide X 15 feet Long
Bathroom is typically 4 feet Wide X 5 feet Long
Laundry Tracker

Check out the status of the laundry machines in your building and see how much time is left on your machines by viewing our Laundry Tracker.  You can also enter your email to get alerts when your machine is ready and/or done.