Outback Residence Hall houses the Substance-Free Housing program on campus.  This area houses students that are committed to substance-free living.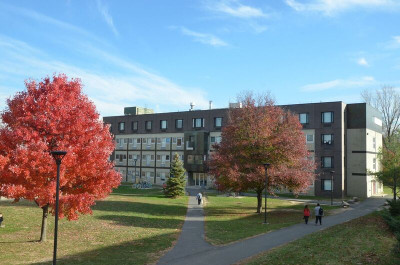 Outback is one of 5 residence halls at Purchase. It houses 180 upper-class students.
Outback offers double rooms with private bathrooms. There are a select few rooms that are designed as suites, which also allow for access to a private bathroom.
Outback rooms are furnished with
Air conditioning
One twin XL bed, desk, desk chair, and dresser per resident
One lamp/light fixture per room
Cable TV connection
Wireless Internet
Smoke and Heat Detectors
Fire Sprinklers
Centralized Laundry room
Outback is equipped with two elevators in the building. 
Substance-Free Housing Program
Outback Residence Hall houses the Substance-Free housing program. Students in substance-free housing agree to remain drug, smoke, and alcohol free.
Students that are found responsible for use of any of these substances will be removed from this housing area. This housing is located in Outback. Please note: All Purchase College residence halls are drug and smoke free, and all first-year residence halls are designated as alcohol free. 
Outback has a staff of Resident Assistants who are specially selected upper-class students, and a Residence Coordinator who is a live-in professional staff member.