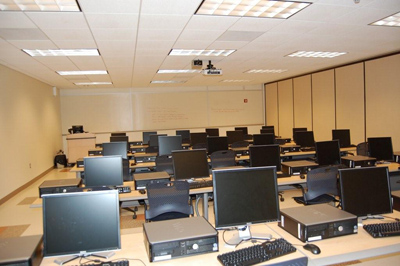 Do not save your work to any public lab computers!
Alternatively, save to your home directory, USB drive, or email it to yourself. 
Save your work periodically as lab machines will time out after several minutes of inactivity.
A Home Directory is available at https://www.purchase.edu/filespace.
Please log off when you have completed your work.
PC Lab Standard Software:

Operating System: 
Windows Enterprise 64-bit
Software:
Microsoft Office (Word, Excel, PowerPoint, Outlook, Access, OneNote)
Adobe Creative Cloud (Acrobat Pro, After Effects, Animate, Audition, Bridge, Dreamweaver,  Fuse, Illustrator,  InCopy, InDesign, Lightroom, Media Encoder, Muse, Photoshop, Prelude, Premiere Pro)
7-zip
Acrobat Pro DC
Audacity
FileZilla
Freedom Scientific (JAWS)
Google Earth Pro
IBM SPSS
Image J
IntelliJ Idea
JASP
OIV
Processing
PyCharm Community Edition
Read and Write
Skype
TurningPoint
VLC media player
Browsers:
Internet Explorer
Edge
Google Chrome

Mac Lab Standard Software:

Operating System:
macOS
Software:
Microsoft Office (Word, Excel, PowerPoint, Outlook, OneNote)
Adobe Creative Cloud (Acrobat Pro, After Effects, Animate, Audition, Bridge, Dreamweaver,  Fuse, Illustrator,  InCopy, InDesign, Lightroom, Media Encoder, Muse, Photoshop, Prelude, Premiere Pro)
Keynote
Pages
Numbers
iMovie
GarageBand
FileZilla
Read & Write
VLC Media Player
Cyberduck
Processing
Audacity
IntelliJ IDEA
iTunes

Browsers:

Safari
Google Chrome



Labs:
VA0012: Digital Photo Lab (limited to Art + Design Photo Majors) that contains:
21 iMac Workstations
2 Canon imagePROGRAF PRO-1000 Large Format Ink Jet Printers
1 Canon imagePROGRAF PRO-4000 Large Format Ink Jet Printer
2 Epson Stylus Pro 4900 Large Format Ink Jet Printers
1 Epson Stylus Pro 9900 Large Format Ink Jet Printer
VA0013: Senior Design Studio (limited to Art+Design Senior Design Majors) that contains:
1 iMac Workstation
1 Mac Mini Workstation
VA0021: Print Lab (limited to Art+Design Majors only) that contains:
VA0027: Photo Lab (limited to Art+Design Junior and Senior Photo Majors) that contains:
10 iMac Workstations
1 Canon imagePROGRAF PRO-4000 Large Format Ink Jet Printer
1 Epson Stylus Pro 9900 Large Format Ink Jet Printer
1 Epson Stylus Pro 4900 Large Format Ink Jet Printer
VA0022: Photo Senior Space Lab (limited to Art+Design Senior Photo Majors) that contains:
2 Mac Pro Tower Workstations
2 Epson Stylus Pro 9900 Large Format Ink Jet Printers
VA1018a: Design Lab (limited to only Art+Design Design Majors) that contains:
20 iMac workstations
1 Xerox 7760DX Tabloid Color Duplex Laser Printer
1 HP Laserjet 5200 Monochromatic Duplex Laser Printer
VA1018b: Design Lab (limited to only Art+Design students, large format printing limited to Art+Design Design Majors)  that contains:
13 iMac Workstations
1 HP Color LaserJet 9500 Color Duplex  Laser Printer
1 HP Color LaserJet M855 Color Duplex  Laser Printer
1 HP LaserJet 700 M712 Monochromatic Duplex Laser Printer
1 HP Laserjet 5200 Monochromatic Duplex Laser Printer
1 Canon imagePROGRAF PRO-4000 Large Format Ink Jet Printer
1 Epson Stylus Pro 9800 Large Format Ink Jet Printer
1 Epson Stylus Pro 4800 Large Format Ink Jet Printer
1 Roland GS-24 Vinyl Cutter
VA1018c: Design Lab (limited to Art+Design Design Majors) that contains:
 20 iMac Workstations
1 Xerox 7760DX Tabloid Color Duplex Laser Printer
1 HP Laserjet 5200 Monochromatic Duplex Laser Printer
VA1025: Design Lab (limited to Art+Design Design Majors) that contains:
4 iMac Workstations
1 HP Color LaserJet M855 Color Duplex  Laser Printer
1 HP LaserJet 700 M712 Monochromatic Duplex Laser Printer
1 Epson Stylus Pro 9880 Large Format Ink Jet Printer
VA0009: Foundations Lab (limited to Art+Design Foundation Majors) that contains:
3 iMac Workstations
1 HP Laserjet 5200 Monochromatic Duplex Laser Printer
VA1021: Foundations Lab (limited to Art+Design Foundation Majors) that contains:
2 iMac Workstations
1 Xerox 7800DX Tabloid Color Duplex Laser Printer
VA1029: Woodshop Lab (limited to Art+Design Majors only) that contains:
VA1031: Sculpture 3D Print Lab:  Limited to Art +Design Majors only) that contains:
1 Mac Mini Workstations
1 Custom PC Workstation
3 3D Printers
VA2011: Video Lab (limited to Art+Design Majors only) that contains:
8 Mac Pro Tower Workstations
VA2012: Aural Media Lab (limited to Art+Design Majors only) that contains:
2 Mac Pro Tower Workstations
2 iMac Workstations
VA2025: Foundation Studio (limited to Art+Design Majors only) that contains:
VA2026: Stop Motion Studio (limited to Art+Design Majors only) that contains:
VA2027: Foundations Lab (limited to Art+Design Foundation Majors) that contains:
2 iMac Workstations
1 Xerox 7800DX Tabloid Color Duplex Laser Printer
1 HP Laserjet 5200 Monochromatic Duplex Laser Printer
VA2029: Foundations Lab (limited to Art+Design Foundation Majors) that contains:
2 iMac Workstations
1 Xerox 7800DX Tabloid Color Duplex Laser Printer
1 HP LaserJet 700 M712 Monochromatic Duplex Laser Printer
VA2010: Printmaking Lab (limited to Art+Design Printmaking Majors) that contains:
7 iMac Workstations
1 Canon imagePROGRAF iPF9400S Large Format Ink Jet Printer
1 Epson Stylus Pro 9900 Large Format Ink Jet Printer
1 Epson Stylus Pro 7900 Large Format Ink Jet Printer
1 HP Laserjet 5200 Monochromatic Duplex Laser Printer
VA2030: Painting/Drawing Digital Lab (limited to Art+Design Painting/Drawing Majors) that contains:
2 iMac Workstations
1 Epson Stylus Pro 7900 Large Format Ink Jet Printer
DA0001b: Dance Student Lab (limited to Dance Majors) that contains:
SS2017:  Design Technology Lab (limited to Design Technology Majors) that contains:
6 HP PC Workstations
1 Xerox 7500 Color Laser Printer
5 HP Designjet Large Format Printers
MU0079a:  Music Piano Lab (limited to Conservatory of Music Majors) that contains:
15 iMac Workstations
1 Dell Black Laser Printer
MU3021:  Music Digital Studio 1 (limited to Conservatory of Music Majors) that contains:
1 Mac Pro Tower Workstation
MU1007:  Music Digital Studio 2 (limited to Conservatory of Music Majors) that contains:
1 Mac Pro Tower Workstation
MU1014:  Music Digital Studio 3 (limited to Conservatory of Music Majors) that contains:
1 Mac Pro Tower Workstation
MU1048:  Music Mission Control Studio (limited to Conservatory of Music Majors) that contains:
1 Mac Pro Tower Workstation
MU3029:  Music Digital Studio 4 (limited to Conservatory of Music Majors) that contains:
1 Mac Pro Tower Workstation
MU3024:  Music Digital Studio 5 (limited to Conservatory of Music Majors) that contains:
1 Mac Pro Tower Workstation
MU3039:  Music Digital Studio 6 (limited to Conservatory of Music Majors) that contains:
1 Mac Pro Tower Workstation
MU3025:  Music Digital Studio 7 (limited to Conservatory of Music Majors) that contains:
1 Mac Pro Tower Workstation
MU0041:  Music Smart Cart Studio (limited to Conservatory of Music Majors) that contains:
MU0037:  Music Smart Cart Studio (limited to Conservatory of Music Majors) that contains:
MU0052:  Music Smart Cart Studio (limited to Conservatory of Music Majors) that contains:
MU0014: Film Non-Linear Editing Lab (limited to Film Majors only) that contains:
1 Mac Pro Tower Workstation
MU0017: Film Non-Linear Editing Lab (limited to Film Majors only) that contains:
2 Mac Pro Tower Workstations
MU0019: Film Non-Linear Editing Lab (limited to Film Majors only) that contains:
1 Mac Pro Tower Workstation
MU0020: Film Non-Linear Editing Lab (limited to Film Majors only) that contains:
1 Mac Pro Tower Workstation
MU0021: Film Non-Linear Editing Lab (limited to Film Majors only) that contains:
1 Mac Pro Tower Workstation
MU0034: Film Non-Linear Editing Lab (limited to Film Majors only) that contains:
1 Mac Pro Tower Workstation
MU0012: Film Non-Linear Editing Lab (limited to Film Majors only) that contains:
10 Mac Pro Tower Workstations
MU0040: Film Non-Linear Editing Lab (limited to Film Majors only) that contains:
10 Mac Pro Tower Workstations
MU0002: Film Non-Linear Editing Lab (limited to Film Majors only) that contains:
2 Mac Pro Tower Workstations
NS1063: Planetarium Lab that contains:
20 HP PC Workstations
1 Dell Color Laser Printer
NS0019: Biology Laptop Lab (limited to School of Natural Social Science Biology Majors) that contains:
12 HP PC laptops
1 HP Black Laserjet Printer
1 HP Color Lasejet Printer
NS0038: GIS Lab (limited to School of Natural and Social Science Students) that contains:
6 HP PC Workstations
1 Color Large Format Printer
NS1013: New Media Lab (limited to New Media Majors) that contains:
24 iMac Workstations
1 Dell Color Laser Printer
1 Laser Cutter
NS1050: Cognitive Neuropsychology Lab ( (limited to School of Natural and Social Science Psychology Majors) that contains:
NS1030: Psychology Lab (limited to School of Natural and Social Science Psychology Majors) that contains:
NS 2021:Microscope Computer Lab (limited to School of Natural and Social Science Biology Majors) that contains:
6 HP PC Workstations
1 Xerox 7800 Color Laser Printer
NS2028: Psychology Research Lab (limited to School of Natural and Social Science Psychology Majors) that contains:
1 HP PC Laptop Workstation
NS2048: Biology Lab (limited to School of Natural and Social Science Biology Majors) that contains:
6 HP PC Laptop Workstations
NS2053: Psychology Lab (limited to School of Natural and Social Science Psychology Majors) that contains:
2 Dell PC All in One Workstations
NS3028: Physics Lab ((limited to School of Natural and Social Science Physics Majors) that contains:
6 HP PC Laptop Workstations
1 HP Laserjet Printer
NS3049: Chemistry Lab (limited to School of Natural and Social Science Chemistry Majors) that contains:
7 HP PC Workstations
1 HP Laserjet Printer
HU1054: Humanities Mac Lab that contains:
28 iMac Workstations
1 Lexmark Color Laser Printer
HU2033: Humanities PC Lab that contains:
22 Dell PC All in One Workstations
1 Lexmark Black Laser Printer
HU2034: Humanities Mac Lab that contains:
17 iMac Workstations
1 Lexmark Color Laser Printer
Li1004b: Mac Media Lab that contains:
21 iMac Pro Tower Workstations
1 Xerox Color Laser Printer
Li1004c: Library PC Lab that contains:
31 HP PC Workstations
1 Xerox Color Laser Printer
Li1004d: Library PC Lab that contains:
41 HP PC Workstations
1 Xerox Color Laser Printer
Li0003a:  Library Reference Area that contains:
24 HP PC Workstations
2 Xerox Black Laser Printers
3 Xerox Color Laser Printers
Li1015: DMZ (Digital Media Zone) Area that contains:
15 iMac Workstations
18 Dell PC All in One Workstations
2 Xerox Black Laser Printers
2 Xerox Color Laser Printers
Li1015a: DMZ Media Lab that contains
Li1015b: DMZ Media Lab that contains:
Li1015c: DMZ Media Lab that contains:
Li1015g: DMZ Audio Lab that contains:
Li1015h: DMZ Audio Lab that contains: