Windgate Artist-in-Residence Exhibition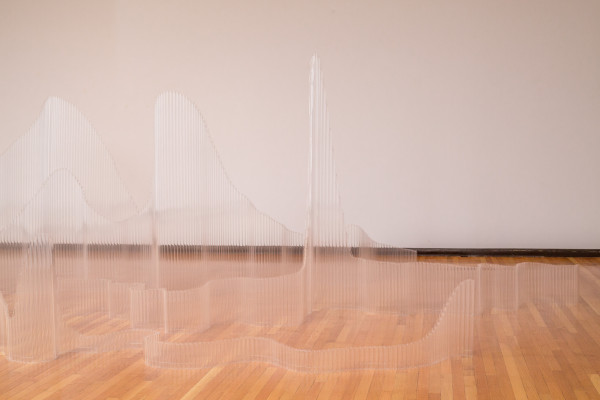 Anna Mlasowsky, Empire, 2019, acrylic tubing and stainless steel wire Credit: Photo: Rebecca Wall
Empire features a new body of works produced during Anna Mlasowsky's time as the Windgate Artist-in-Residence at Purchase College in Spring 2019, exploring issues surrounding her female identity, from being a woman in the arts, an immigrant woman artist, to the female body as a tool for political debate and censorship. Born in 1984 in Germany, Mlasowsky received her BA in Glass from the Royal Danish Academy in 2011 and an MFA in Sculpture from the University of Washington in 2016. She has been an artist in residence at The Creative Glass Center of America, The Toyama City Institute of Glass Art in Japan and The Corning Museum of Glass to name a few.
Her work has been shown in international competitions and included in museum collections such as The Corning Museum of Glass, The European Museum of Modern Glass Art and the Glasmuseum Ebeltoft. She won the UK Glass Prize in 2013, the Otto Waldrich Preis and the Emerge Silver Award in 2014. Mlasowsky recently received an Artist Trust Fellowship, was one of the Emerging Voices in Craft Award recipient, and was awarded an Emerging Artist residency at Centrum. She has recently completed the Specialty Glass Residency at the Corning Inc. Science Center.
Each semester, the School of Art+Design invites one Windgate Artist-in-Residence (WAIR) in applied design. The program expands upon the conservatory environment and collaborative atmosphere that is the cornerstone of the Purchase educational experience, allowing students to observe an artist at work and to engage in dialogue in the studio and the classroom.
Related Events:
Sep

4

Richard and Dolly Maass Gallery's first exhibition of the school year, featuring installation works by Anna Mlasowsky produced during her time as Windgate Artist-in-Residence in Spring 2019.

Sep

24

Five curators and artists offer their perspectives on issues surrounding women working in the arts with a focus on immigrant status, impact of cross-cultural moves, and the female body as a political tool.