How to Protect your Zoom Sessions from Disruption
Protecting Your Zoom Session from Intruders
Protecting Your Zoom Sessions

Over the last 18 months Zoom has been invaluable for classes, meetings, and college events. Unfortunately, over the last few weeks there have been three Zoom Bombing incidents where a participant attempts to be disruptive with offensive language, behavior, or images.

For College Events such as meetings and classes, we strongly recommend requiring all participants to log in using their Purchase credentials – that will keep out unwanted guests.

For Public Events where participants may not have college credentials, we strongly recommend requiring Event Registration so that you have each participant's email address.

There are a wide variety of other settings available to keep your Zoom session safe. You can start meetings with all participants in a Waiting Room, or all participants muted, and there is a "Mute All" button you can turn on and off during your meeting. Screen Sharing is set to Host Only by site-wide-default, and the meeting host can change that to allow screen sharing if they want that.
When there is trouble, you can suspend one participant's activities temporarily - or dismiss them from the meeting entirely - and prevent them from re-joining.

CTS has configured many of the default settings - File Transfers (off), annotation (off) and Host-Screen-Sharing (only) - all of which the meeting host can change on the fly if they want to. In addition, we have now made the site-wide default for "Allow-Dismissed-Participants-to-re-join the Meeting" to "No" – and again, you can change that if you need to. But if you have to resort to booting someone, you probably don't want them coming back.

If you are planning a public Zoom meeting or event that is available to users outside of the Purchase community, or if you just want assistance configuring your Zoom events, we highly recommend you contact CTS or schedule a training session on our Tips & Training Calendar. CTS is happy to work with you to understand and configure the appropriate security settings for your meeting or event - and help you avoid being Zoom Bombed.

Zoom's online help (excerpts below) includes a robust set of settings and features that is well worth a quick read (see below).
Protecting Your Zoom Sessions (From Zoom: How to Keep Unwanted Guests out of Your Zoom Meeting.)

Like most other public forums, it's possible to have a person (who may or may not be invited) disrupt an event that's meant to bring people together.

• When you share your meeting link on social media or other public forums, that makes your event … extremely public. ANYONE with the link can join your meeting.

• Avoid using your Personal Meeting ID (PMI) to host public events. Your PMI is basically one continuous meeting and you don't want people crashing your personal virtual space after the meeting is over. Learn about meeting IDs and how to generate a random meeting ID (at the 0:27 mark) in this short video tutorial.

• Familiarize yourself with Zoom's settings and features so you understand how to protect your virtual space when you need to. (See below.)

Manage screen sharing

Don't give up control of your screen. You do not want people in your public event taking control of the screen and sharing unwanted content with the group. You can restrict this — before the meeting and during the meeting in the host control bar — so that you are the only one who can screen-share. You can also grant other specific participants the ability to share content as needed.

If you do want or need to allow participants to screen share, you can change that setting to allow it before your meeting starts, or you can turn Screen Sharing on and off during your meeting:
To allow or prevent participants from screen sharing during a call, using the host controls at the bottom, click the arrow next to Share Screen and then choose Advanced Sharing Options.




Under "Who can share?" choose "Only Host" and close the window. You can also lock the Screen Share by default for all your meetings in your web settings.





Manage your participants

• Allow only signed-in users to join: If someone tries to join your meeting and isn't logged into Zoom with the email they were invited through, they will receive a message that says "This meeting is for authorized attendees only." This is useful if you want to control your guest list and invite only those you want at your meeting — other students at your school or colleagues, for example.
• Lock the meeting: It's always smart to lock your front door, even when you're inside the house. When you lock a Zoom Meeting that's already started, no new participants can join, even if they have the meeting ID and passcode. Just click the Security icon at the bottom of your Zoom window. In the pop-up, click the button that says Lock Meeting.
• Require a meeting passcode: Generate a random Meeting ID when scheduling your meeting and require a passcode to join. You can share these details privately with respective attendees.
• Remove unwanted or disruptive participants: You can remove someone from your meeting by using the Security Icon or Participants menu. On the Participants menu, you can mouse over a participant's name and several options will appear, including Remove. Click that to kick someone out of the meeting. When you do remove someone, they can't rejoin the meeting. But you can change your settings to allow removed participants to rejoin in case you boot the wrong person.
• Disable video: Hosts can turn someone's video off. This will allow hosts to block unwanted, distracting, or inappropriate gestures on video.
• Mute participants: Hosts can mute/unmute individual participants or all of them at once. Hosts can block unwanted, distracting, or inappropriate noise from other participants. You can also enable "Mute Upon Entry" in your settings to keep the clamor at bay in large meetings.
• Suspend participant activities: Hosts and co-hosts can pause the meeting to remove and report an offending party and prevent further disruption. Click the Security icon and select "Suspend Participant Activities" to temporarily halt all video, audio, in-meeting chat, annotation, screen sharing, and recording, and end Breakout Rooms. You can resume the meeting by re-enabling the individual features.
• Turn off file transfer: In-meeting file transfer allows people to share files through the in-meeting chat. Toggle this off to keep the chat from getting bombarded with unsolicited pics, GIFs, memes, and other content.
• Turn off annotation: You and your attendees can doodle and mark up content together using annotations during a screen share. You can disable the annotation feature in your Zoom settings to prevent people from writing all over the screens.
• Disable private chat: Zoom has in-meeting chat, which participants can use to message the entire group or each other privately. You can restrict participants' ability to chat amongst one another while your meeting is going on and cut back on distractions. Click "Chat" in the meeting controls, then at the bottom of the in-meeting Zoom Group Chat window click the three dots. From there you can toggle on options for who can chat with who in your meeting.
• Report a user: Hosts can report users to Zoom's Trust & Safety team, who will review any potential misuse of the platform and take appropriate action. Find this option within our Security icon or under the green shield icon in the top left corner of your meeting, where you can attach screenshots and other documentation as needed.

Enable the Waiting Room

The Waiting Room is an important feature for securing a Zoom Meeting. Just like it sounds, the Waiting Room is a virtual staging area that stops your guests from joining until you're ready for them. It's almost like the velvet rope outside a nightclub, with you as the bouncer carefully monitoring who gets let in.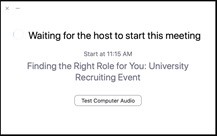 Meeting hosts can customize Waiting Room settings for additional control, and you can personalize the message people see when they hit the Waiting Room so they know they're in the right spot. This message is really a great spot to post any rules/guidelines for your event, like who it's intended for.

Meeting hosts can customize Waiting Room settings, and you can personalize the message people see when they hit the Waiting Room so they know they're in the right spot. This message can also include any rules/guidelines for your event, like who it's intended for.

The Waiting Room is an effective way to screen who's trying to enter your Zoom session and keep unwanted guests out. When you disable "Join before host" in your settings, a Waiting Room will automatically greet your guests until you've started the meeting.