Expose: The Journal of Expository Writing

Expose biannually shares a selection of noteworthy personal and critical essays that are created by students in College and Expository Writing courses at Purchase College.
Winter 2022
Metamorphosis


The personal narratives in this issue express moments of regeneration and growth.  In "From the Ashes," Lily Schwendener forges a new path as a college student after a career as a professional ballerina. In "Painting Change," artist Alexa Gallo identifies that visual art is her tool to "speak up about injustices in this world." Two writers are renewed by beloved television serials; Leah Moser's discovery of the The Simpsons  "in their chaotic dysfunctionality, made me feel seen in a way I hadn't before," while for Gianna Goldey, Friends "inspired me to not follow the social norm."  Luthier Sonberg makes a break from a parent, James Simiele makes a break from a flawed youth group, and Indi Anna Richardson finds understanding and closure in Lil Peep's "U Said," writing, "I'm not the best at leaning into my feelings, so I let the music I listen to lean into them for me."
Three students from Professor Sausen's Fall 2021 sections of College Writing analyze how reliance on technology for connection and fulfillment poses challenges to intimacy, authenticity, and engagement with the natural world by examining  short stories from Alexander Weinstein's collection, Children of the New World. Sandhya Colucci draws a connection between exposure to trauma and an instinct for self-erasure by analyzing Jaquira Diaz's 2019 memoir Ordinary Girls.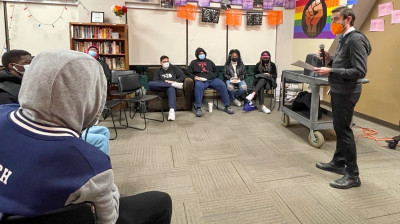 Professor Dearing tells a story about his dog, Hobbes.
In lieu of a faculty essay, this issue revisits a live storytelling event for College Writing  students hosted by Professor Dearing and I at the Multicultural Center. Barbara Kay's personal essay captures the intrinsic and transformational power that accompanies shaping a story, and sharing it with others. Our YouTube page links to many of the stories shared that evening!
Collagist, writer, and freshman journalism major Lyric Hounshell is this issue's featured artist. In her first College Writing paper of the Fall 2021 semester, Lyric described her bedroom floor covered with "eyes, faces, hands, and clothes, the part from finding the pieces to making the collage almost a blur." Her work examines beauty, identity, protest, and justice. 
With gratitude to this issue's readers, Teaching Good Prose students Lea Bajgora, Maureen Guy, Amber Hahn, Barbara Kay, Gaby Santos, and Tess Walsh, as well as to readers Professor John Mitchell Morris and Professor Ellen Brooks. This issue is dedicated to Professor John Mitchell Morris in thanks for his support of Expose, his constancy in championing student writing, as well as his mentorship, kindness, and excellence in teaching during his time at Purchase College. And, warm best wishes to our new Interim Director of College Writing, Professor Emily Sausen.
—Amy Beth Wright, Editor
---
College Writing Event Spotlight: "Expect the Unexpected" 
Until Next November

"I distinctly remember breaking out into hives after presenting my eighth-grade science project; running down eight flights of stairs to hyperventilate in the bathroom and calm my racing heart, only for my legs to ache on the way back up. William was the captain of his speech and debate team that year; I thought of that when Professor Dearing announced we would be doing a Moth Story Slam…" Read more