Expose: The Journal of Expository Writing

Expose biannually shares a selection of noteworthy personal and critical essays that are created by students in College and Expository Writing courses at Purchase College.
Spring 2023
Growth
""A word after a word after a word is power." ― Margaret Atwood


Writing is a gateway for growth, and this issue of Expose is packed with moments of metamorphosis. Shakira Cherimond reconnects with her identity as a student after working with children, and Melina Wojcik finds self-discovery through identification with Charlotte Perkins Gilman's short story, "The Yellow Wallpaper."  Nora Nilsen Healy tackles performance anxiety after finding similar identification within Nathan Felder's The Rehearsal. Sabrina Kenny, Risa Tirado, and Alexander Uzobuife build new relationships with writing, and Hallie Krause and Emma Pat both shed their long hair and find new clarity and self-possession. 
This issue also offers powerful critical analyses. Emma Blacksmith, Spencer Corona, and Robyn Graygor argue that technology is superseding our ability to connect, empathize, and communicate with one another, through analyses of short stories by Alexander Weinstein. Medha Chandwani looks at the different ways we mediate grief through analyses of short stories by Carmen Maria Machado, Eugene Lim, and Ted Chiang. Sofia Mancz compares Jamaica Kincaid's "Girl" to Kristen Roupenian's "Cat Person." In argumentative essays, Isaiah Mojica unpacks how homophobia within religious communities has created barriers for inclusion, and Frances Johnson examines pay inequities in the public school system. In an op-ed from Introduction to Digital Publishing, Elizabeth Baldino articulates what's at stake in letting social media determine contemporary fashion trends.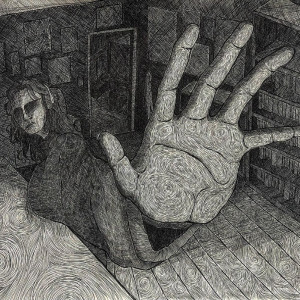 Credit: Hallie Krause '26 (@hkrauseart)
With gratitude to senior Jillian LaPalme and alumna Emma Reid '20 for being this issue's featured illustrators. Jillian's intaglio works explore time and memory, while Emma's digital drawings are visual mind maps that evoke feelings and time periods. Thanks to freshman sculptor Bunni3 Gilot for sharing a new work in our Faculty Essay column, and to Hallie Krause for sharing new drawings as well. Thanks so much to Professor Ellen Brooks, Professor Deborah Cooper,  Professor Emily Sausen,  and Professor Emily Stout for reading for this issue, and to Expose Editorial Fellow Eden Marsh '26, who brought genuine passion, inspiration, and curiosity to her responses to the work of student writers. This spring our department establishes the annual Chris Konzelman College Writing Award. Professor Konzelman was part of our department for many years, and his approach continues to inspire us.
Also this spring, Professor Brooks, Professor Sausen, and I  participated in a faculty committee focused on the growth of writing instruction at Purchase. This work clarified some ideals that I believe guide our Expository Writing program: In addition to offering students a springboard for academic success, we hope they will write and thrive as individuals, independent thinkers coalescing language and structure with their own intuition and artistry.  
—Amy Beth Wright, Editor
---
Faculty Essay
An Interview with Senior Auditor Michael Feinstein

"With writing, you're really looking to specifically reach people, I think. Maybe some of it is like a diary, where you're following your thoughts to see where they go. But the thing I like about writing is that you are ultimately communicating with people, and they're communicating with you…" Read more