You've got the general lay of the land—now let's get specific.
Our campus sits in Westchester County, one of the oldest and most well-established destinations in the scenic Hudson Valley.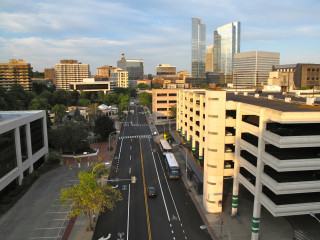 Downtown White Plains is the seat of Westchester County, and more importantly, home to the local music store.The close proximity to New York City has, for more than a century, attracted a local surplus of artists, chefs, architects, historians, musicians, and their homes and businesses.
Purchase students benefit from the ease of access to NYC, but you don't need to ride into the Bronx to get your groceries, see a movie, or get a part-time job.
Two major cities, White Plains and Port Chester, are free stops on our Loop bus—and they provide access to all the basics, including art supplies, a music store, a movie theatre, a Whole Foods, a Target, and many more places to shop, eat, and relax.
If you really need to clear your head, there are trails for hiking and mountain biking, and we're an hour away from the Shawangunk Mountain range—which some argue offers the best rock climbing in the northeast.
Elsewhere in the Area
There's the legendary Capitol Theatre in Port Chester, which was one of Jerry Garcia's favorite places to play. It's an amazing venue for live music that through the years has hosted everyone from Janis Joplin to Katy Perry.
The Tarrytown Music Hall—originally built with a chocolatier's fortune—is now one of the only 100% solar-powered music halls in the country.
The Tarrytown/Eastview area is home to several biotech and pharmaceutical companies, like Siemens, Bayer, and Regeneron.
Greenwich, CT is home to shops, restaurants, museums, and hedge funds.
Rye, NY is home to shops, restaurants, and the famous Playland Amusement Park, Boardwalk, and Beach, less than ten miles away.