Purchase College is a place where creativity happens: in the studios, laboratories, theatres, and classrooms, on the playing fields and in the residence halls.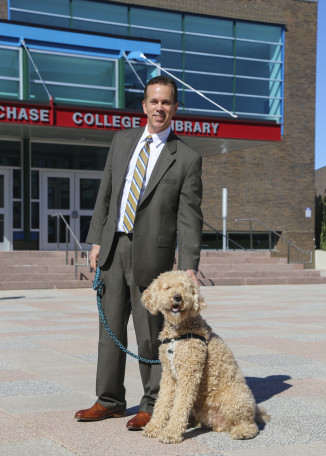 Interim President Dennis Craig and Beckett
Community as Collaboration
This creativity is reflected in the output generated from the interdisciplinary nature of our academic program that seeks opportunities to link the arts to the liberal arts.
Our students are empowered by faculty, staff, and coaches to explore, test, and question in formal and informal settings. We clash and collaborate, divide and unite, but the outcome is a community where change is a commitment rather than an exception.
What's Next for Purchase
We look forward to the opening of our new Center for Media, Film, and Theatre, the epicenter of the kind of energy and motion that defines Purchase. We are in the midst of expanding our commitment to lifelong learning with the development of our senior living community.
We hope you enjoy your time at Purchase College, whether for just a visit or for the time that you are a student.