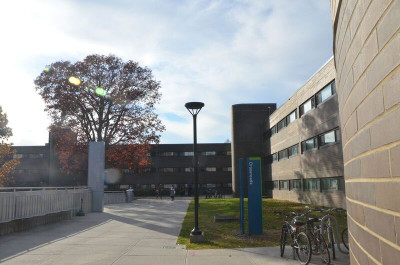 Exterior of Crossroads Residence Hall.
Crossroads is one of three (3) residence halls that serve our freshmen living community, housing approximately 225 first-year residents.  Crossroads has mostly double style rooms with community style bathrooms – shared between 15-20 students; most bathrooms have 2 shower stalls, 2 toilet stalls and 3 sinks.  Renovations are hoping to install 1 hand dryer per bathroom.  Additionally, Crossroads has some singles, occasional designed triples and some suite-style rooms; most of these suites offer residents a private bathroom and/or a common area shared by all occupants of their suite.
Crossroads has a large lounge on the 1st floor of the building.  Additionally, several small offices, group study, and social lounges that are well spread throughout the entire building for use by all residents.
In the summer of 2017, Crossroads was repainted.  In the summer of 2018, the building received new furniture, including desks, dressers, mattresses and bed frames, as well as new window shades.  Future renovations are being planned over the next few summers, including asbestos removal and cosmetic upgrades in the summer of 2019. 
Crossroads rooms are furnished with:
One twin XL bed, desk, desk chair and dresser per resident
One lamp/light fixture per room
One armoire/closet per resident
Cable TV connection
Wireless Internet
Smoke/Heat Detectors
Typical Furniture Sizes:
Approximate Desk Size - 42 inches Wide X 24 inches Deep X 31 inches High
Approximate Dresser Size - 30 inches Wide X 20 inches Deep X 42 inches High
Approximate Bed Size - 36 inches Wide X 84 inches Long; with adjustable height
Approximate Closet Size: 48 inches Wide X 24 inches Deep
Virtual Tour!
Take a virtual tour through some of the various room types located within the Crossroads residence hall!  While all tour locations are not specifically within this residence hall, the room types below still apply to this and all first-year residence hall locations (Big Haus, Crossroads, and Farside).
Once you are inside the tour, you will see an information tag that will outline a floor plan with room specifications and sizes.
Residence Hall Two Person Double Room
Residence Hall Eight Person Suite
Residence Hall Three Person Triple Room
Support for Students:
Eleven (11) upper-class Resident Assistants (RA) live in the hall.  They are specially selected and trained to provide programs and resources for first-year students living in the building.  They are supervised by a professional Residence Coordinator (RC) to help students make the transition to Purchase College.
Typical Room Sizes:
Singles are typically 8 feet Wide X 11 feet Long (with 1 closet)
Doubles (corridor) are typically 11 feet Wide X 17 feet Long (with 2 closets)
Doubles (suite) are typically 11 feet Wide X 15 feet Long (with 2 closets)