Situated in the center of campus, Crossroads is conveniently located near the academic buildings, library, Student Services Building, and is connected to the Dining Hall (D-Hall) via the lower-level (which is ideal for those cold winter days).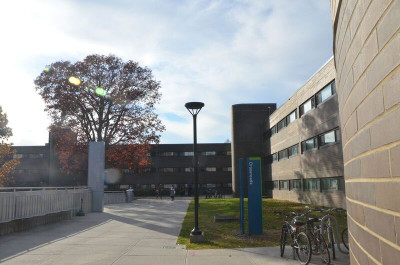 Exterior of Crossroads Residence Hall.
Crossroads is one of 5 residence halls at Purchase. It houses approximately 300 first year students.  
Crossroads offers double, triple and suite-style living throughout the building. Residents who live in double and triple rooms utilize a community bathroom.   Suite-style rooms offer residents with bathrooms just assigned to the occupants of their suite.  
Crossroads rooms are furnished with
One twin XL bed, desk, desk chair, and dresser per resident
One lamp/light fixture per room
Cable TV connection
Wireless Internet
Smoke and Heat Detectors
Access to a community kitchen
Access to laundry room in the basement level
Communal Lounge space
Crossoroads does not have air conditioned room and elevators. 
Residents who live Crossroads are required to be enrolled in a meal plan. 
Support for Students
Eleven upper-class Resident Assistants (RAs) live in the hall. They are specially selected and trained to provide programs and resources for our first year students. They are supervised by a professional Residence Coordinator (RC) to help students make the transition to Purchase College.