Big Haus (along with Crossroads and Farside) is one of the three residence halls that serve as part of the freshmen living community. Big Haus houses approximately 400 first-year residents.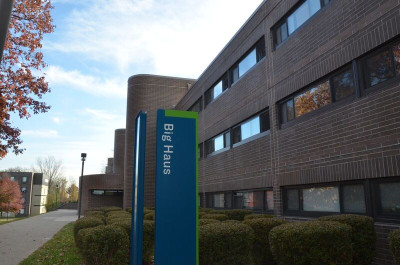 Exterior of Big Haus residence hall.
Big Haus has mostly doubles and triples in corridor housing, utilizing community bathrooms.  Additionally, Big Haus has some singles and suite-style rooms - most offer residents a private bathroom and common area shared by the occupants of their suite.  
Big Haus is one of 5 residence halls at Purchase. Situated in the center of campus, it is conveniently located near the academic buildings, library, Student Services Building, and is connected to the Dining Hall (D-Hall) via the lower-level (which is ideal for those cold winter days).
Big Haus rooms are furnished with:
One twin XL bed, desk, desk chair, and dresser per resident
One lamp/light fixture per room
Cable TV connection
Wireless Internet
Smoke and Heat Detectors
Access to a community kitchen
Access to laundry room in the basement level
Communal Lounge space
Big Haus does not have air conditioned rooms and elevators. 
Residents who live in Big Haus are required to be enrolled in a meal plan. 
Typical Furniture Sizes:
Approximate Desk Size - 42 inches Wide X 24 inches Deep X 31 inches High
Approximate Dresser Size - 30 inches Wide X 20 inches Deep X 42 inches High
Approximate Bed Size - 36 inches Wide X 84 inches Long; with adjustable height
Approximate Closet Size: 48 inches Wide X 24 inches Deep
Virtual Tour!
Take a virtual tour through some of the various room types located within the Big Haus residence hall! While all tour locations are not specifically within this residence hall, the room types below still apply to this and all residence hall locations (Big Haus, Farside, and Crossroads).
Once you are inside the tour, you will also see an info tag that will outline a floor plan with room specs and sizes!
Residence Hall Two Person Double Room
Residence Hall Eight Person Suite
Residence Hall Three Person Triple Room
Coming soon:
Big Haus will be undergoing a multi year long renovation. During the summer of 2016 the entire A Wing was renovated (new bathrooms, bedrooms painted, new furniture, heating, lighting, etc.)  During the summer of 2017 the A/B wing community bathrooms were renovated.  In the summer of 2018, the renovations included:  9 suite bathrooms and upgrading the heating system in the A/B Wing sections.  
Stay tuned for updates regarding the future renovation plans of Big Haus during summer 2019!
Support for Students:
Twelve upper-class Resident Assistants (RAs) live in the hall. They are specially selected and trained to provide programs and resources for our the mixed population living in the building. They are supervised by a professional Residence Coordinator (RC) to help students make the transition to Purchase College.
Typical Room Sizes:
Singles are typically 8 feet Wide X 11 feet Long (with 1 closet)
Doubles (corridor) are typically 11 feet Wide X 17 feet Long (with 2 closets)
Doubles (suite) are typically 11 feet Wide X 15 feet Long (with 2 closets)
Converted Triples are typically 11 feet Wide X 17 feet Long (with 2 closets)
Designed Triples are typically 23 feet Wide X 8 feet Long (no built in-closets)