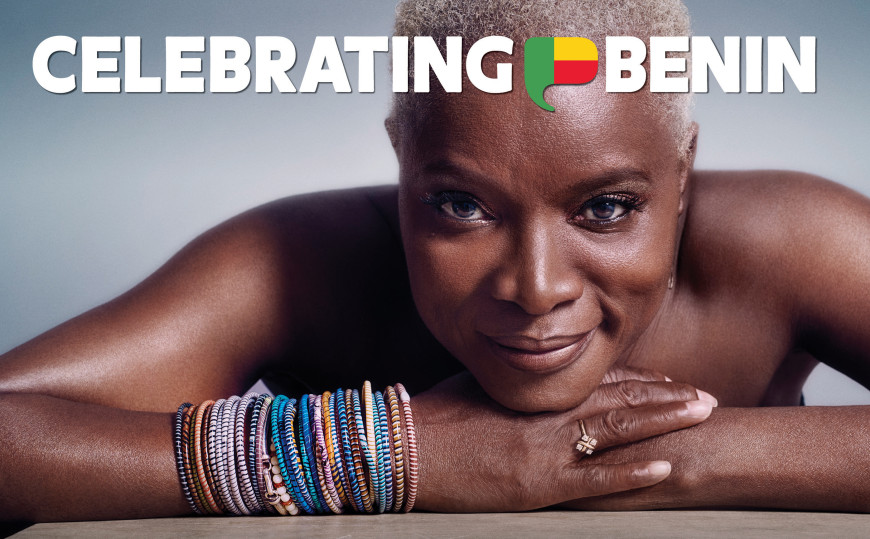 (T)HERE: A Global Festival of Arts, Culture & Ideas celebrates Benin
Discover Benin from the past and today through film screenings, fine art exhibitions, musical performances, and talks and panel discussions ranging from politics to social justice, literature to art.
September 27–29, 2018
Our inaugural (T)HERE event is a three-day festival and conference to celebrate the culture and history of Benin, West Africa, and to introduce Purchase's new global initiatives. Events will take place at The Performing Arts Center (PAC), the Neuberger Museum of Art, and other campus venues. All events will be open to the general public.
(Pictured above: Angélique Kidjo / Photo by Sonia and Mauro)

Film students Lukas Chin '19, Chad Hylton '18 and Brandon Hugo Arroyo '18 on location in Benin.
Upcoming Events:
Sep

27

Join us in the printmaking studios to meet artist-in-residence Hector Sonon, Beninese fine artist and political cartoonist, as he presents his art and demonstrates works-in-process.

Sep

28

Deborah Plant, an independent African-American and Africana Studies Scholar, has dedicated her life to studying the works of Harlem Renaissance writer Zora Neale Hurston.

Sep

29

Three-time Grammy Award-winning singer, activist, and humanitarian, Angélique Kidjo was named one of The Guardian's 100 most inspiring women in the world, was the first woman to appear on Forbes's list of the Most Powerful Celebrities in Africa, and is included on the BBC's list of Africa's 50 most iconic figures.
Sep

27

Beninese art historian and entrepreneur Marie-Cécile Zinsou will give a talk on contemporary Pan-African art.

Sep

28

View short films created by Purchase College students in collaboration with students from Benin, West Africa and Haiti.

Sep

29

Associating voodoo rhythms and traditional songs, electronic melodies in piquant Beninese style with trip pop grooves, hip hop and rock, this collective of Beninese artists has all it takes to make us travel.