Due to COVID-19 our staff is working remotely, and the office is closed to all walk-in visitors for the foreseeable future. 
Additionally, due to the restrictions on international travel, Purchase College's summer study abroad programs have all been postponed until summer 2021. 
An announcement will be made when all offices reopen to the public.
---
Think really Wide Open…like on a global scale!
Purchase offers a broad range of options for studying abroad for a semester, summer, or full academic year. With a wide variety of education abroad programs to choose from, you can find the appropriate program to fit your academic, personal, and professional needs. Find our short-term, exchange, and affiliated SUNY study abroad programs here.
Purchase Faculty-Led Short Term Programs  are led by Purchase faculty teaching Purchase courses abroad. Participating in these courses will count towards your GPA. This is good option for students who cannot go abroad for a semester or full academic year. We offer these short term programs in the summer and winter sessions.
Winter 2020 Faculty-Led Programs
Now accepting applications
Winter in Roatán
Courses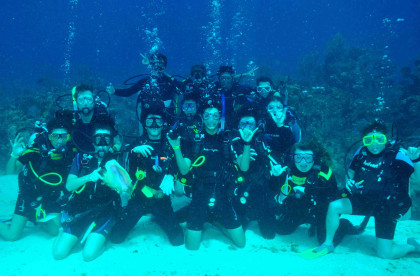 This program offers a hands-on, experiential educational opportunity to study the biology and ecology of the living reef and live organisms. Coral reefs are among the largest, most beautiful and most endangered ecosystems on earth. One of the world's most impressive coral reef systems is found in the western Caribbean, along the coast of Central America. The island of Roatan, located thirty miles off the coast of Honduras, is the largest of the three Bay Islands and offers great accessibility to this reef.
This course involves scuba diving. Students must be certified and may learn it in advance or as part of the program in Roatán.
---
Winter in Benin 
No longer accepting applications
Courses
This program has two courses which offer an immersive, sensorial, hands-on opportunity for students to study and gain a deeper understanding of West African artistic production.  Located in the dynamic, quickly evolving city of Cotonou, Benin's economic center, students will encounter Beninese culture and contemporary life. In addition to academic activities, students will be involved in a service learning project. Each student will participate in projects at community libraries which are run by Purchase College's partner, the Zinsou Foundation. Cultural excursions will include day trips to the Zinsou Foundation's Museum of Contemporary Art in Ouidah, the historical slavery route and the Door of Non-Return.
Summer 2020 Faculty-Led Programs
Now accepting applications
Summer in France
Courses
Professors Donna Cornachio and Rachel Owens give a brief introduction to the four-week summer program in Antibes, France. Note: the week in Paris is not being offered for the 2020 Summer in France program.
---
Summer in Prague
Courses
Professor Lenka Pichlikova gives a brief introduction to the three-week program in Prague, Czech Republic.
---
Summer in Italy
Courses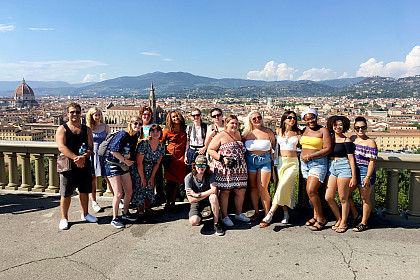 Professors Lisa Jean Moore and Cassandra Hooper will guide the students to explore photography and the sociology of Italian food during a 5-week summer program in Pisciotta, Italy.
---
Study Away
Summer 2020 now accepting applications
Detroit, Michigan
Immerse yourself in local issues while working to come up with collaborative solutions through art, design, and construction in vibrant and dynamic Detroit. The North End of Detroit, where this class takes place, is home to many artists and activists who are creating new models for sustainable and collaborative economic survival-building farms and co-ops amidst the physical
As part of this two-week study away class, students will take up residence in Detroit to work in tandem with artists on a project that brings together public art, community organizing, performance and the history of gentrification in America.