Gifts from friends and patrons like you empower the Neuberger Museum.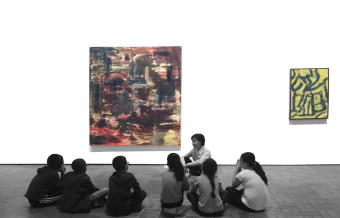 You help us make art matter.  From welcoming young visitors for their first visit to an art museum, to presenting inspiring and thought-provoking exhibitions, to safeguarding the incredible works in our collection, every 100% tax-deductible donation from our friends and patrons makes possible the work we do at the Neuberger. 

While the most common types of donations are contributions by check, credit card, or stock, the Friends of the Neuberger Museum of Art can also accept outright gifts of real estate, gifts-in-kind, and other assets.  Learn how you can make a gift that will serve as a catalyst for our diverse audiences to confront new ideas through art.
Donate Cash and Securities
Make a one-time or recurring online gift
Online gifts are the quickest and most efficient way to support the Museum. Use a credit or debit card to make a gift via our secure server at neuberger.org/donations.
Send a Check
Checks should be made payable to the "Friends of the Neuberger Museum of Art" and mailed to our secure lockbox:
Neuberger Museum of Art
PO Box 70505
Philadelphia, PA 19176-0505


Matching Gifts
If you own or are a principal of a company, please consider matching the value of charitable gifts made by your employees and their spouses, board members, and retirees.

Memorials and Tributes
Your gift may be designated to honor a family member, pay tribute to a friend, or commemorate someone who inspired you.
Donate Securities
If you have large capital gains in your investment accounts, consider donating those stocks. You'll get a full charitable donation credit for the fair market value of the gift and the Friends of the Neuberger Museum of Art—as a qualifying tax-exempt organization—can sell the stocks without paying capital gains tax, regardless of how much the stock has appreciated.
Please contact us at nma.development@purchase.edu or 914.251.6109 before initiating the transfer of stock or securities.
Make an IRA Charitable Rollover
(also known as Qualified Charitable Distribution)
If you are 70½ years old or older, you can give up to $100,000 from your IRA directly to qualified charities such as the Friends of the Neuberger Museum of Art.
Having the funds transferred directly from the IRA to a charity as a Qualified Charitable Distribution prevents the money from becoming taxable income and could help reduce the amount of Social Security retirement benefits that are deemed taxable. Your IRA charitable rollover gift can also satisfy all or part of your Required Minimum Distribution for the year.

Is an IRA Charitable Rollover right for you? Learn more here.
Gifts other than Cash and Securities 
Gifts-In-Kind
The Purchase College Foundation and Charitable Entities (which includes the Friends of the Neuberger Museum of Art) Gift Acceptance Policy requires a review of donated assets other than cash or marketable securities.

Before initiating a non-cash contributions of goods or services including artwork, real estate, vehicles, supplies, or other goods, please contact us at 914.251.6109 or nma.development@purchase.edu to discuss your donation suggestions.
Planned Gifts
Planned giving allows your generosity to outlive you while creating an enduring history and bright future for the Neuberger Museum of Art.
Some of the most transformational gifts in the history of philanthropy have come in the form of a bequest contained in a person's will or revocable (living) trust.  Planned gifts can also be of cash or securities, gift annuities, charitable trusts, gifts of life insurance, retained life estates, and various revocable or irrevocable gift agreements.

Learn more about planned giving.
Complete this planned giving intent form to start the conversation about creating a legacy with your support of the Neuberger Museum of Art.
Please contact us at nma.development@purchase.edu or 914.251.6109 with any questions.
Passed in late March 2020, the Coronavirus Aid, Relief, and Economic Security (CARES) Act contained a number of changes to tax policy related to charitable gifts of cash to public charities such as the Neuburger Museum of Art. Learn how the CARES Act impacts your gift.