Phased Reopening: Campus first. Still closed to the public.
Open to the campus community only on Wednesday, Thursday & Friday from 12pm - 5pm.
Join our mailing list to receive updates about reopening to the public.

The Neuberger began a phased reopening in late February in order to support in-person, course-related activities for Purchase College faculty and students.  Individuals from the campus community may visit the museum W-F from noon to 5pm; More card and daily COVID screen submission required.  Class visit requests should be submitted a minimum of one week in advance to nma.education@purchase.edu. 

Watch these pages for news of our re-opening to the general public. In the meantime, continue to experience the Neuberger from home with our weekly suggestions for virtual events and weekly activities at NEU To Do and NEU To Do for Kids.
---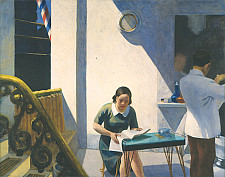 The Neuberger Museum of Art is a center of teaching and learning for all stages of life.  Experience exhibitions of modern, contemporary and African art and art-inspired events in our Philip Johnson-designed building at the heart of Purchase College, State University of New York.  
Founded in 1969 with a promised gift of 300 works by Roy R. Neuberger—one of the greatest private collectors, philanthropists, and arts advocates of the twentieth century—the Museum's collection has grown to over 6,000 objects by artists including Milton Avery, Romare Bearden, Willem de Kooning, Edward Hopper, Georgia O'Keeffe, and Jackson Pollock.
Our signature biannual award, the Roy R. Neuberger Prize, recognizes the work of exceptional contemporary artists, continuing our founding patron's dedication to supporting artists early in their careers.
Alongside our permanent collection, critically acclaimed special exhibitions draw local, regional, and international audiences to our galleries in Westchester as well as NEU SPACE l 42, our space in New York City.

Tours, lectures, and programs engage our broad and diverse community. On any day, you can see adults, families, K-12 school children and their teachers, and Purchase College students, faculty, and staff enjoying the museum.
At the Neuberger, appreciating art is active and interactive. Here, students, scholars, artists, and art lovers find common ground to experiment, question, and grow.
@neubergermuseum