While the Museum is temporarily closed, we'll be providing weekly suggestions for art-related projects and virtual getaways.
This Week's Featured Activity
To provide our members and patrons with a bit of relaxation during these unprecedented times, the Museum is partnering with meditation and yoga instructor Janelle Berger to digitally deliver a series of guided meditation events.  This week's session renews your mind, body, and spirit by focusing on community and connectedness.
Filmed August 5, 2020  |  11.5 minutes
Register for our next Wellness Wednesday session on August 19th.
Photo of the Week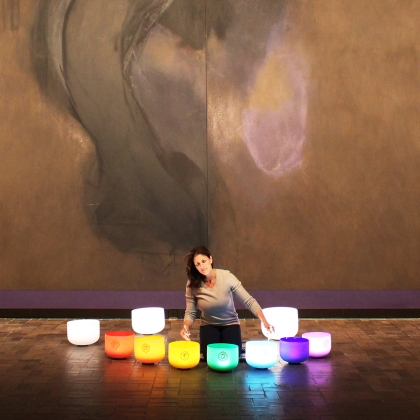 Sound Bath, an immersive healing and restorative experience using Crystal Singing bowls with Janelle Berger, Yoga/Meditation Instructor, in the Cleve Gray Threnody exhibition at the Neuberger Museum of Art (Fall 2019)
What we're following on social media
(use the hashtags to search your favorite platform)
When we need a break
Wellness Wednesday
We replay these recorded meditations by yoga and meditation instructor Janelle Berger.
Our go-to resource to find something of interest for anyone and everyone
Interesting tech
Artland is a worldwide online art community platform that provides art lovers of all kinds with the world's largest library of 3D exhibitions and access to the biggest digital database of private art collections in the world.
Interesting conversations
Virtual Visits: Close to home
Virtual NYC
NYC & Co. has put together a virtual guide of online resources from museums, galleries, comedy clubs, theaters and other venues so that you can experience the best of New York City while safe at home.


Fotografiska New York
The NYC location of the renowned Stockholm-based photography museum has introduced The Foto Sessions, a new online destination for artists talks, virtual galleries, and stories that bring visitors deep into the imaginations of their photographers.


Hudson River Museum
Our neighbor in Yonkers, HRM invites visitors to dive in and discover 40+ exhibitions, 100+ collection highlights, and more (including artist talks) on its website.


Guggenheim Museum
Experience the Guggenheim from home and discover over 1,700 artworks by more than 625 artists in a searchable database of selected artworks in Collection Online.


The Metropolitan Museum of Art
Created using spherical 360° technology, The Met 360 Degree Project allows viewers to explore some of the Met's iconic spaces as never before.


The Museum of Modern Art
New virtual experiences debut each week in Virtual Views.  Browse MOMA's online collection includes 
more than 85,000 works or take one of their five free online courses—including What Is Contemporary Art?, Modern Art and Ideas, and In the Studio: Post-War Abstract Painting—offering in-depth looks at the museum's collection.


Whitney Museum of American Art
Dive into the Whitney's collection of more than 25,000 works of American art from the twentieth century to today. Check out Artport, a portal to Internet art and an online gallery space for new media art commissioned by the Whitney. And go deeper with audio guides featuring insights from artists, curators, and other notable experts.
Virtual Visits: Around the globe