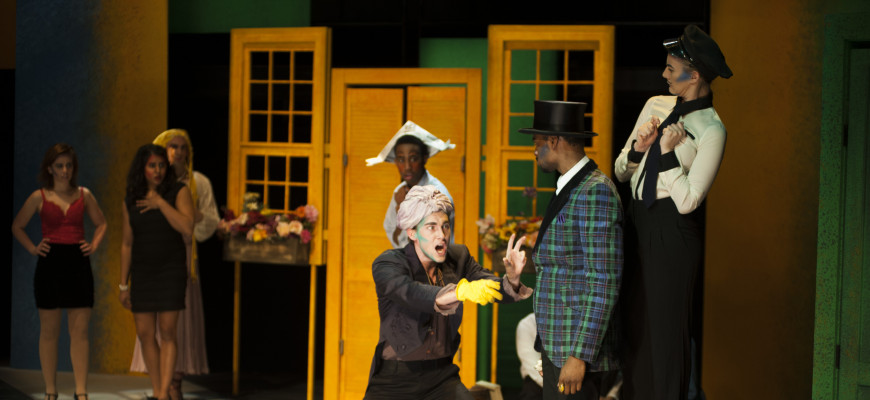 Comedy of Errors
Deadlines

Fall Application: January 13, 2021

Video Audition: January 20, 2021

Early Action: Not available

Spring: Not available

Application Requirements

Application Fee: $55 for either application (Deadline: January 13, 2021)

Academic Transcripts

Letter of Recommendation

Video Audition (Deadline: January 20, 2021)

---

Audition Requirements and Dates

Mandatory Requirements

All applicants to the acting program for fall 2021 must submit the following to be considered for an acting program callback:

Video audition
Acting audition form
Non-refundable payment of $55 by January 20, 2021
 

All materials must be submitted via the Admissions Portal

Applicants selected for a callback will be notified the week of February 15.

If selected, applicants will be notified of their audition date and time via email during the week of February 15, 2021.

Callbacks will take place virtually the weekends of February 19 and 26, 2021.

Admission to the BFA Acting program is highly competitive and based on a required audition process conducted by the Acting Faculty and a review of the student's overall application by Admissions staff. Only exceptionally talented actors who can demonstrate talent, creativity, and commitment will be offered admission.

Video Auditions

All video auditions should include the following:

1. Two Monologues

We are looking for young actors whose imaginations allow them to go to many places, giving life to stories that might be vastly different from their own, as well as stories that hit closer to home. Choose pieces with that in mind.

Most importantly, relax and have fun.

Each monologue should be roughly 90 seconds­ to two minutes in length.

Record the pieces separately; upload videos or share links in the Admissions Portal.

Your Monologue Video Should Include

Your first and last name
Where you are: (your school, your bedroom, your roof!)
The date
Name of the play
Name of the author
Name of the character

2. Picture and Resume

A snapshot will do if you do not have an 8 x 10 headshot.

Be sure that your name, address, and telephone number(s), are included on your resume. Your resume should include a complete list of theatrical activities.

3. Essay

What event or circumstance in your life awakened you to the understanding that being an artist/actor was what you needed to do with your life?

Callbacks

If you receive an invitation for a callback (via email the week of February 15), be prepared with three or four pieces. We won't ask to see all of them, but we may ask what they are and to see one or two.

If you didn't previously submit Shakespeare, for example, we might want to see one. If you didn't submit a comedy piece, we might like to see something along those lines.

We may ask you to sing, even if you are not a singer.

Be prepared to work with your auditors. This callback will be a work session and hopefully fun!

---

Visit the Acting BFA program to get answers to the most frequently asked questions.

For additional information about the acting BFA program, visit Conservatory of Theatre Arts.