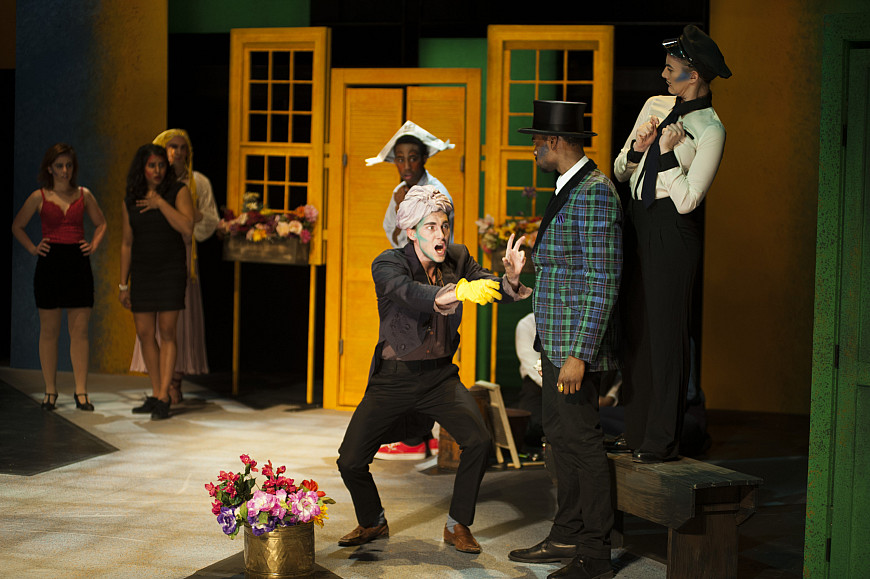 Comedy of Errors
DEADLINES:

Fall Application: February 1, 2020

Early Action: Not Available

Spring: Not Available

 

Application Requirements:


Application fee - $50 for either application (January 15, 2020 deadline to submit)
Academic transcripts 
Letter of Recommendation
Audition Cost - non-refundable $50 audition fee and $5 SlideRoom fee (February 1, 2020 deadline to submit)

 

---

Audition Requirements and Dates:

New York City Auditions: TBD 

Chicago Auditions: TBD

Los Angeles: TBD

On-Campus Auditions: TBD

---

Online audition registration is now open. 

To register for an audition you must first submit an application to the college for the BFA Acting program. Only applicants to the college for the BFA Acting program will be able to register for an audition. Applicants will be emailed the audition registration instructions. The non-refundable audition fee of $50.00, plus the $5.00 SlideRoom submission fee must be submitted online at the time of your audition submissions. 

Please do not call the Conservatory to schedule an audition. All auditions are scheduled online.

Admission to the BFA Acting program is highly competitive and is based on a required audition process with the Acting Faculty and a review of the students overall application by Admissions. Only exceptionally talented actors who can demonstrate talent, creativity and commitment will be offered admission.

Prepare two monologues

Your two monologues should be approximately two minutes each and in contrasting styles (i.e. one dramatic and one comedic). One monologue must be classical and the other contemporary. Classical monologues should be Elizabethan (i.e. Shakespearean), Chekhovian, or Greek, and should have been written before 1900. Choose material that you connect with, that you like and that shows you to your advantage. A small assortment of chairs will be provided.

Prepare a song

Be prepared to sing 16 bars of a song in any genre, preferably a capella. If you choose to sing along with music you must provide your own music and player (e.g. CD, iPod) — and be sure to test it thoroughly to avoid surprises at your audition.

Time yourself beforehand

Total audition time must not exceed five minutes. Time yourself carefully so that you will be able to finish within the time limit without feeling pressured. Memorize the material and prepare it thoroughly so that you will feel confident about your work.

Attire

Choose audition clothing that is suitable for presenting the characters, but do not attempt costumes. Your clothing should allow freedom of movement.

All students are required to submit the following for the Acting audition.

Picture and Resume

A snapshot will do if you do not have an 8 x 10 headshot. Be sure that your name, address, telephone number(s) and date of audition are included on your resume. Your resume should include a complete list of theatrical activities.

Essay

What event or circumstance in your life awakened you to the understanding that being an artist/actor was what you needed to do with your life?

Note: You do NOT need to bring printed copies of your transcript or letters of recommendation to your audition.

Acting Program National Audition Tour Dates

All off-campus auditions take place in conjunction with the Consortium of Conservatory Theatre Training Programs, of which Purchase is a member. However, each member school requires a separate application as well as separate audition and you must request your own individual audition for Purchase College.

Still have questions?

Visit the Acting BFA program to get answers to the most frequently asked questions.

For additional information about the Acting BFA program visit Conservatory of Theatre Arts.